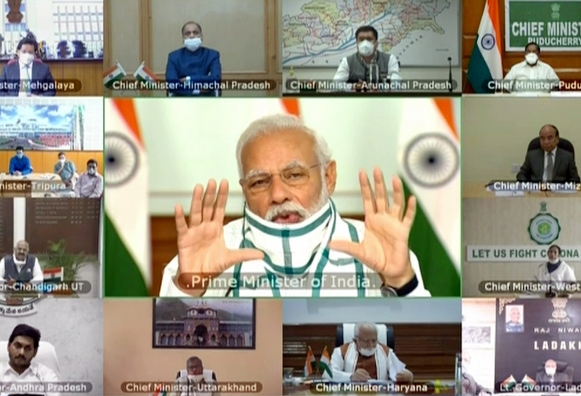 OPINION
OPINION
Statism In Time Of Pandemic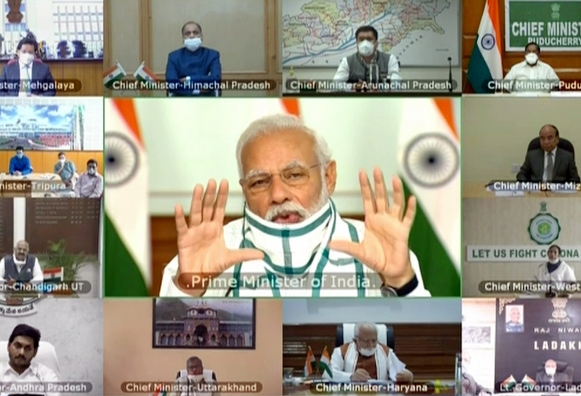 Politics, it seems, is one part of national life that does not go into lockdown. Beneath the appearance of the whole country united in dealing with the Covid-19 pandemic, the undercurrents of State-Centre relations continue.
These are testing times for Prime Minister Narendra Modi who hopes to come out of this with national as well as international compliments on his handling of the crises.
But it is the chief ministers who are actually doing all the heavy lifting in tackling the Covid-19 pandemic in their respective states. And they are not all getting the equal recognitions or complete support they deserve.
Faced with a serious public health emergency and a looming economic crisis, the chief ministers have a lot at stake and are, therefore, putting their best foot forward in managing the deadly coronavirus outbreak. They know they will be judged by their handling of the crises.
Kerala chief minister Pinarayi Vijayan and Rajasthan's Ashok Gehlot have come in for praise for their quick and deft management of the pandemic. Kerala was a step ahead of other states as a proactive chief minister lost no time in announcing a slew of social welfare measures and initiated steps for setting up quarantine centres and testing facilities. Kerala has an advantage over other states as successive governments have invested heavily in health infrastructure. Gehlot also displayed similar alacrity in ordering an immediate shutdown, door-to-door surveys, testing and monitoring in Bhilwara when it was hit by a rush of infections. The Bhilwara model has since been replicated in other states.
Among the other chief ministers – Bihar's Nitish Kumar and West Bengal's Mamata Banerjee – face a big challenge as Assembly elections are due in both the states. Bihar goes to polls later this year while elections in West Bengal are due next year.
Of the two, Nitish Kumar has to be on top of his game because the Bihar Assembly elections are to be held this November which gives him a small window of opportunity to contain the pandemic. The chief minister's handling of the corona crisis will predictably be a major issue in these polls and have a huge bearing on Nitish Kumar's electoral prospects. Though his government is making all-out efforts to procure testing kits and protective equipment for the medical staff, the chief minister has a tough task on hand as Bihar does not boast of a strong health infrastructure.
Then there is the troubling issue of migrant workers from Bihar who have been working in other states but now wish to return home as they have no jobs or money. Nitish Kumar was initially reluctant to facilitate their return as there was a fear that the infection could spread to the rural areas with the influx of such a large population. He first transferred a sum of Rs. 1,000 each to the one lakh-plus stranded migrant workers but later agreed to ferry them back after the Centre made necessary arrangements for their journey home by train. Nitish Kumar was forced to give in because migrant workers are an important vote bank as most of them invariably come home to cast their vote.
As BJP's alliance partner, Nitish Kumar has been fortunate to get special treatment from the Centre which is more than willing to bail him out. The saffron party also has a big stake in the coming assembly election in Bihar. Nitish Kumar is further lucky as the opposition in Bihar is leaderless and hopelessly divided.
Mamata Banerjee, on the other hand, has a match on her hand as she has to contend with a strong and powerful rival in the BJP. There is simmering tension between the Modi government and Mamata Banerjee with the Centre accusing her of withholding accurate figures of the corona cases and for not providing adequate quarantine centres and further lagging behind in testing. She has also received a lot of flak for indulging in minority appeasement by not enforcing the lockdown too strictly in the minority-dominated areas during Ramzan. To make matters worse, West Bengal governor Jagdeep Dhankar has shot off a series of letters to Banerjee charging that she had committed "monumental blunders" in handling the pandemic.
Desperate and working hard to expand its footprint in West Bengal, the Centre has been particularly critical of the Trinamool Congress chief as the BJP believes this is an opportunity to show Mamata Banerjee in poor light.
Although West Bengal had ordered a lockdown before the Centre's announcement and took necessary measures to manage Covid-19 cases, the Modi government chose to send an inter-ministerial team to the state for an on-the-ground assessment of the situation. This led to a war of words between the BJP and the Trinamool Congress with Mamata Banerjee accusing New Delhi of playing politics by singling out West Bengal for this treatment. Banerjee further alleged that the Centre had deprived West Bengal of its share of taxes and ignored her requests for additional funds required by the state to manage the pandemic.
While the Centre has not missed this opportunity to discredit Mamata Banerjee, it has been more generous towards BJP chief ministers. Madhya Pradesh's Shivraj Singh Chouhan, Gujarat's Vijay Rupani and Uttar Pradesh's Yogi Adityanath are struggling to contain the rising number of infections in their state but not too many questions are being asked of them by New Delhi.
Chouhan has a convenient explanation that he did not have sufficient time to make the necessary arrangements to deal with a crisis of this magnitude since he had taken over as chief minister when the pandemic had already gained a foothold in the state. However, Chouhan has no explanation for the fact that he had failed to appoint a health minister for nearly a month after he was appointed CM.
Unlike Chouhan, Vijay Rupani ought to have done far better as he inherited the famed Gujarat model of development, put in place by Narendra Modi when he was chief minister. This was expected to serve him well in the current situation. As it happens, the rate of infections in Gujarat is high and is continuing to climb.
Rupani's lacklustre performance in managing the pandemic is matched by his poor handling of the large number of the restless migrant workers who were housed in makeshift camps in Surat and Vadodara. There have been several instances of violent clashes between the police and the migrants who wanted to go back home, giving the distinct impression that no one was in charge.
Similarly, Yogi Adityanath's efforts in dealing with the pandemic have also been found wanting. He is not helped by the fact that Uttar Pradesh's health care infrastructure is shoddy to say the least. But, in his trademark style, Yogi Adityanath has conveniently added a communal tinge to Covid-19 pandemic and blamed the minorities for spreading the virus after a number of infections were traced to the Tablighi Jamaat assembly in Delhi. This has been exploited as a timely distraction from his government's incompetence.
Though Modi is being heaped with praise for his decisive leadership in this hour of crisis, the fact is that it is the chief ministers who have led from the front in this battle. There have been some signs of tension between the Centre and the states over the lack of funds and centralisation of powers by New Delhi but, for a change, the Modi government has chosen to listen to the chief ministers. It agreed to lift the ban on the sale of alcohol, as demanded by the chief ministers, as it had deprived the state governments of a huge source of revenue which, it was pointed out, could have been used to ramp up their health infrastructure.
It is now to be seen if the Centre will put aside politics, be a uniting force, go a step further and release the pending share of taxes to the states and provide them with the monetary assistance they have demanded to help them deal with the corona crisis, whether they are pro or anti BJP.
State-Centre politics has not gone into lockdown, but it will be wise for Modi's BJP to suspend it at least until the nation gets through the crises.