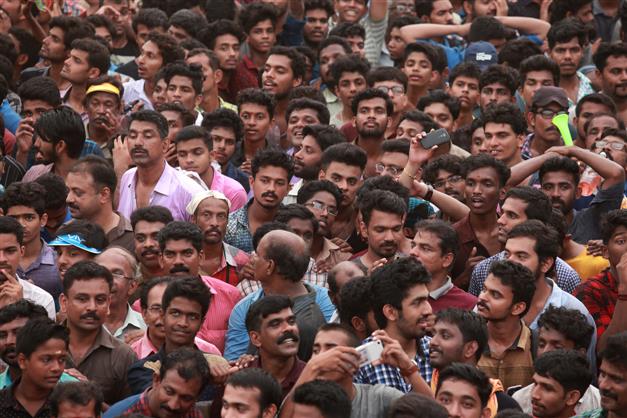 OPINION
OPINION
Population Paradox: A Time Bomb Or Surplus Resource
The United Nations has projected that in April 2023, India will be overtaking China as the World's most populated country. India's population is expected to reach 1,425,775,850 people, matching and consequently surpassing the population of mainland China. Should this be a matter of cheer or concern? Will Indian leadership be able to handle or harness such large numbers to its advantage or detriment? Will this be a constraint on our limited natural reserves or a productive workforce? These are the major issues that need to be debated and discussed at public forums.
The population size of a country is indeed an important factor for its government to consider, particularly in terms of providing employment opportunities and fostering economic growth. It is crucial for any government, including the Indian state, to address the needs and aspirations of its youth population.
India's unemployment rate has gone up from 7.8 per cent in March 2023 to 8.11 in April 2023. The unemployment rate has been on an upward trajectory since the start of the year, recording an increase for the 4th consecutive month. Rising unemployment and loss of jobs lead to frustration and discontent among young people, at times leading to violent protests and anarchy. If there are limited avenues for employment or entrepreneurship, it can create challenges in terms of social stability and economic development.
Today, India's status as the most populous country brings both opportunities and challenges. One of the major concerns for the government is the potential consequences of high unemployment with rapidly growing population. To mitigate these concerns, the state must focus on implementing policies that promote job creation, skill development, and entrepreneurship. This involves initiatives fostering a favorable business environment, encouraging innovation, providing easy access to seed capital, improving infrastructure, and investing in education and vocational training programs.
ALSO READ: 'Measures To Control Population Must Be Holistic'
To ensure social stability and sustainable economic growth, it is crucial to address this issue proactively. Drawing insights from expert opinions, this piece outlines potential solutions to tackle youth unemployment and foster entrepreneurship in India.
Promoting Skill Development: Enhancing the employability of youth requires a focus on skill development. The government should collaborate with industry stakeholders to identify in-demand skills and design vocational training programs aligned with market needs. Strengthening technical education and introducing apprenticeship programs can bridge the gap between education and industry requirements.
Encouraging Entrepreneurship: Creating a conducive environment for startups is vital. Simplifying regulatory frameworks, reducing bureaucratic hurdles, and streamlining processes for starting and scaling businesses can attract more entrepreneurs. Offering tax incentives, grants, and access to funding can also encourage risk-taking and innovation.
Investing in Education: A strong educational foundation is essential to equip the youth with skills and knowledge needed for a future workforce. The government should prioritize improving the quality of primary and secondary education, focusing on holistic development, critical thinking, and problem-solving abilities. Additionally, promoting research and development in universities can foster innovation and entrepreneurship.
Strengthening Infrastructure: Infrastructure development plays a vital role in creating a business-friendly atmosphere and, resultantly, in creation of jobs. The government should prioritize sectors like construction, transportation, and renewable energy, which have the potential to generate a significant number of jobs. Strategic planning and public-private partnerships can expedite infrastructure projects, thereby boosting employment opportunities.
Encouraging Foreign Direct Investment: Attracting FDI can spur economic growth and job creation. The government should work on improving the ease of doing business by implementing transparent policies, simplifying regulations, and addressing concerns related to intellectual property rights. FDI can bring technology transfer, market access, and employment opportunities, particularly in sectors such as manufacturing and technology.
Strengthening Rural Economy: A significant portion of India's population resides in rural areas. Thus, empowering the rural economy is essential for an inclusive growth. Encouraging agricultural entrepreneurship, promoting agro-related industries, and investing in rural infrastructure such as warehousing, digitization of foodgrain stocks and creating groups that add value to horticulture can create employment opportunities and reduce migration to urban areas. New technologies that help better crop yield and promotion of cash crops as well as setting up commodity exchanges should go a long way in increasing the income of rural households.
Digital Literacy: Digital literacy is increasingly becoming a prerequisite for employment and entrepreneurship. Expanding access to affordable internet connectivity and providing digital skills training can empower youth to participate in the digital economy. This includes imparting knowledge of digital tools, e-commerce platforms, and online marketing techniques.
The Indian government has been taking steps to address the issue of unemployment and promote entrepreneurship through initiatives like "Make in India", "Skill India," and "Startup India." These programs aim to encourage investment, skill development, and the growth of startups in various sectors.
However, tackling unemployment and providing ample opportunities for a growing population is a complex challenge that requires sustained efforts and comprehensive policies. Governments need to continuously evaluate and adapt their strategies to ensure the effective utilization of human capital and create an environment that fosters innovation, job creation, and entrepreneurship.
Addressing youth unemployment and fostering entrepreneurship require a comprehensive and multi-faceted approach. The Indian government should prioritize skill development, entrepreneurship promotion, education, infrastructure development, FDI, rural empowerment, and digital literacy. By implementing these solutions, India can create a thriving ecosystem that empowers its youth, reduces unemployment, and sets the stage for sustainable economic growth in the years to come.
It's worth noting that while population size is a factor, it's not the sole determinant of a country's success or failure. It is important for governments to adopt a holistic approach that considers various factors such as education, healthcare, infrastructure, governance, and economic policies to create a conducive environment for the well-being and growth of their citizens.