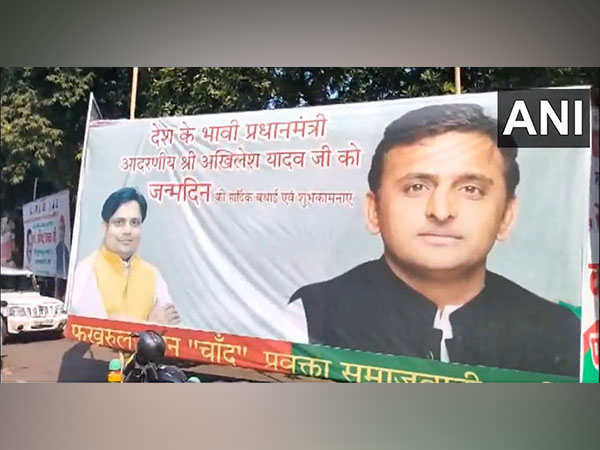 LM NEWS 24
LM NEWS 24
Posters Portraying Akhilesh As Future PM Up In Lucknow
Several posters portraying Samajwadi Party (SP) Chief Akhilesh Yadav as the "future Prime Minister" were put up outside the party headquarters in Lucknow by the party workers.
"Akhilesh Yadav's birthday is on July 1, but to express their love and respect towards their leader Samajwadi Party workers celebrate his birthday multiple times. Today, some party leaders and workers are celebrating his birthday", said SP spokesperson Fakhrul Hasan Chaand while speaking to ANI in Uttar Pradesh's Lucknow.
"Party workers are praying that Akhilesh Yadav becomes the PM of the country and serves the people…" he added.
Akhilesh Yadav's SP is an ally in the INDIA bloc. The INDIA bloc is an alliance of 28 political parties, formed to take on the Bharatiya Janata Paty in the Lok Sabha polls in 2024. The alliance, however, has not declared the face of its Prime Ministerial candidate.
In response to the posters BJP leader and Minister in the UP Government Danish Azad Ansari said that no one can stop anyone from day dreaming.
"There is a saying, 'Mungeri Lal Ke Haseen Sapne'. Nobody can stop anyone from daydreaming. But one should dream as per one's capability. Under PM Modi's leadership, our country is going ahead on the path of development. People of the country trust PM Modi and the country will definitely elect PM Modi as the PM for the third time." Danish Ansari said.
Meanwhile, tensions have arisen within the INDIA alliance with Uttar Pradesh Congress unit Chief Ajay Rai asking the former to withdraw from MP in favour of the grand old party as the Akhilesh Yadav-led party, he said, did not have any base there.
In response to it, the SP chief alleged that some "Congress leaders are siding with the Bharatiya Janata Party (BJP)", adding that he would not have trusted the grand old party if he had known that "Congress would betray them".
He further said he was unaware of the fact that the INDIA bloc has been formed at the national level to defeat the BJP and the alliance partners are not fighting together at the state level. (ANI)