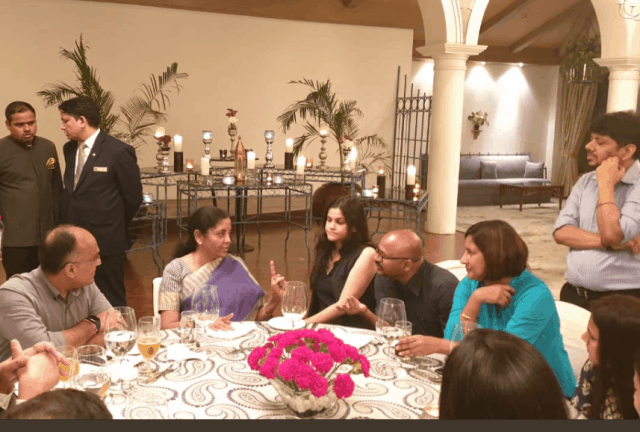 OPINION
OPINION
Press Freedom In India Is A Myth
<![CDATA[
The latest spate of restrictions on journalists may lead to other forms of control on media's ability to report and comment fairly on government affairs
"Freedom of the Press," George Orwell famously said, "if it means anything at all, means the freedom to criticize and oppose." In the current context and events that appear to affect the Indian media that quote is most relevant. India's press freedom is often touted as being high and its media landscape is described as being vibrant and versatile with print, news TV channels, and a burgeoning breed of online publications.
However, if you scratch beneath the superficial layers, the story is quite different. The newest developments are the biggest eye-openers. Recently, shortly after India's new finance minister, Ms. Nirmala Sitharaman, presented the Union budget for 2019-20, she also announced a restriction on accredited members of the press on their access to her ministry's officials in its New Delhi's North Block offices. Journalists now will not be able to move around freely in the corridors of the ministry unless they have prior approved appointments.
Traditionally, accredited journalists have been allowed entry to government buildings and offices. At the finance ministry, as in most other government ministries, accredited journalists have for long been allowed entry to facilitate building contacts, developing vital sources among officials, and meeting their sources. A ban on such movements is tantamount to a serious curtailment of India's press freedom. Ms. Sitharaman's diktat was soon followed up by the announcement of restrictions on access to several other government buildings and offices in New Delhi.
In response to the finance minister's directions, many publications first decided that they would boycott her official post-Budget dinner, a ritual that has been around for decades. However, it's a reflection of Indian media's current state that the boycott, for the most part, never actually happened. Journalists and editors from most of India's largest publications and TV channels eventually attended the event and the Indian press has largely restrained itself from commenting on the restrictions in publications although the Editors Guild of India has called for their withdrawal.
These recent government directives are yet another blow to India's press freedom, which has already been under siege. India's press is not as free as it may seem. In the annual rankings for freedom of the press across the world, a well-respected list by Reporters Without Borders, a non-partisan, non-profit organisation, India ranks a lowly 140 among 180 countries. Indian journalists, particularly those working in small towns and semi-urban areas, routinely face violence, bans, and coercive pressures from politicians and local governments. In recent years, there have been many instances of fatal attacks against journalists.
The ability to freely access the offices of a democratically elected government is one of the basic aspects of press freedom. Journalism, especially when reporting or researching on government policies and other governance-related issues, cannot be a straitjacketed affair. Journalists gather information from various sources—some are by means of officially sanctioned meetings and on-record interviews but a lot of it is based on informal off-record or "background" conversations. Prohibiting journalists from accessing government buildings will seriously inhibit their work, and, therefore, the quality of what they are able to publish as stories. If the government decides who can meet its officials and when then the quality of reportage on the government's affairs will be jeopardised.
India's Prime Minister Narendra Modi has avoided meeting the press during his first inning in power. He did not hold press conferences; nor did he take with him a contingent of reporters on his frequent visits abroad. Traditionally, Indian prime ministers have always done so; and journalists got an opportunity to speak with them aboard the same aircraft or during and after summits and meetings. Of course, Mr Modi did agree to interviews with carefully selected editors (who asked questions that were usually pre-vetted by his office), but these happened to be at the end of his first term and just before he and his party contested the 2019 parliamentary elections and were by and large favourable or "positive" towards him and his government.
India's media has been under pressure in other ways as well. Governments—both at the Centre and in the states—account for sizeable portions of the advertising revenues that media outlets earn. Government advertising is—for many small publications—the mainstay of revenue. And governments are known to use that factor to dictate how the editorial strategy concerning stories on government is adopted. This is an unhealthy trend, but reports suggest it is a growing trend.
Mr Modi's government has been particularly prickly towards criticism in the media. The mainstream media, on the other hand, has been particularly favourable towards it in its reportage, editorial comments; and other coverage. Large media groups in India are almost entirely run as proprietorial enterprises and in many cases the proprietors have other business interests to protect. Sometimes those businesses depend on the government for contracts or even as a customer for their products and services. The conflicts of interest are obvious.
Many fear that the latest spate of restrictions on journalists could lead to other forms of control or pressures on media's ability to report and comment fairly on government affairs. The protests by the Editors Guild notwithstanding, there has been no attempt by the government to rescind the restrictions. If free and fair journalism gets hobbled by government controls, it will be tantamount to compromising the democratic principles by which India lives. That brings us back to what Orwell said. A free media or freedom of the press is all about the freedom to criticise and oppose. Without that the press really means nothing.