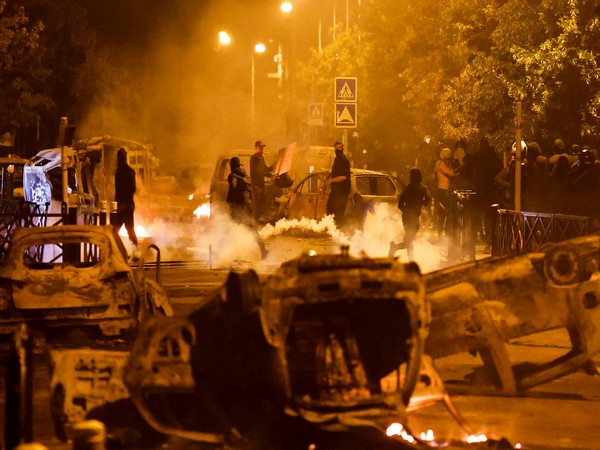 LM NEWS 24
LM NEWS 24
Protesters Ram Car Into Mayor's House In Paris Suburb, Injuring Wife, Child
Amid ongoing unrest in France, the mayor of a Paris suburb said his home was attacked early Sunday morning, and termed the incident "an assassination attempt" on his family, CNN reported.
"At 1:30 a.m., while I was at the city hall like the past three nights, individuals rammed their car upon my residence before setting fire to it to burn my house, inside which my wife and my two young children slept," said mayor Vincent Jeanbrun of L'Hay-les-Roses, a commune in the southern suburbs of Paris.
"While trying to protect the children and escape the attackers, my wife and one of my children were injured," he said, CNN reported.
Thanking the police and rescue services for their help, the mayor said he had "no words strong enough" to express his emotion "towards the horror of this night."
Protests have erupted in France after the death of 17-year-old Nahel Merzouk, who was shot by a police officer in Nanterre earlier this week. The funeral of Nahel Merzouk took place at a mosque in Nanterre on Saturday amid heavy security presence.
The death of Nahel Merzouk has sparked a debate on policing in France's marginalised communities and raised questions on whether race played a role in his death, the CNN report said.
The officer who is accused of shooting him was taken to jail. Nahel Merzouk's mother Mounia while speaking to television station France 5 on Friday blamed only the officer who shot her son for his death.
In order to control the protests, the French government has deployed security personnel and riot police across the country as the unrest continued into a sixth night of protests. French Interior Minister Gerald Darmanin on Sunday said that it had been a "quieter night thanks to the resolute actions of the police," as per the CNN report.
Darmanin further said that 427 people were detained overnight on Saturday. Over 1300 people were detained and 2560 fires were reported on public roads on Friday. Darmanin said that many of those detained since the unrest are minors with an average age of 17, according to CNN. French President Emmanuel Macron has postponed a trip to Germany due to begin on Sunday amid the unrest in the country, Al Jazeera reported.
On Saturday, French Interior Ministry said that 1,311 people had been detained following the fourth night of violence, an update on its previous figure. It said 2,560 fires had been reported on public roads, with 1,350 cars burned, and that there had been 234 incidents of damage or fire in buildings, CNN reported. 79 police and gendarmes were injured over the course of Friday night and there were 58 attacks on police and gendarme stations, the Ministry added. Two police officers suffered gunshot wounds in Vaulx-en-Velin. (ANI)
Read More: http://13.232.95.176/