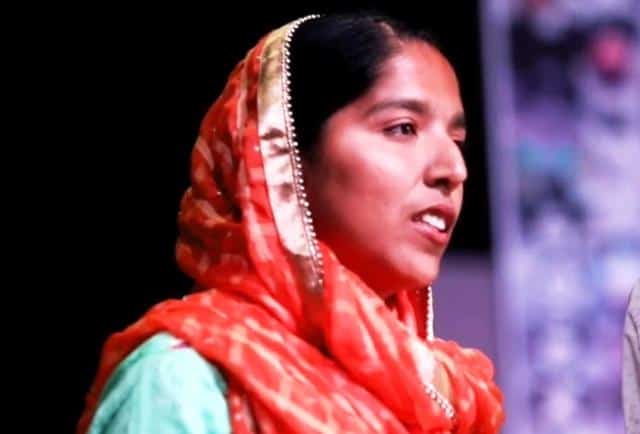 LOK ISSUES
LOK ISSUES
Punjab Disappeared – 'A Lost Childhood'
Tejbir Kaur was only a few months old when her parents were "picked up" by the Punjab Police. Some called them militants, others martyrs and yet others victims of police highhandedness during 1990s. Her story:
No one can tell me for sure what my date of birth is. However, people know the day when my life was spared — October 2, 1992. This was also the day my parents were killed in a 'police encounter'. My parent's killers were "generous" enough to spare my life. After all, what harm could an infant do?
I grew up in a village called Nagoke in Khadur Sahib Tehsil, district Amritsar. Till the age of 12, I was made to believe that my chacha-chachi (paternal uncle and aunt) were my parents. There was a picture of my father which they had hung on the house wall. "That's your tau ji (uncle)," they would tell me. I had no reason to suspect them.
At 12, I was sent to Guraasra — a hostel in Mohali. "Wahan padhai achhi hogi (you will have access to good education there)," I was told. I later discovered that it was an orphanage for the children who had lost their parents to extrajudicial killings during the Khalistan movement. Their parents were often referred to as 'martyrs'. It was there that I was told that I too was one of them. I did not know how to react to the revelation. Then I burst into tears.
Who was my father? Who was my mother? Why were they killed? Why were they called martyrs? A flurry of questions crossed my mind. I had nightmares. I would often wake up in the middle of nights soaked in sweat. I needed answers. I needed the truth to come out.
There were various stories surrounding the death of my parents. Some of our close relatives said my parents were arrested when they were travelling on their scooter while some said they were picked up from a bus. Some villagers told me the police gunned them down and showed it as an encounter while others said my parents killed themselves. My family was stoical. For them, my parents simply "disappeared".
Gradually, some of my questions were answered. My father, Gurmukh Singh Nagoke, was an electrician with a small shop in Nagoke. He dealt with many clients and business partners. Those days one could settle scores with a rival by labelling him as a "Khalistani". Police, with unbridled powers, were more than willing to fix the person thereafter.
Someone maliciously complained that my father had links with the Khalistan movement. That brought a series of harassment and physical torture for the family. It went up to such an extent that my father decided to leave home and actually join the movement. Throughout the 1980s he kept dodging the police and was branded a militant.
Our family bore the brunt for his actions. In his absence, the police, with an eerie regularity, would raid our home and torment my grandparents, uncles and other relatives. They would hit them, tie them behind vehicles and drag them around or beat them up in the lock-up.
My father married Jatinder Kaur in exile in 1990. My mother had cleared her examinations for securing a job with the state electricity board, but was forced to live a nomad's life with my father. A few months after I was born, the two were picked up a police team allegedly from Chakmafi village in Ludhiana and taken to the house of Khanna SSP Raj Kishan Bedi, Police was tipped off by one Gurmeet Singh alias "Pinky Cat".
No one knows what transpired but a few days later an advertisement was published in the newspapers asking people to come and claim Gurmukh Singh Nagoke's daughter from Khanna district. My uncle along with our village sarpanch (village headman) went to Khanna to bring me home.
Three years ago, I saw the man responsible for my parent's death. In interviews with news channels, Gurmeet Singh 'Pinky Cat'— an 'encounter specialist' with Punjab Police – talked about the fake encounters in Punjab. He disclosed that CAT is an acronym for 'concealed apprehension techniques' that became popular in the militancy era in Punjab. He said people were randomly arrested, tortured in lock-ups, shot down or force fed potassium cyanide capsules to show the death as suicide.
Even after my parents died, the police continued to persecute our family for another two years. My relatives, who had nothing to do with the Khalistan movement were questioned, harassed and even tortured. Our home was raided incessantly. It is a miracle how our family withstood it all.
I am married now. I have a new home and a loving family. I do not need a compensation. I do not need a state job. All I want is truth about my parents' disappearance to come out. If there were criminal charges against my father, he should have been tried in court, not killed in police custody. And what was my mother's fault? Why was I forced to spend my childhood yearning for my parents? And so I continue to live and seek answers from the government.
(Tejbir's case is one of the 8,000-plus cases of disappearances that have been documented by Punjab Documentation and Advocacy Project (PDAP). She featured in a documentary film, Punjab Disappeared, which was screened on April 26 in New Delhi.)