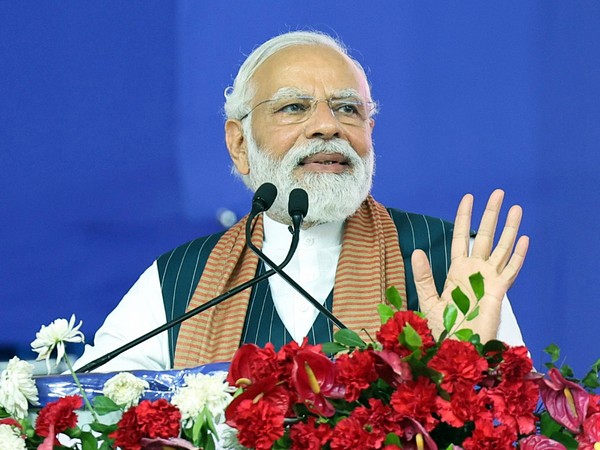 LM NEWS 24
LM NEWS 24
Quit India: Modi's Apparent Jibe At Oppo Bloc
In an apparent jibe at the Opposition grand alliance, Prime Minister Narendra Modi on Sunday strongly criticized "corruption, dynasty rule and appeasement", saying that today the whole country is calling for these "evil forces to quit India".
PM Modi was speaking after laying the foundation stone for the redevelopment of 508 railway stations in 27 states and UTs via video conferencing.
Taking note of the 'Quit India movement' anniversary in the month of August, he said, "This month is the month of revolution, it is the month of gratitude. It is the month of duty, and so many historical days come in August, which gave a new direction to the history of India and inspires us even today. Tomorrow on August 7, the whole country will celebrate national handloom day, dedicated to the Swadeshi movement, this date of August 7 is the day for every Indian to reiterate the resolve to be vocal for local…After August 7, August 9 will come. It is that day when the historic 'Quit India' started. Mahatma Gandhi had given the Mantra, and Quit India Movement created new energy in India's steps towards independence, inspired by this, today the whole country is saying for every evil, which is quit India."
He stressed saying, "there is only one reverberation all directions, and that is corruption quit India, dynasty quit India, and appeasement quit India."
While targeting the I.N.D.I.A bloc, the Prime Minister, without taking any name, said that today, there is a faction of Opposition parties which is opposing everything and that not a single senior leader of it visited the Statue of Unity, in Gujarat.
"…Unfortunately, a faction of the Opposition in our country is following the old ways even today. They will neither do anything by themselves nor let anyone else do anything…The country built a modern Parliament building. Parliament is the symbol of the country's democracy. It has representation from the Ruling side as well as the Opposition. But this faction of the Opposition opposed the new Parliament building. We redeveloped Kartavya Path but they opposed that too. For 70 years, they didn't even build a war memorial for the Bravehearts of the country. When we built National War Memorial, they felt no shame in criticising it publically. Sardar Vallabhbhai Pate's Statue of Unity is the tallest building in the world. Every Indian is proud of it. But none of the big leaders of a few political parties ever visited the Statue…Rising above negative politics, we are going ahead on the path of positive politics as a mission," he said.
Several Union Ministers and the Chief Ministers or Governors also joined the foundation stones laying ceremony from their respective states, where the respective railway stations are to get a complete makeover, under the Amrit Bharat Station scheme.
Taking note of the scheme, PM Modi said, "Around 1300 major railway stations in India will now be developed as Amrit Bharat Railway Station. They will be re-developed in a modern way. Of these, work on the redevelopment of 508 Amrit Bharat Railway Stations begins today. Around 25,000 Crores will be spent on the redevelopment of these 508 Amrit Bharat Stations."
"You can imagine how big of a drive this will be for the infrastructure, Railways and most importantly for the common people of my country," he added.
Notably, the 508 stations are spread across 27 states and union territories, including 55 each in Uttar Pradesh and Rajasthan, 49 in Bihar, 44 in Maharashtra, 37 in West Bengal, 34 in Madhya Pradesh, 32 in Assam, 25 in Odisha, 22 in Punjab, 21 each in Gujarat and Telangana, 20 in Jharkhand, 18 each in Andhra Pradesh and Tamil Nadu, 15 in Haryana, 13 in Karnataka among others.
PM Modi said that today, the focus of the entire world is on India and the country's prestige, on a global scale, has increased.
"World's attitude towards India has changed. There are two main reasons behind this, first, Indians brought in a full majority government after almost 30 years and second, the full majority government took major decisions and continuously worked for a permanent solution to the challenges," he added.
The Prime Minister went on to add that today the number of modern trains in India is increasing rapidly.
"The goal of the country is to make the railway journey accessible to every passenger, as well as pleasant," he said, adding that from train to (railway) station, there is an effort to provide citizens with a better experience.
"Better seats are being put on platforms. Good waiting rooms are being made. Today there is a free WiFi facility at thousands of stations in the country," he added.
PM Modi also said that the Central government has also given priority to the expansion of railways in the North East. The Amrit Bharat Station Scheme was launched to redevelop 1,309 stations across the country. (ANI)
Read More: http://13.232.95.176/