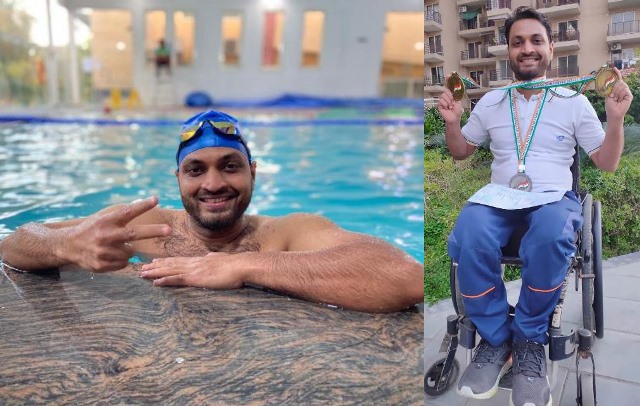 LOK ISSUES
LOK ISSUES
'Quit Self Pity, Learn To Swim Against The Tide'
His medical document describes him as '100% Disabled', but Shams Aalam (34) has others certificates that title him with international gold medalist para swimmer, world record holder in open sea swimming and TEDx Speaker. His story:
I am delighted to have won two Gold and one Silver medals with a new National record at 20th National Para Swimming Championship held in Bangalore recently. From an international level Karate player in 2010 to a record holder paraplegic swimmer, I have come a long way.
In 2010, I was about to represent my country in Asian Games. But as fate would have it I was diagnosed with a benign tumour. The surgical treatment left my lower body paralytic. I lost all sensation below my chest. I needed two persons to carry me from one place to another. It was sheer trauma; I felt like a helpless infant. But my mother, my sister and their children took care of me through that time.
My doctor assured me that I would be able play sports again and I followed his advice but realized that the recovery was slow. I was worried about my future. I searched and read every article on the internet about paraplegia, its recovery, treatment, alternative medicine.
It then began to dawn upon me that this was a permanent situation and is not going to change. Once I got my disability certificate in 2012 which said that I am 100 percent disabled, I decided that I need to stop crying and find alternative ways to move ahead in my life. My mother was the main motivating force. She would tell me "If Allah has closed one door for you, it will open 1000 other doors. Keep going."
My doctor had advised me to take up swimming to regenerate my nerves and I had taken it with utmost seriousness. In 2012 I started participating in national events as a paraplegic swimmer. As my mother had said, a new door opened for me.
In 2016, I won a bronze medal at the 2016 Can-Am Para Swimming Championships in Gatineau, Quebec. In 2017 I covered eight km in open sea in four hours, which is a world record. In 2018, I was selected to represent India in Asian Para Games at 100 meter Butterfly and Freestyle, besides other categories.
My disability changed my vision. I feel there is much to do for the betterment and empowerment of the disabled community in the country, and I have a role in it. I associated myself with many initiatives in this direction. I started Para Sports Association in Mumbai, a body that provides a sports platform to people with disability. I have been working with various universities on accessibility issues and have delivered TEDx talks, most by a disabled person, on various issues.
Since 2019, I have been working with Bal Swavlamban Trust, a corporate social responsibility initiative of Gurgaon-based Hella India Automotive. We aim to produce affordable, accessible customized mobility equipment for the disabled. I use a German wheelchair which is good but also very costly. At Hella, we are trying to reduce the cost of mobility equipment from the current ₹1.5-2 lakh to ₹30,000.
I am also working on the sexuality and disability. These are topics which are never raised because of which women and children often get abused, end up being victims of domestic violence and worse. We are also trying to generate proper data on the spinal injuries, other disabilities.
As a peer mentor I guide people with spinal cord injury on how to live their life post-trauma. My mantra is: accept the way in whatever way you are. Respect yourself, stop self-pitying and start moving. If you want to achieve something, you will find the way to achieve it – either on your feet or a wheelchair.
As Told To Mamta Sharma