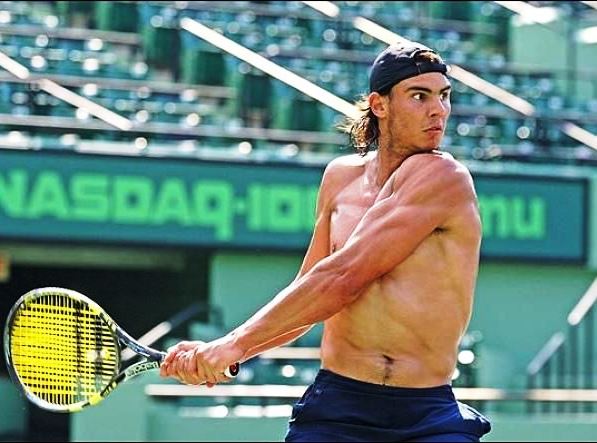 OPINION
OPINION
Rafael Nadal – The Player And The Phenomenon
The elegance of left-handers in any sport comes from pure aesthetics and also looking very different. And when you talk of a certain Spaniard answering to the name of Rafael Nadal, or Rafa in short, you know the discussion has to be about the most famous tennis player on planet.
As the 34-year-old Mallorcan conquered Novak Djokovic, the numero uno based on world rankings, at the French Open final, Nadal again created history.
One can well say, heck, what is the big deal about Rafa the Spaniard winning one more Grand Slam title. Well, for those not initiated into tennis, the King Of Clay stamped his authority on the brick red Parisian clay with aura and elegance. In the process, the man who still leaves girls and ladies swooning with his court presence and macho image equalled Roger Federer's record of 20 Grand Slam singles titles.
When Rafa broke onto the big stage around 15 years ago, he was seen as someone with the grace and guts to excel on clay. Patience is a necessary virtue to win clay court tennis matches, though the good thing is it does not hurt the knee, ankle joints or lower limbs as much as the hard courts do.
In routing Djokovic, the emotional favourite at the French Open final, Rafael Nadal underlined one thing, whether he plays 20 weeks of tennis in a year of 15, when it comes to the Majors, he is a champion always in the zone.
To be sure, in a year where Corona Virus and Covid-19 had destroyed the sports cycle, Nadal took good care of himself. He was dead sure he would not play in the US Open as travelling to New York and living in the bio bubble was fraught with many risks.
As a professional who earns his bread and butter from tennis, runs charities and is a fantastic human being, Nadal has been a role model in many ways. He chose not to be reckless during the pandemic peak in 2020, when Europe was also ravaged by Covid-19.
When he chose to miss the US Open, it left many confused. Was Rafa not in The Zone anymore? The 34-year-old magician, who resembles a chiseled human masterpiece with broad shoulders, proud chest dimension and ripping biceps showed he had worked in his own temple — preserving himself. And the end result, winning his 20th Major title called Grand Slam, was not by default but design.
In a year where Federer opted to stay out due to injury and surgeries, it was Djokovic who looked dominant. But then, when Nadal is playing tennis, he transports fans into a different orbit, where one can only marvel the stuff he produces as strokes in tennis.
His game has always looked physical, extreme power blended with finesse, speed coupled with timing and court coverage like a hare. For those who can understand the nuances of good shots in tennis, he produces angles in his shots which can make a geometry student proud. That, in a nutshell defines Nadal when he wins matches.
Each era in men's tennis has had its share of riveting rivalries and historical perspectives. From Rod Laver to Stan Smith, Bjorn Borg to Jimmy Connors and John McEnroe, the contests have been one of raising the standard of play, leaving the fans craving for more and more.
If Nadal is the consummate artist in tennis, there was one more left-hander before who dominated, John McEnroe. The American was a treat to watch in motion, yet his tantrums, theatrics and spats with the umpires gave him the bad boy image. No doubt, McEnroe, also called Mac-in-a-row for his anger, was a dominant player in his era.
The difference between him and Nadal is stark. Nadal is physical, yet soft by nature. When he accidentally hits a ball girl in anger, he will kiss and make up, literally. In terms of presence and relating to fans and media, Nadal has been a delight. He speaks just like the way he plays, frank and forthright.
He can leave the media in splits with his quotes at the press conference and makes no pretence of the fact that English is not his first language. Nadal may wear a scowl and then quickly break into a half smile or grin. He may look at you in anger, when his eyebrows are raised and his neck is turned at an acute angle. Yet, Nadal is the lover boy of tennis who has broken more hearts than any other player before. Even Andre Agassi, famous for the flowing mane at one time and then the ear stud image, cannot match Nadal for his looks and macho image.
For the serious tennis buffs, the rivalry between Nadal and Federer is part of folklore. Statistics can never capture the nature of battles in a tennis theatre, whatever be the surface or venue. Even on Wimbledon's grass, which is not Nadal's pet surface, he has defeated Federer which goes to show what stuff he is made of. Of course, his 13 French Open titles are something out of the world.
For over 15 years, there has been a huge debate over who is The Best, Federer or Nadal. It is a tough question to answer. Maybe, tennis fans should rejoice they have been able to see these bold and beautiful players entice us with their repertoire of shots and mental strength.
Looking ahead, where Nadal has the edge over Federer is the Spaniard has age on his side. Federer is 39 and Nadal 34, so he is good to win a few more Grand Slam titles and overtake the Swiss genius. Frankly speaking, Nadal has never played for records.
Having won Grand Slam titles on all surfaces, plus the Olympic Gold, he has nothing left to prove. It is the inner desire, the inner call to play and win matches which drives him. His commercial endorsements run into billions of Euros and he does spend money on charity as well.
They say champions are selfish. Nadal is different, he is selfish only on court when he is winning matches. Off court, he is very much like you and me, will never refuse signing autographs or posing for photos with kids. It is this facet of Nadal which has won him fans around the globe.
How long the Rafael Nadal show will go on is tough to answer. He has dealt with injury breaks many times and comes back even stronger. That is why we call Rafael Nadal not a winner but a champion. Thanks for all the memories, even as we look forward to you being part of the Tokyo Olympics in 2021.