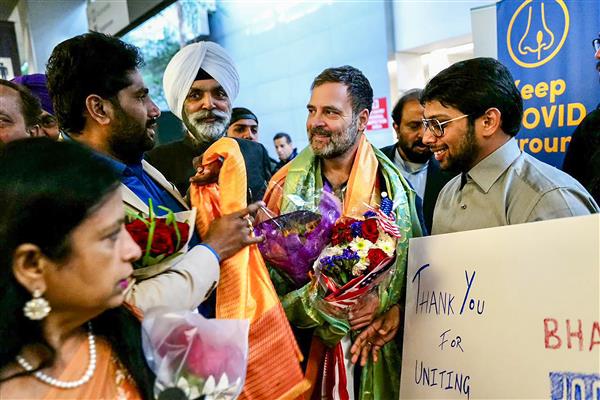 LM NEWS 24
LM NEWS 24
Rahul Gandhi Arrives In San Francisco For 10-day US Tour
Congress leader Rahul Gandhi arrived in San Francisco, US on Tuesday.
Rahul Gandhi is on a 10-day visit to the country. He will cover three cities– San Francisco, Washington DC, and New York.
During his visit to San Francisco from May 30-31, Rahul will interact with the Indian diaspora, venture capitalists, tech executives and students at Silicon Valley.
As per the itinerary of Rahul's visit, shared with media persons, he will interact with senior technology executives from Silicon Valley on artificial intelligence.
He will also address a lecture at California's Stanford University before meeting with the Indian diaspora in the evening on May 31.
In Washington DC from June 1-2, he will speak at the National Press Club on the future of Indian democracy, freedom of speech, and sustainable and inclusive economic growth.
He will also hold meetings with the lawmakers and think tanks in Washington DC.
Rahul Gandhi will attend a dinner hosted by Indian-American entrepreneur Frank Islam and top business leaders, Senators and Congressmen.
During his visit to New York from June 3-4, he will hold meetings with thinkers at the Harvard Club at Harvard University, participate in a lunch event and meet a set of successful Indian-Americans in the creative industry, and address a public gathering at the Javits Center in New York.
This comes soon after Prime Minister Narendra Modi's three-nation- Japan, Papua New Guinea, and Australia- concluded.
Earlier on Sunday, the Congress leader had received a new ordinary passport, after surrendering the old diplomatic passport issued to him when he was a member of Parliament.
On Friday, the Rouse Avenue Court of Delhi partly allowed an application moved by Congress leader Rahul Gandhi seeking a No Objection Certificate (NOC) for the issuance of a fresh ordinary passport.
The Court granted No Objection Certificate (NOC) for a Passport to Rahul Gandhi for 3 years. (ANI)
Read More: lokmarg.com