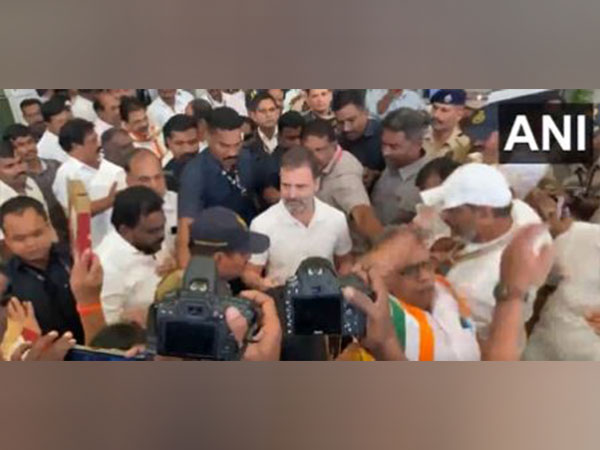 LM NEWS 24
LM NEWS 24
Rahul Lands At Coimbatore Airport, Enroute To Wayanad
Congress leader Rahul Gandhi on Saturday morning arrived at Coimbatore airport on an IndiGo flight from Delhi.
During his two-day visit to Tamil Nadu and Kerala, starting today Gandhi will also visit Udhagamandalam (Ooty).
Gandhi is then scheduled to travel by road to Wayanad, his parliamentary constituency in Kerala. This will be his first visit after he was reinstated as a Member of the Parliament in the Lok Sabha following the Supreme Court's stay order on his conviction in the 'Modi' surname case.
In Kerala, Congress leader will participate in public meetings and a key handover ceremony of nine houses built under the Kaithangu Project in Kalpetta.
Kerala Pradesh Congress Committee Working President VT Siddique said that Gandhi will attend a district Congress Committee meeting.
"There will be a very warm welcome ever hand in the history of Wayanad for Rahul Gandhi," Siddique added.
According to sources, the Congress MP will embark on a Europe tour, covering three countries namely Belgium, Norway, and France from the second week of September where he will be meeting European Union Parliamentarians, the Indian diaspora, and university students.
Meanwhile, Gandhi spoke in the Lok Sabha during the no-confidence motion his party had moved against the PM Modi-led central government. The motion, moved by Congress MP Gaurav Gogoi and supported by the Opposition bloc I.N.D.I.A (Indian National Developmental Inclusive Alliance) was defeated on Thursday after an address by Prime Minister Narendra Modi.
Gandhi launched a scathing attack over PM Modi's speech in the Lok Sabha during the no-confidence motion stating that it does not behove the PM to laugh and crack jokes in Parliament when Manipur has been "on fire" for over three months. (ANI)
Read More: http://13.232.95.176/