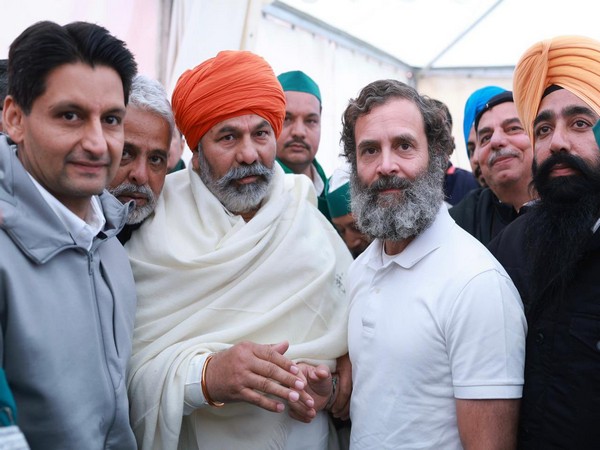 LM NEWS 24
LM NEWS 24
Rahul Meets Tikait During Haryana Leg Of Bharat Jodo
Congress leader Rahul Gandhi met a delegation of farmers including Bharatiya Kisan Union (BKU) leader Rakesh Tikait on Monday during the Haryana leg of the Bharat Jodo Yatra.
Several delegations of farmers were present in Kurukshetra to support the Congress' foot march.
During the meeting of the Congress leader and BKU leader, several problems of the country's farmers were discussed.
Meanwhile, Nava Raipur Kisan Andolan, going on in Chhattisgarh, Himachal Pradesh, and Rajasthan, was also discussed during this meeting.
"Today met Rahul Gandhi ji in Haryana and discussed the problems of the farmers. In the discussion, Nava Raipur Kisan Andolan going on in Chhattisgarh, Himachal, and Rajasthan was discussed and also talked about the farmers' issues of other states," tweeted Tikait.
Congress MP and party's communication-in-charge Jairam Ramesh also took to his Twitter handle and shared details about the meeting. He wrote, "Today @RahulGandhi interacted with various farmer organizations at Shahabad near Kurukshetra. Their main demand was a legal guarantee for the MSP and the actual implementation of the 2013 Land Acquisition Act. He was also against GM mustard."
Congress' Bharat Jodo Yatra led by Rahul Gandhi resumed on Monday morning from Khanpur Kolian in the Kurukshetra district of Haryana. The foot March entered the state on January 6 after covering Uttar Pradesh over a span of three days.
Dressed in a white T-shirt, Gandhi was joined by locals amidst the morning fog.
The yatra, which is on its 115th day will reach Mohra Maulana of Ambala today night passing through Shahbad and Saha.
Taking to Twitter, party MP Jothimani said, "Tomorrow is an all-women walk in Bharat Jodo Yatra . one of the most exciting days. @RahulGandhi is very passionate and committed to women's empowerment, looking forward!."
Earlier in December when yatris headed towards the Peepulwada of Sawai Madhopur district in Rajasthan, Rahul Gandhi celebrated the Mahila Sashaktikaran Diwas by walking with women.
Similarly in November on the occasion of former prime minister Indira Gandhi's birth anniversary on November 19, only women walked with Rahul Gandhi during the Yatra that day.
So far, the foot march which started from Kanyakumari on September 7, has covered parts of Tamil Nadu, Kerala, Karnataka, Andhra Pradesh, Telangana, Madhya Pradesh, Rajasthan and Maharashtra, and Haryana. It will culminate in Jammu and Kashmir.
The Yatra is due to enter the border state of Punjab on January 10 and will culminate in Jammu and Kashmir. (ANI)
Read more: http://13.232.95.176/