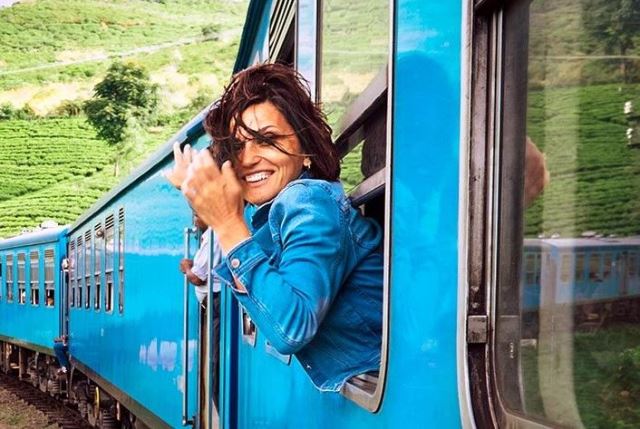 OPINION
OPINION
Rail Romance: Life Chugs Back On Tracks
It's a cliché: Down the Memory Lane. I know it is a cliché, so let it be. I want the cliché. I want to go down the memory lane.
Like in school, when we were asked to write about a train journey during the summer holidays, I too want to write about a train journey in this summer, while the beautiful Bengal monsoon is still far away.
The last two summers have been terrible and hard. So much of dying and death. It still lingers, the suffering. It's time to transcend.
So I took a long distance train from Kolkata to Kalka. One day, two nights. In a compartment full of Bengali tourists, gorging food all day – chicken, fish, rice, cutlets, omelettes, chanachoor, chire bhaja, shingara, aloo chop – all set with their caps and half-sweaters on their golden journey to hill station Shimla. Brushing their teeth very early in the morning. Looking for a Bengali newspaper with tea. Thinking of breakfast. Bengalis are avid travelers. So where will they go next summer? Kashmir!
It was a fast train. Netaji Express, named after Subhash Chandra Bose. As few as 38 stops on the way. A station called Mitawli. Another called Kulwa. Mughal Sarai Junction is still called Mughal Sarai, according to the locals on the platform. And Allahabad is still Allahabad, in the oral tradition of the common folk. Some things simply refuse to change. Thank God!
When I was a little boy, it used to be a long journey from Saharanpur to Mughal Sarai. The junction had a long stop. Food, smelling divine, would be served on aluminum thalis, and the railway staff would balance scores of these meals in their hands and run to the compartments. People would crowd the railway taps with their earthen surahis to fill cool water – no bottled, mineral water those days.
My mother would then take me out to the tap, strip me off my cut-piece clothes, and pour water on me with a mug from the railway tap. A lovely railway station public bath, the water like a cool river. Ah!
The train started from Howrah station in Kolkata. The long bus ride from Ranikkuthi in South Kolkata took me almost two hours while facing a relentless traffic jam due to an IPL match. A cool wind from the river flooded the bus through its windows as we crossed the Victoria Memorial and entered the vast open lawns of the 'Maidan' opposite the Park Street.
At the Howrah station, an ocean of humanity moves like a forever tidal wave in continuous motion. You can choose a bench and watch them for hours with a cup of tea in a kulhar, while holding a detective fiction: ordinary folks with their bundles, sacks, suitcases, families with kids and women, bindaas young boys and girls with rucksacks – this is an eternally moving stream of consciousness. After the prolonged suffering, loneliness and isolation of the pandemic, this is exactly what I want.
ALSO READ: 'I Moved To A New Country Amid Covid'
The train entered the night and small stations passed by, even as we crossed Burdwan, Durgapur and Asansol, into the beautiful lush green of Jharkhand. The little stations with their little platforms: two sadhus waiting on a bench, a lonely traveler with a suitcase, a woman with a pile of wood she has gathered from the forest, young boys of the village smoking. It took me a while to discover what I was looking for – an empty small railway station with a solitary station master, holding a green flag and a torch, signaling a green signal in the dark.
Does he live all alone in this station surrounded by an expanse of thick, dense darkness, with not a light flickering light for miles and no sign of human habitation? Does he cook alone and eat all by himself? Will he read a book of ghost stories in the little light sitting on a bench in the platform? Is he afraid of ghosts?
The lights move to and fro, come close and fade away in the distances, even as little clusters of civilization emerge from nowhere, like lighthouses in the sea. Only from a midnight train window can you watch this nocturnal journey unfolding, like a childhood magic story full of wonders and amazement. What lies there beyond in the inky emptiness, even as I am fully protected and unafraid inside the moving train?
After a long time, a small town emerges in the distant map; there is a marriage celebration in a mohalla. The diyas are twinkling in a tiny temple. Women are sitting on the terrace, or, in an open-to-sky courtyard under the stars, taking a respite from the heat. Yes, I can hear the children screaming with joy, running with abandon on the by-lanes.
Smoking is not allowed on platforms or on the train. Nor is tea available on most of the platforms anymore. Earlier, a railway platform would tell the intrinsic story of a civilization, the town it is hiding, its food, friendliness, language, its history, cuisine and craft. In Gorakhpur you could get puri and aloo sabji with jalebi. In Mathura you could get pedas, in Agra, pethas, in Malda, huge omelettes and mango, in Vijaywada, idli and vada with sambhar and coconut chutney on banana leaves. Now, no more.
Everything is sanitized. Digitalised. Dehumanised. Empty stations serve no tea or local favourites. There are no dialects or sounds of vendors which could tell you where you have reached, in which part of the country, even in your sleep. There is no song of the road. No local flavour. And the food tastes the same: insipid, uninspiring, unhappy. In aluminum foil.
Morning arrives with a new longing and a new hope. A new geography is mapping its new landmarks. The flowers are blooming near the pond. A small hut is surrounded by a little orchard of trees. A make-shift tiny shelter with a hand-pump waits to give ephemeral relief to a tired and thirsty farmer. A small kabristan is the neighbour of a human settlement. A long bylane through a flatland takes you to the village mosque. In western UP, there is moong dal growing on the green fields. Two birds are racing with the train.
As the train slows down and enters Old Delhi, along the Red Fort, a flood of memories arrive from the shadows of the night. There are thousands of people living in slums across the railway tracks, and the train, often, literally, moving through their kitchens and bedrooms. A million little gullies with little stairways intersect these urban civilizations. A child is doing homework. A girl is cutting vegetables. And a group of women are making what seem like bags in a tiny, cramped space, even as night falls like a heavy and joyless cloud.
The Old Delhi Railway Station is pulsating and full of life. In those days, when there would be a long stop, people would rush to Chandni Chowk to quickly buy delicacies: faluda, rabri, chaat, matar parathas, various kinds of puris. Now, we are waiting. So that the train moves.
It has been a long journey. And, because, early morning the next day, the mountains will emerge from the Himalayas, bringing with it, a cool, serene, sublime wind. Healing us once again.