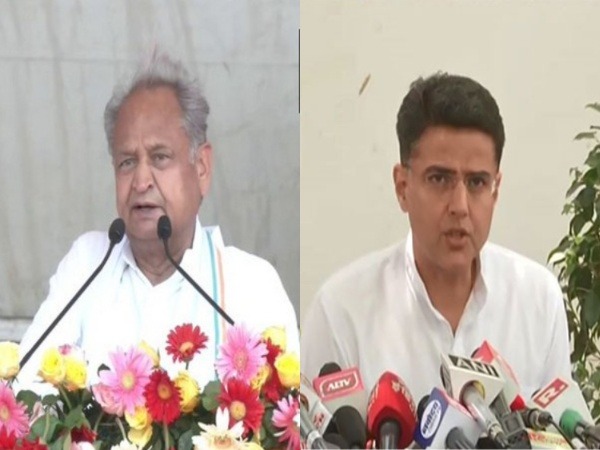 LM NEWS 24
LM NEWS 24
Rajasthan: Gehlot, Pilot To Attend Key Cong Meet Today
Congress leader Sachin Pilot will be part of a key meeting of the state party leadership, which will also feature Chief Minister Ashok Gehlot, indicating that the two feuding heavyweights of the ruling party may finally be burying the hatchet ahead of the crucial Assembly polls at the end of this year.
The meeting of the Pradesh Congress Committee (PCC), which is scheduled to be held virtually at 11 am on Thursday, will also feature PCC Chief Govind Singh Dotasara, cabinet ministers, and the All India Congress Committee (AICC) in-charge of Rajasthan, Sukhjinder Singh Randhawa.
The meeting will be held via Zoom.
This will be the first meeting where the two leaders, who have been locked in a bitter and protracted power tussle, will come face to face since their differences came to the surface.
While they have been making public statements against each other, with the party high command seemingly at pains to broker a truce, Pilot, in the recent past, escalated his attack against the Gehlot government, demanding that it makes good on its promise to order a probe against the alleged corruption under former chief minister Vasundhara Raje Scindia.
He also took out a 'Jan Sangharsh Yatra' to raise public awareness on his demand and step up pressure on the Ghelot government to live up to its promise to the people.
Earlier, on May 29, in view of the persisting war of words between the two leaders, Congress national president Mallikarjun Kharge had summoned CM Gehlot and his former deputy for separate meetings in the national capital.
Congress leader Rahul Gandhi also attended the meeting at the party's headquarters in the national capital.
Earlier, on May 15, Pilot issued an ultimatum to the Congress government to probe the alleged paper leak scam during the previous Bharatiya Janata Party (BJP) rule in the state.
He warned the Gehlot government of agitations if his demand wasn't met in a month.
He raised three key demands, threatening the government with protests if they were not acted upon in a month's time. These were disbanding and reorganising the Rajasthan Public Service Commission (RPSC), which hit the headlines in the wake of the alleged paper leak case, compensation to the affected candidates, and a high-level inquiry into the alleged scam under the Vasundhara Raje government.
He alleged that there was loot and corruption under Raje's rule.
"Ashok Gehlot saheb also levelled allegations (against the BJP government) while in the Opposition. Today four and a half years (of the government) have been completed but the promises made have not been fulfilled," Pilot said earlier, adding that he wrote several letters to CM Gehlot.
"I went on a fast in Jaipur, but when nothing happened. Now, I will go to the people through the Jan Sangharsh Yatra," he had said. (ANI)
Read More: http://13.232.95.176/