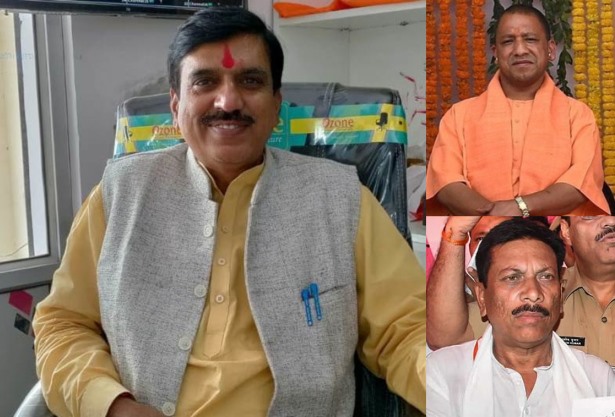 LOK ISSUES
LOK ISSUES
'Rampur, Azamgarh By-polls Prove Voter's Trust In CM Yogi'
Ashok Vishnoi, BJP's district general secretary of Rampur, UP, says days of dynastic politics in Uttar Pradesh are over. Here, in his own words:
The BJP is overwhelmed with the results of recent by-polls in Uttar Pradesh. We have wrested the two Lok Sabha seats of Rampur and Azamgarh which were once considered the pocket borough of Samajwadi Party leader Azam Khan.
The victory has sent a message – by and large – that nothing is permanent in politics. And any political change can only be brought by tireless working for janata, the people, the electorate. Prime Minister Narendra Modi gave us a mantra: Thakna nahi hai, rukna nahi hai (Forget the fatigue, work without a break). And following his advice, the BJP cadre in Rampur has rolled the dice in our favour.
While Azam Khan was not at his venomous best, having drawn lessons from Election Commission action earlier, Samajwadi Party chief Akhilesh thought it would be a cakewalk. Little did they realise that things have changed under Yogi Adityanath's rule. The BJP has given them a rude shock for their complacency and laidback attitude.
Chief Minister Adityanathji, along with a team of 16 ministers, made it a point to reach out to every nook and corner of the constituency, and made the electorate aware about his work and future plans, coupled with the near absence of the so-called 'entitled rulers' of Rampur, turned the tide in BJP favour.
The by-poll results have once again proved that the people have faith in Yogi Adityanathji and Narendra Modiji. It is not only the victory of our candidates but the victory of BJP's ethics and work culture.
Another thing which the results have thrown up is that caste politics and appeasement policies are fading away. The voter has woken up. The victory (both in Rampur and Azamgarh) has sent a message loud and clear: blocks of Muslim-Yadav, Pandits, OBCs, SCs, and STs are a passé. If you want to win, you need to first win their hearts and address to their concerns. It was not a fight of Lodhis, Jatavs, Yadavs, Muslims and others this time. It was about the people and their basic needs.
The voter knew who would come to respond to their concerns. They would not vote for the dynasts and their representative who have done little to address their issues for years. The results are all about ridding the constituency of one-family business. After all, if their elected 'leader' is a serial offender and a frequent visitor to jail, who will stand by them in the times of a crisis?
At the same time, it has brought a huge responsibility on our shoulders. If the BJP leaders fail to deliver on their promises, or do not live up to the expectations of the voter, we too shall lose the plot sooner than later. We must not be complacent; we have to sustain the voters' trust in us and that is our challenge
As told to Rajat Rai