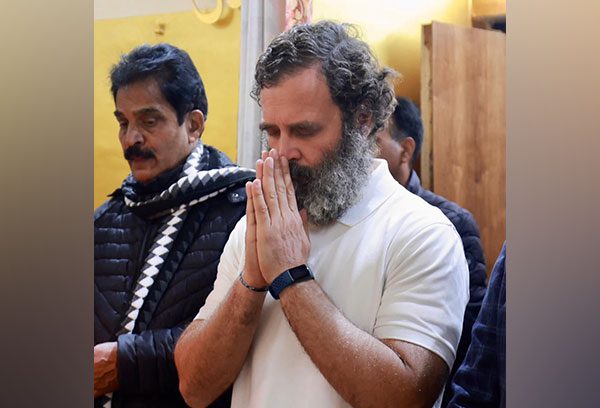 LM NEWS 24
LM NEWS 24
Ready To Pay Any Price For Speaking Truth: Rahul After Vacating Bungalow
Congress leader Rahul Gandhi on Saturday vacated his official bungalow and said that he is ready to pay any price for speaking the truth.
The move comes after the disqualification of the former Lok Sabha MP.
Rahul Gandhi said the government bungalow located at Tughlaq Lane was given to him by people of the country and he had stayed there for 19 years.
Former Congress president Sonia Gandhi, party general secretary Priyanka Gandhi Vadra and KC Venugopal were present as he handed over the keys to his official bungalow.
"People of Hindustan gave me this house for 19 years, I want to thank them. It's the price for speaking the truth. I am ready to pay any price for speaking the truth. For some days I will be staying at 10 Janpath," said Rahul Gandhi after the handover.
"I'll stay at 10 Janpath for some time, then we'll figure out something," he said when asked where he will go now. Sonia Gandhi presently lives at 10 Janpath.
Priyanka Gandhi also echoed Rahul Gandhi's sentiment when she stated that her brother was suffering as he had spoken the truth.
"Whatever my brother is saying is truth. He spoke truth about the government for which he is suffering. But we are not afraid..," Priyanka Gandhi Vadra said.
AICC General Secretary KC Venugopal said, "They can give this house to anyone now. The way the Modi government and Amit Shah is targeting Rahul Gandhi is completely a political vendetta."
Earlier in the day, trucks loaded with furniture were spotted departing from the 12 Tughlaq Lane bungalow.
Rahul Gandhi was sent a notice to vacate his bungalow, a day after a Surat Sessions Court on April 20 convicted him in a defamation case.
The Lok Sabha Secretariat on March 27 gave notice to Rahul Gandhi to vacate the government bungalow following his disqualification as MP from Lok Sabha after he was convicted in a 2019 defamation case by the Surat court for a 'Modi surname' remark.
Opposition parties had slammed the government over Rahul Gandhi's disqualification from Lok Sabha. The Congress leader was elected to the House from Wayanad in the 2019 general elections. (ANI)
Read More: http://13.232.95.176/