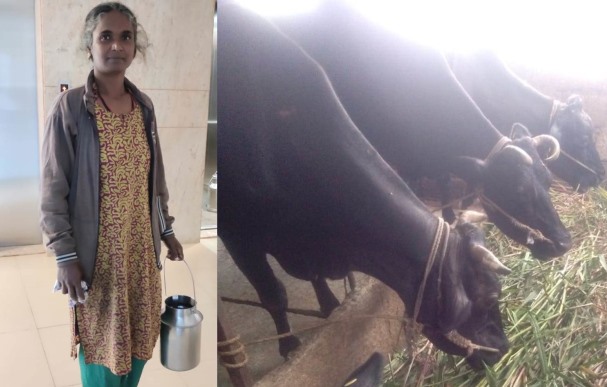 LOK ISSUES
LOK ISSUES
'Rearing Cows, Selling Milk Is Not A Men-Only Domain'
Bengaluru-based Kanta (49) is breaking gender stereotypes delivering fresh cow milk to gated communities in the city's Whitefield locality. Her story:
Before the outbreak of Covid-19 in March 2020, I was employed as a babysitter and cook at a few households in a group housing society near my house. I lost all the work due to lockdown and the pandemic restriction. I had a cow at our shanty for our dairy needs. During the lockdown, I started selling its milk to get some income.
While most families use packaged milk these days, there are still enough households which swear by fresh cow milk for their children or better nutrition. As the demand scaled up by word of mouth, I bought four more cows and started a daily supply service to the gated communities nearby.
I know it is quite a sight to see a woman carrying milk containers on a cycle because we have grown up seeing only mustached men doing it. And yes I also felt embarrassed in the beginning as people would turn and gave me a second look. But it no longer causes me any discomfort. I am happy to be doing what I do and being financially independent. There is no shame in any work, and no livelihood is gender exclusive.
I start early, get out of my bed at 3:30am, wash the cattle, clean the shed and then milk the cow. The milk is carried on containers balanced on my bicycle and delivered to two of the gated communities in my neighborhood. I feed the cows on my return. The routine is repeated in the evening. That is how my day looks like.
I never advertised or sought recommendation for new patrons. Whatever number of households I supply today, I got by word of mouth publicity. I feel that is the best kind of advertisement. When it comes to edible products, how do people trust you until they try the product? Some of my customers even checked the milk for adulteration and told me that they found it good. I feel good with the feedback and it encourages me to keep going.
I have a 28-year-old son who works in the fire department but now he is also thinking of joining me to scale up the business. I studied till Class 7 as my family believed a girl child should not get high education and instead learn household work.
I had a troubled marriage. After facing too many hardships, I decided to walk out of the marriage and bring up my son on my own. I didn't seek help from either my own parents or in-laws. I worked towards slowly building my own house and raising my son. Now we both live independently and a better life.
I plan to buy more cows and improve the facilities that I have to grow my business. But the truth and the worst thing in this world is that not many can see women getting financially successful. There are more people to laugh at your failures then encourage and support you. But that doesn't affect me one bit. When one is honest in what one is doing, there is no stopping.
As told to Mamta Sharma