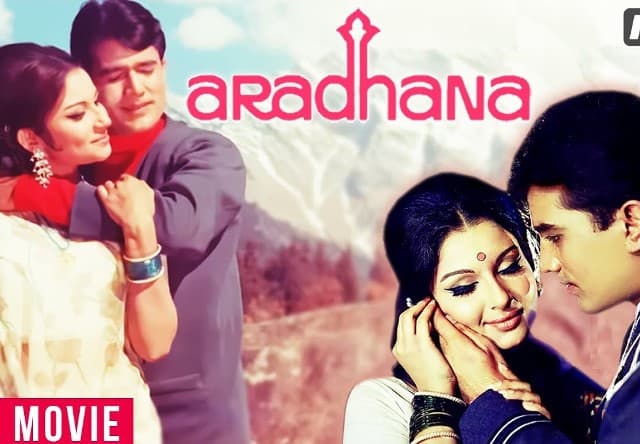 OPINION
OPINION
Recalling 'Aradhana' In Its Golden Jubilee Year
<![CDATA[
There are films that set box office records and there are some that script history. Shakti Samanta's masterpiece creation Aradhana did both
Anniversary recalls of films are reserved for classics. Many may argue, but Aradhana, released on 27th this month, fifty years ago, was not one.
But it was much else. There are films that set box office records. There are some that script history. Aradhana did both. It made money, selling across India, in the erstwhile Soviet Union and elsewhere.
It refurbished romance as a popular theme and survived those that celebrated violence and the "angry young man", invariably ending in tragedy.
Aradhana was essentially producer-director Shakti Samanta's creation. Bengali literature provides numerous themes that can be made into films. Many have been first made into that language before being re-made in Hindi. But Aradhana was straight out of Hollywood, based on To Each His Own (1946).
Besides a gripping story, obvious inspiration was the Oscar-winning performance by Olivia de Havilland, the role that Sharmila Tagore enacted. Retaining the air force pilot bit but relocating it in scenic North Bengal, the Indianization by writer Sachin Bhoumick left little trace of the original.
This family drama spread over two generations was the launching pad for Rajesh Khanna's twinkly-eyed superstardom. He had four flops before. With Aradhana began his journey of 17 consecutive hits at the box office between 1969 and 1974. 
I met him at a party during that period, dressed in gaudy silk kurta and tehemat, basking in success that few before him had enjoyed.
But his superstardom was short-lived. Undoubtedly charming and even successful, he lacked the physique and the mind to bear its burden.
Samanta had switched from his long-time favourite Shammi Kapoor who had given him two hits (Kashmir Ki Kali and An Evening in Paris) to this fresh-faced newcomer. Pairing him against Sharmila, his senior by a decade, was a gamble that paid off. 
Aradhana was a great musical. Samanta had replaced his long-time favourites Shankar Jaikishan. See any collection of old songs today – Lata Mangeshkar, Kishore Kumar or S D Burman – practically all Aradhana songs are there.
With S D Burman's advent preference for male singers changed. The film cemented Kishore Kumar's position as India's most popular playback singer (Kora Kaagaz tha and Roop Tera Mastana) at the expense of Mohammed Rafi (Gunguna Rahe Hain). Kishored's versatile but untrained voice, lost among those trained by Ustads of Hindustani Classical of that era, had remained on the periphery for 22 long years.
As in Guide (1965), both Rafi and Kishore had given outstanding songs to composer Sachin Dev Burman. But Kishore burst the popularity charts the second time over in Aradhana, never to look back. Common to both films, of course, were voices of Lata Mangeshkar and Burman's own, in title songs.
Burman fell sick while composing for Aradhana. Son Rahul Dev Burman took up the baton. Kishore, too, shared the music credit. Once out of the father's banyan tree shadow, RD's musical genius came into its own.
Sharmila Tagore had by then done 22 films. Launched by Satyajit Ray (Apur Sansar in 1959), she had paired opposite Bengal's superstar Uttam Kumar (Nayak in 19660. For Samanta, she had done Kashmir Ki Kali (1964), Sawan Ki Ghata (1966) and An Evening in Paris (1967). But her Aradhana performance was vastly different.    
Precisely three months after Aradhana's release, when she married Mansur Ali Khan Pataudi, the cricketer, it is said, the Nawab's mother faced the dilemma of having to choose between a bikini-wearing bahu (first Indian actress to do so in An Evening in Paris) and a self-sacrificing unwed mother of Aradhana and of her earlier film, Satyakam (1966).
The sensitive unwed mother theme was not new. At least two films, B R Chopra's Dhool Ka Phool (1959) and Dharmaputra (1961) with both roles enacted by Mala Sinha had preceded Aradhana. But in Sharmila's two performances, neither the mother nor the child, aroused pity or disdain.      
After Aradhana, Rajesh-Sharmila became the hit pair of the 1970s. Samanta repeated them with similar success in Amar Prem (1972). It was located in Calcutta (now Kolkata) for which R D Burman lent that rare Bengal folk lilt. No fan of Rafi, RD took Kishore all the way. Today, it would be difficult to judge which of the two films is better, popular.   
Indeed, the first half of the 1970s belonged to Rajesh-Sharmila. Other directors starred them together in Safar (1970), Daag (1973), Maalik (1972), Chhoti Bahu, Raja Rani and Avishkaar – seven in all.
Sujit Kumar, who drives the jeep riding which Rajesh croons "mere sapnon ki rani" acquired huge fan following. After being the leading man's sidekick, he leap-frogged to play lead roles in Bhojpuri films.
Shakti Samanta did many more films later, including Kati Patang (1971), pairing Rajesh with another senior, Asha Parekh. It had great music by RD. But arguably, that film is not so lasting in public memory as Aradhana and Amar Prem. 
Half-a-century hence, Samanta and his story-teller Bhowmick are gone. Rajesh Khanna passed away in 2012, to be posthumously awarded Padma Bhushan, the third-highest civilian award.
He won four Filmfare Awards for performances and two special awards for lifetime achievements. Long past his superstardom, he remained popular, though, and was elected to Parliament (1992-1996). The generation he mesmerized has faded.
Sharmila, gracefully aged, looks the same — pretty and petite. Her children have taken to films and she had a long stint as the Chief of the Central Board of Film Certification.   
Both the Burmans are gone, none to replace them — none to replace Kishore Kumar either.
One of the few survivors, Farida Jalal, the bubbly muse of Suraj, the pilot-son who sang Baaghon mein bahar hai, trade-marked that kind of role for years. Even as she plays the mother today, she remains a happy combination of wit and wisdom.  
For Samanta, Aradhana won the Filmfare Award for Best Film. At the 17th Filmfare Awards, Sharmila won her first Filmfare Best Actress Award. The song "Roop Tera Mastana" fetched the Best Male Playback Singer for Kishore Kumar.
Originally released in Hindi-Urdu and dubbed in Bengali, Aradhana's huge success led to two remakes, with Tagore's role being enacted by Vanishri. The Tamil film Sivagamiyin Selvan and the Telugu film Kannavari Kalalu were both released in 1974.
Old records say that Aradhana made a large impact on Indians in general. Wearing kurta over trousers became fashionable, and so was Khanna's hairstyle, with parting in the middle, ears covered.    
It inspired many to take up films as a vocation. One of them was the popular American actor Tom Alter, who had made India his home and Bollywood his artistic arena.
He confessed in an interview that impressed watching Rajesh Khanna in Aradhana, he had headed to Film and Television Institute of India to train as an actor.  
The writer can be reached at mahendraved07@gmail.com