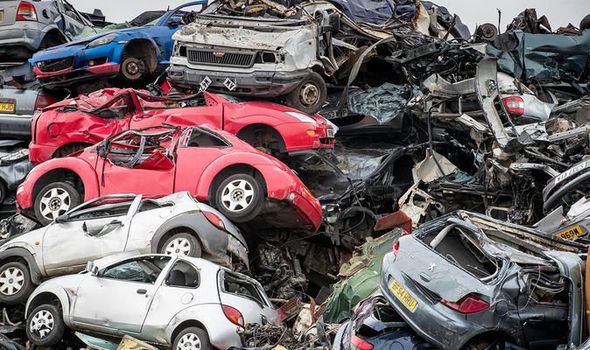 OPINION
OPINION
Recycle Old Vehicles: Curb Pollution, Create Business
<![CDATA[
The government must motivate people to give up 15-year-old vehicles by incentivising the process. Next, it must draft a sound scrappage policy and build a chain of recycling units across the country
We don't expect our leaders to be aware of the works of the two world's leading environmental economists Martin Weitzman, the recluse who passed away on August 27 and the Nobel laureate William Nordhaus. Even then they, specially the ones living in Delhi who are exposed to inhaling toxic air, should be well aware that the millions of end of life vehicles (ELVs) are the principal culprits for fouling the city environment.
As early as 2000, New Delhi drawing lessons from the standards in the US where the focus is on emission of nitrogen oxides (NOx) and particulate matter (PM) and the European Union where the concern is more about carbon dioxide (CO2) and carbon monoxide (CO) formulated Bharat Stage Emission Standards (BSES). In phases, the norms were made more stringent and once a new stage is set, all new vehicles will have to compulsorily conform to it.
Now the government in an attempt to ensure that all new vehicles still do less harm to air quality is leapfrogging Bharat Stage V to BS-VI to be effective from April 1, 2020. This definitely is an environment positive move, though introduction of improved technology will mean higher prices for vehicles. Definitely a small price to pay for air quality improvement. The automobile industry's concern is that this is to happen when it is facing the worst demand slump in two decades.
Sales of cars and SUVs fell for ten months in a row till August 2019. Every manufacturer, except for new entrants like South Korean Kia and Morris Garages (popularly known as MG) owned by Chinese state enterprise SAIC, has been forced by sharp demand collapse to cut production and shut factories and showrooms. But in the process countless number of workers had to be laid off. Unfortunately our finance minister Nirmala Sitharaman instead of acknowledging what is happening in the automobile industry is one manifestation of the economy being gripped in a deep economic crisis wanted us to believe that shared mobility and young people using Ola and Uber services are the cause.
No doubt lowering of Goods & Services Tax (GST) from the peak slab 28 per cent to 18 per cent could prove to be an effective stimulus for demand revival. Many states with their finances in a bad shape are expectedly demurring. But as the situation is, the GST Council should be able to reach a consensus that cars up to a value of say Rs10 lakh will attract 18 per cent GST to encourage middle class to own vehicles. The empirical evidence through all economic crises here and elsewhere is that buying by the rich and the very rich are immune to market swings. Therefore, let the exchequer continue to get the maximum from sales of the likes of BMW, Benz, Aston Martin, Porsche and Bugatti, all recession proof.
To return to ELVs from the current automobile crisis. We have on the registers of regional transport authorities, a disturbingly large number of 28 million ELVs, predating introduction of BSES seriously compromising air quality, particularly in our principal cities. Ideally, 15 year old vehicles should be sent to scrap yard. This is based on global experience that emission level of old cars is ten times more than the ones in ideal condition. In the case of ageing trucks, their emissions are at least eight times higher than the new ones. The question is why ELVs in such numbers are still running in already highly polluted cities like Delhi, Mumbai and Kolkata without the authorities taking action against the owners? Obviously, the authorities don't want to offend the urban middle class and transport companies in which many politicians have a stake.
Even while a vehicle scrappage policy is under consideration for quite some time, the lawmakers are not able to decide whether the owners will be forced to surrender more than 15 year old vehicles for dismantling or the scheme will be principally voluntary but with such built-in incentives that will motivate people to surrender ELVs. Back in 2016, the government was toying with a voluntary vehicle fleet modernisation programme. But nothing came out of that. In recent weeks minister for highways and transport Nitin Gadkari and Sitharaman have spoken of the need for a well considered scrappage policy.
They will do well to heed the advice of industry veteran Pawan Kr. Goenka, managing director of Mahindra & Mahindra. He says in our kind of situation the scrappage policy cannot be mandatory but has to be motivational for ELVs surrender. "People who are doing with old vehicles belong to the lowest economic bracket among vehicle owners. You should not force them to give up their vehicles. That will not be right. It has to be voluntary and incentivised. It's also important to offer a considerable incentive to motivate people to send ELVs for scrapping," Goenka says.
Environment and replacement of scrapped vehicles by new ones using the vehicle surrender linked incentive money are not the only issues involved in the scrappage programme. Apply the circular economy concept, you will find in ELVs sent for 'depollution. dismantling, baling and shredding' have a lot of wealth in the form recovered metals, specially steel, which is an important feedstock for steelmakers using electric arc furnaces (EAFs) and induction furnaces (IFs).
The thriving unorganised vehicle recycling units through their highly unscientific and environment compromising process are annually generating around 28m tonnes of steel scrap against requirements of 35m tonnes by the steel industry. Therefore the deficit of 7m tonnes are imported from the European Union, UAE, the US, Japan, etcetera, at considerable outgo of foreign exchange. The steel ministry has estimated that EAFs and IFs here will need 55m tonnes of scrap by 2030-31.
Ministry officials say considering the large local ELV population, India is well placed to generate enough scrap to meet the steel industry's future demand for this raw material and imports could be eliminated. But for this to happen, the country must build a chain of authorised recycling units in different parts of the country equipped with automated plant and machinery. Why only self-reliance, there is potential to create modern recycling units close to ports which will facilitate import of ELVs from south and south-east Asia and the Far East and then export steel scrap. Unlike India, many countries in this part of the world do not have blast furnaces (where iron ore is used) and make all their steel through EAFs and IFs. They will be ready buyers of any surplus steel scrap that this country may generate in future.