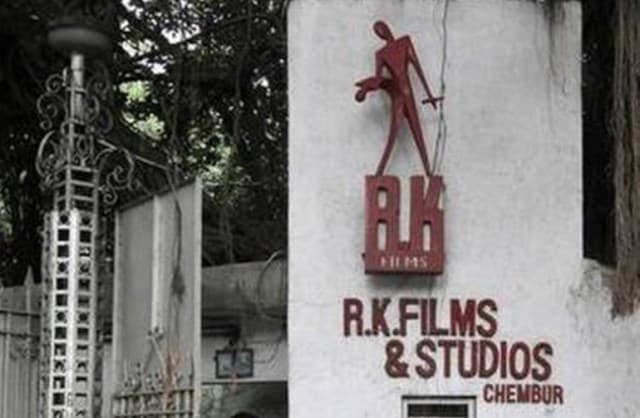 OPINION
OPINION
Bollywood Studios Fading Out
<![CDATA[
Times are a-changing in Bollywood as iconic RK Studio and Kamalistan, a key part of Indian cinema legacy, make way for real estate projects
Heart bleeds as one hums "Jaaney kahan gaye wo din…" from Raj Kapoor's semi-autobiographical Mera Naam Joker (1970) on reading about the sale of R K Studio in suburban Mumbai where this song was filmed.
It ends almost seven decades' cinematic pursuit that began with shooting of India's first dream sequence, "Ghar aaya mera pardesi…" for Awaara (1951) when the studio was yet to have a roof above it.
With it has disappeared the famous red logo – derived from film Barsaat (1949) with Raj Kapoor holding a violin in one hand, and leading lady Nargis on another arm. Also gone is the statue of Charlie Chaplin whom Raj copied with unapologetic aplomb.
A key part of Indian cinema's legacy, of four generations of Kapoors, arguably its "first family", stretching nine decades, has vanished. This is even as Kareena and Ranbir, of its fourth generation, enjoy their careers' high noon.   
The 2.2 acre land with 33,000 square meter of saleable area reportedly went for ₹500 crores. Soon, a bunch of high-rise luxury apartments and office complex will be built.
Cineastes and city historians have wishfully proposed a modest memorial, something like "here stood…" It is likely Godrej, the new owner/developer, may oblige, given the Parsis' penchant for cinema and the city they partly built. Otherwise, it will be "The End".
RK Studios was a gurukul (learning ground) where Hindi cinema came into its own and acquired the strength to become world-class. Songs "Mera joota hai Japani" and "Awara hoon" are alive in people's hearts and minds.
Cradle of some of the most iconic films, its long list must include, besides those of other banners, RK's own Awaara, Shree 420, Satyam Shivam Sundaram and Bobby.  
Beyond films, the studio hosted famous RK parties and the annual Ganesh festival and Holi revelry, the latter with colour and bhaang. Galaxy of actors and actresses called it their home.
The Kapoors are nostalgic, but not apologetic for parting with it. Fire had destroyed the main studio floor. Running the rest had become uneconomic.
The Kapoor family, by all reckoning, is an emotional lot, bonded by their shared heritage and place in the film industry. How late Raj Kapoor might have reacted is anybody's guess.
Even as RK Studio has folded, Kmaalistan, another iconic studio built by legendary Kamal Amrohi along with his star-wife Meena Kumari, is being sold. This was where Pakeezah (1972) and Razia Sultan (1983) were made besides Amar Akbar Anthony (1977), Naseeb (1981) and Coolie (1983), as well as all of Sooraj Barjatya's movies.
Of recent films, Salman Khan's mega-hit Dabangg (2010), was shot here. Today, however, it is let out for weddings and events, ads and TV shoots.
With Kmaliastan will disapper 25 acres of little idyll in a congested city. Many times larger than RK, it must have fetched a sum that nobody is talking about. For Tajdar, Amrohi's son, the parting is a relief, leaving behind a prolonged property dispute. 
The stories of RK and Kamalistan are similar to Mumbai's textile mills. Both required technological revamp for which the owners were/are reluctant to spend. And like the mills, the land the studios stand on is many times more lucrative for shopping malls and office complex.   
Film historian Gautam Kaul traces the history of studios integral to 121 years of Indian cinema when about 44,000 films have been created so far in only about 74 film studios, now reduced to a half.
The first attempt at building a confined space to shoot indoor scenes, according to him, was by Kolkata's Sen Brothers — Hiralal and Motilal – in 1899 for filming The Prince of Persia.
Years later, Dadasaheb Phalke, acknowledged "Father of Indian Cinema", shot his first film, Raja Harishchandra (1913) at his bungalow before building a studio. Most studios that sprang up across British-India since are closed down, unheard today.  
Times are a-changing in Bollywood that got its name from Bombay, now Mumbai, to rhyme – and compete – with Hollywood. According to realty consultants, two more prominent studios are planning to sell out.  
Film industry representatives blame this on the changing business of entertainment. It can no longer afford to maintain old-style studios. While the big budget movie makers go for outdoor shoots and prepare their own sets, those with fewer budgets prefer smaller rooms and outdoor locations.  
Unsurprisingly, Bombay Film Lab, Jyoti and Filmalaya have also shut shop over the last two decades.
A theatre is cinema's end-product. Studios' closure coincides with those of single-screen cinema theatres, among them Majestic, Kohinoor, Plaza and Hindmata that have dotted Mumbai for nearly a century.  Of Mumbai's 130 odd thatres, 70 have gone.   
Among the marqee names, Regal, built in 1933 at the edge of Colaba, was closed to end its ₹10 million annual losses, but after saying its last hurrah as a host to the Mumbai Film Festival. This writer luckily saw the Vincent Van Gough film along with award winning film-makers Shyam Benegal and Gyan Correa.
Edward (1914) stood at Kalbadevi near Watson Hotel at Dhobi Talao where the first-ever film screening was held in 1897. Capitol that stood bang opposite the Victoria Terminus, Asia's oldest railhead now called Chhatrpati Shivaji Terminus, succumbed to market pressures in 2011.
Eros, opposite Churchgate, another railhead, closed in 2017. Like Capitol, New Empire nearby has become a ghostly dilapidated edifice – till some builder/developer comes along.   
This is part of a countrywide trend. Of the estimated 12,000 'talkies' as they were called only about 6,000 remain. While the stand-alone ones had 800-1,000 capacity each, where "Silver Jubilee", or running for 25 weeks meant success, the multiplex come with 200-400 seats.
They run multiple shows to facilitate a film's "initial draw", or happy earnings, over the first weekend. They offer the best screen and sound technology, besides fast food and beverages.  
There are, however, some exceptional cases of turnaround. Metro at Dhobi Talao went multiplex a decade back after a period of closure. Its Art Deco façade with the scarlet-and-silver sign are retained — there is even a beautiful old-style wood and metal elevator in its office premises. But inside looks like any upscale cinema.
Ironically, this is at a time when the leisure industry, including Bollywood, has expanded. Though not the numbers (Hyderabad has them), Mumbai, still the unique Bollywood, is fast losing its landmarks. But then, its leading lights do not seem to care. History cannot be sustained on nostalgia of its fans. It is legacy which is neither cared for by the industry nor the city.
This is not surprising in a city where the transformation is transactional – where even bookshops are yielding place to beauty parlours and pubs. Mumbai, Urbs Prima in Indis, may have no memories to recall.
The writer can be reached at mahendraved07@gmail.com