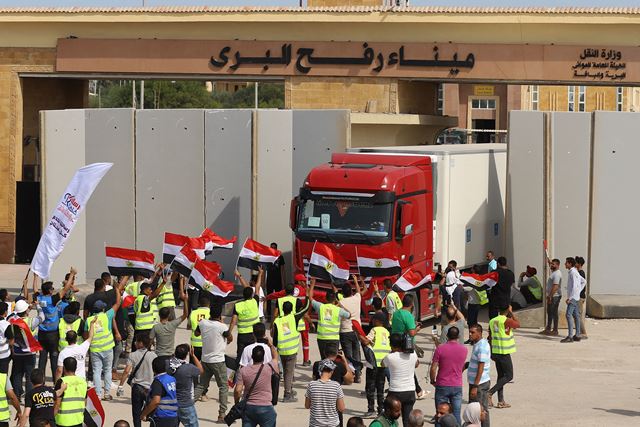 LM NEWS 24
LM NEWS 24
Relief Agencies Need Unhindered Access To Gaza: UN Body
The United Nations Relief and Works Agency for Palestine Refugees in the Near East (UNRWA) has said aid agencies need unimpeded access to Gaza, The New York Times reported.
The UN agency that aids Palestinian refugees said 54 trucks have entered Gaza from Egypt over the past three days carrying food, water and medicine.
The agency said this is far short of the roughly 500 aid and commercial trucks that entered Gaza daily before the war. It added that aid agencies need unimpeded access to the entire territory.
Recently, a third fleet of vehicles carrying essential aid made its way into Gaza through the Rafah crossing with Egypt, as per CNN.
Gaza, home to over 2 million civilians, faces the ongoing threat of severe dehydration and starvation due to Israel's persistent bombardment and complete blockade.
Over the weekend, on Saturday and Sunday, a total of 34 trucks transported much-needed supplies, including food, water, medications, and medical equipment from Egypt to Gaza via the same crossing.
The convoy on Sunday underwent additional security inspections, as confirmed by a security official speaking to CNN.
Despite these efforts, human rights organisations have expressed concerns that insufficient aid has reached the Palestinian enclave.
UN experts declared Israel's actions in Gaza to be tantamount to crimes against humanity on Thursday. With Israel's border crossings closed to Gaza, the Rafah crossing connecting Egypt and Gaza remains the only viable route for delivering aid to the Palestinian enclave, CNN reported.
US President Joe Biden held a telephone conversation with Israeli Prime Minister Benjamin Netanyahu on Monday, with both leaders affirming the need to ensure the continued flow of humanitarian aid and relief materials into Gaza.
The White House shared a statement saying that President Biden called up Netanyahu to discuss developments in Gaza and in the surrounding region.
"The leaders affirmed that there will now be a continued flow of this critical assistance into Gaza," the White House statement said.
Meanwhile, President Biden welcomed the first two convoys of humanitarian assistance since Hamas's October 7 terrorist attack. (ANI)