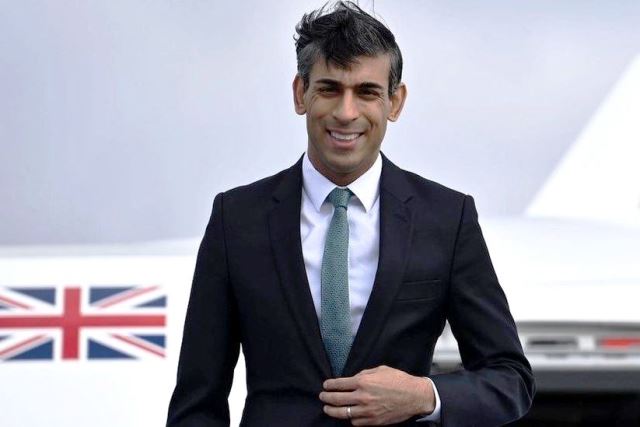 OPINION
OPINION
Rishi Sunak – 100 Days And More
Powerful personalities have been washed away from the seat of political power in Britain by events, intrigues and opinion polls. Out of the chaos came Rishi Sunak to rise to the highest seat of power in United Kingdom, 10 Downing Street. It took most people by surprise. With an Indian background, it was an extraordinary ascent to power.
Sunak overcame many challenges and defied cynics. Many are predicting that he won't be in Downing Street after next elections and some that he will fall before that. The big political beasts who were ousted are at his heels, trying for a comeback.
In the hundred days plus, Sunak has also surprised many with his skills. When he took office, the United Kingsom had become a laughing stock of the world. It appeared to be a country out of control with those at the helm staking its future on stormy waters and untested economic theories. The economy went on a downward slide. Interest rates were climbing up steeply. Prices were breaking records. The money markets were beginning to take their money elsewhere.
Within two weeks of his taking office, the financial markets calmed down. Inflation stabilised. Interest rates began to flatten off. The money markets started to look back and confidence returned in UK plc. Rishi Sunak came with a background in finance, albeit hedge fund management. He was trusted by the market. Restoring financial stability has been one of his greatest achievement so far.
The country had also gone down a sink hole of £60 billion debt within a few weeks. Sunak started the recovery with higher taxes. It is quite a feat to have put up taxes as a Tory Prime Minister in Britain. The Conservative Party is meant to believe in small government, low taxes and business friendly. Although calls for tax cuts are often heard, respect and support for the Sunak policy is strong in the business and financial sector.
Sunak also defused tensions with Europe which one of his predecessors was a deft hand at stoking. Boris Johnson never let an opportunity pass to have a dig at European Union and announce policy statements that annoyed Europe. Trust was lost between the UK and the EU. By breaking an agreement on Northern Ireland with Europe that Boris himself had constructed, any remaining hope of normalising relations with Europe had faded. Sunak however has restored the bridge and the trust. Europeans find him reliable, discreet and sensible, avoiding rhetoric.
It is in the Northern Ireland protocol that the working relations between the UK and the EU are showing dividends. The Northern Ireland protocol is one of the trickiest issues in British politics.
Northern Ireland is part of United Kingdom. Southern Ireland is an independent country called Ireland. The border between the two countries was heavily fortified once when there was a bloody war going on between the Catholic minority and the Protestant majority in Northern Ireland. In April 1998 an agreement was finally thrashed out between the two brokered by the United States. The Border between Northern Ireland and Ireland was abolished. It was a security border rather than a custom border.
ALSO READ: Financial Markets And British Sovereignty
However, when Britain came out of Europe, the open border was no longer consistent with Britain's Brexit. By coming out of Europe, Britain was expected to pay custom duty as any third country would have to do, to trade with EU. EU feared that manufacturers could send goods to Northern Ireland and then pass them to Ireland, which is part of EU, and then into Europe, without paying custom duty. The options were either to put up a customs border between the two Irelands or check every item going from UK to Northern Ireland.
United States and most Irish do not want a border between Northern Ireland and Irland. So UK had to agree to let Northern Ireland be part of EU and traders had to go through considerable bureaucracy and delays to send shipments from mainland Britain to its province in Northern Ireland.
Boris Johnson exploited this by saying that Europe was dividing UK. However he didn't come up with any solutions except saying, 'we are British, trust us'. Europe wasn't impressed.
Rishi Sunak on the other hand has been negotiating with Europe and the Protestants and Catholics in Northern Ireland without megaphone rhetorical statements. He is on the verge of an agreement that had defied all British Prime Ministers since Brexit. Boris Johnson isn't keen for Rishi to walk away with a deal.
If Rish Sunak does pull off the Northern Ireland agreement on customs, maintain the status quo on the border which means no border and keep Europe and the Protestants in Northern Ireland happy, he will have pulled a rabbit out of the hat.
But all is not a smooth run for Rishi Sunak. Britain is plagued with strikes for higher wages. Sunak says the economy cannot afford to pay higher wages. Inflation on the other hand means that most people are at least 15% worse off than before the pandemic. Wages haven't kept pace with rising inflation and rising interest rates.
Train drivers, University lecturers, teachers, civil servants, postmen, ambulance workers, nurses and even doctors are among some of the British working sectors taking turns to strike. Sunak's position has been made worse by the fact that he permitted Finance managers to make as much money as they can, letting private sector raise the wages of bosses while restricting the pay for ordinary workers. The inability to stop strikes is making him look incompetent.
Sunak's other weakness is that there have been a number of allegations against a number of his cabinet colleagues of bullying, breaking ministerial codes and failure to maintain security. He has not been able to remove them from office. He has sacked one minister who was chairperson of the Conservative Party. But he is reluctant to sack any more, for fear of losing their support. Boris Johnson and Liz Truss, the two previous ousted Prime Ministers are busy circling Sunak with their colleagues, waiting to jump as soon as his support weakens. He is in a precarious position. There are one or two other Conservative figures waiting for him to fall.
Perhaps Sunak's greatest weakness is his ethnicity. As he came into office, Britain looked a very mature country that had overcome racism. It appears to be a country that is willing to put an immigrant's son at the helm of power.
But things are not what they appear to be. Sunak was not put to the popular vote even in his party. Members of Parliament voted him in. There is a general feeling that a great deal of pressure from the Money Markets persuaded MPs to back him. The average Tory Party member was not happy to see him as Prime Minister. He is after all not White and does not have a pedigree in Britain.
Racism shows itself in many forms in Britain. Currently it is vented against illegal immigrants. To appear on the side of majority prejudice, the few high-ranking ministers of ethnic origin are making the right noises to pander to this constituency. However, the general feeling is that come elections, they will also fall prey to the 'racists'. The Conservative Party is aware of this. Quite a few MPs are aware that even if Sunak sorts out the strikes, brings inflation down, gets a Northern Ireland agreement, many British people feel uncomfortable with the idea of a Prime Minister who is not White British.
The opposition party, Labour, is way ahead in the opinion polls. There is a 21% lead and it is obvious to many Conservative MPs. Some have announced plans to retire at the next elections.
But Rishi Sunak seems to be a lucky man, being the right person at the right place and the right time. Fortune may still favour him and he may win the next election to be returned as Prime Minister by popular vote. He is efficient, gets on with the work and has so far shown that he delivers. He also makes good choices in appointments. People are being won over and many British are beginning to accept him.
Read More:https://lokmarg.com/