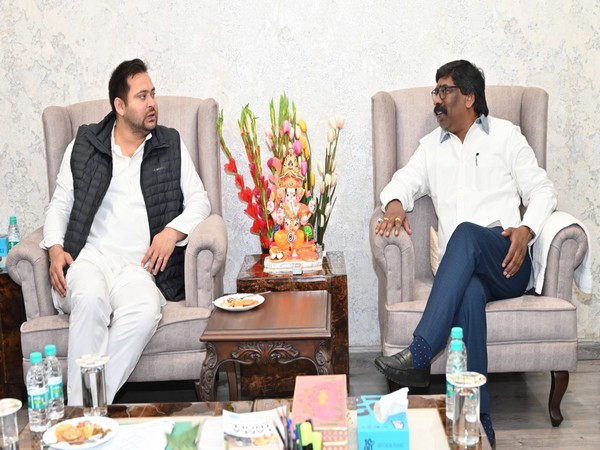 LM NEWS 24
LM NEWS 24
RJD and JMM Will Contest LS Polls Together: Tejashwi
Bihar Deputy Chief Minister Tejashwi Yadav on Saturday said that Rashtriya Janata Dal (RJD) and Jharkhand Mukti Morcha (JMM) will be fighting the 2024 Lok Sabha elections together.
Tejashwi Yadav made the announcement after his meeting with the Jharkhand Chief Minister Hemant Soren at his residence.
"I met Chief Minister Hemant Soren today and discussed the challenges of the future and also about contesting upcoming Lok Sabha polls together," RJD leader Tejashwi said while speaking to media.
The Deputy CM also spoke about RJD's plans of reviewing the party work in Jharkhand, and said, "We (RJD and JMM) will contest the 2024 Lok Sabha elections together. I had planned to come and see the party's work in Jharkhand. But in between Lalu Prasad ji's health deteriorated. Lalu Ji's transplant was successful. He will be coming home today. BJP was removed from power in Bihar and the Mahagathbandhan government was formed. Due to all these issues, Jharkhand could not be visited."
"Now, all programmes and visits will be planned properly. A new organization of RJD has been formed in Jharkhand. Our fight is against communal forces. We formed 'Mahagathbandhan' government in Bihar and removed BJP from power. We are working to strengthen our alliance in Jharkhand," he said.
He also accused BJP of playing cheap politics and trying to buy voters.
Tejashwi told reporters that RJD leader Shyam Rajak met JMM supremo and former Chief Minister Shibu Soren, and wished him speedy recovery.
"We want Shibu Soren ji to get well soon just like Lalu Yadav is returning to India from Singapore after recovery," he added.
Notably, Jharkhand Mukti Morcha supremo and former Chief Minister Shibu Soren was admitted to Medanta Hospital in Ranchi on February 9. (ANI)
Read More:http://13.232.95.176/