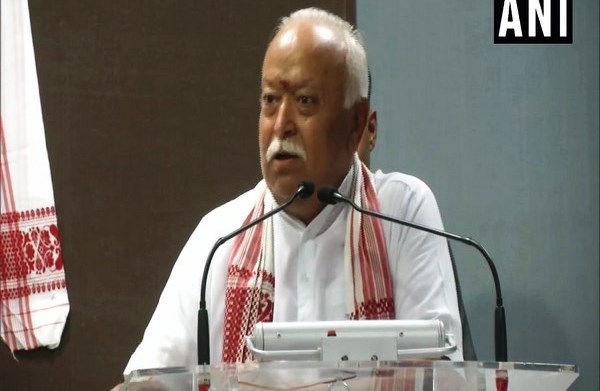 LM NEWS 24
LM NEWS 24
RSS Chief Seeks India Role For Peace Amid Israel-Hamas War
Amid the ongoing Israel-Hamas conflict, Rashtriya Swayamsevak Sangh (RSS) chief Mohan Bhagwat on Tuesday asserted that the world is looking towards India to lead by example and show a new path to peace.
The RSS chief added that the crisis-ridden world expects Bharat to emerge with a new vision based on its own value systems, to meet the contemporary needs and challenges of the globe.
Bhagwat was addressing a ceremonial Dussehra event of the RSS on the occasion of Vijayadashmi at Nagpur.
"The world is facing the scourge of fanaticism, arrogance, and hysteria stemming from religious sectarianism. Any solution to conflicts like the war in Ukraine or the Gaza Strip, which arise due to a clash of interests and extremism, remains elusive. A lifestyle out of sync with nature is producing a string of new physical and mental- health issues amid unabashed consumerism," Bhagwat said.
"Terrorism, exploitation, and totalitarianism are getting a free run to wreak havoc. It has become abundantly clear that the world cannot counter these problems with its inadequate vision. Therefore, the world is looking towards Bharat expectantly to lead by example and show a new path to peace and prosperity, based on its own Sanatan (eternal) values and Sanskars," he added.
RSS chief Bhagwat also called for an organized force in society to fight violence and hooliganism and urged it to extend "appropriate support" to the government.
"Regardless of the provocations, it is important and mandatory to follow law and order, abide by the Constitution, and maintain discipline. In an independent country, this behavior is considered an expression of patriotism. The correct solution to violence and hooliganism is for a society to become an organized force and to take the initiative in protecting law and order and to extend appropriate support to the government and the administration," he said.
It is not advisable to get caught up or swayed by inflammatory propaganda carried out using the media, and the volley of allegations and counter-allegations that follows, he said.
He further reiterated that the media should be used to propagate truth and harmony in the society.
Speaking on the violence that had ensued in Manipur the RSS Chief called on civil society to bridge the gap of mutual mistrust.
"In Manipur, when people on both sides of the conflict are seeking peace, which are these forces that are attempting to trigger hatred and violence by causing an incident as soon as any positive step is seen being taken in that direction? Multidimensional efforts will be required to solve this grave problem. To resolve this vexed problem, we would need a strong political will, concurrent actions, and efficiency. Simultaneously, the enlightened leadership of the society will also have to play a special role in bridging the gap of mutual distrust that has arisen due to the unfortunate situation between the two communities," he said.
Mohan Bhagwat also focused on the upcoming Lok Sabha elections 2024 and said that attempts to harvest votes by inflaming emotions are not desirable.
"Let us avoid these things, as they hurt the unity of the society. To cast vote is the duty of every citizen, and we must follow it. Cast your vote keeping in mind the vital issues of unity, integrity, identity, and development of the country," he said.
The RSS chief further pointed out that India's leadership gave the country a place in the world. "Every year, India's pride is increasing in the world. The G 20 summit held here (in India) was special. The hospitality of Indians was praised. People from different countries experienced our diversity. They saw our diplomatic skills as well as our honest goodwill. Our leadership gave India a place in the world," Mohan Bhagwat said while speaking at the event.
The RSS chief also was critical of forces that he said were standing in the way of India moving forward.
"There are some people in the world and in also India who do not want India should move forward. They try to create factions and clashes in society. Because of our unawareness and lack of belief, we also sometimes get entangled in it, and unnecessary nuisances are created. If India progresses, they will not be able to play their games; therefore, they continuously oppose. They adopt particular ideologies just for the sake of opposing" the RSS Chief said.
The annual 'Vijayadashmi Utsav' event of the Rashtriya Swayamsevak Sangh (RSS) started with workers' 'Path Sanchalan' (route march) at Maharashtra's Nagpur earlier today and was graced by singer-composer Shankar Mahadevan as chief guest.
On the occasion, RSS chief Mohan Bhagwat paid tribute to the founder of the organization KB Hedgewar. He also performed 'Shastra Pooja' on the occasion of 'Vijayadashami Utsav'.
Union Minister Nitin Gadkari and Maharashtra Deputy Chief Minister Devendra Fadnavis were also present at the event.
RSS was founded in 1925 in Nagpur on Vijayadashami day. Since then, RSS has celebrated Vijayadashami Utsav every year. Dignitaries from various fields are invited as chief guests every year for the Utsav to grace the occasion. (ANI)