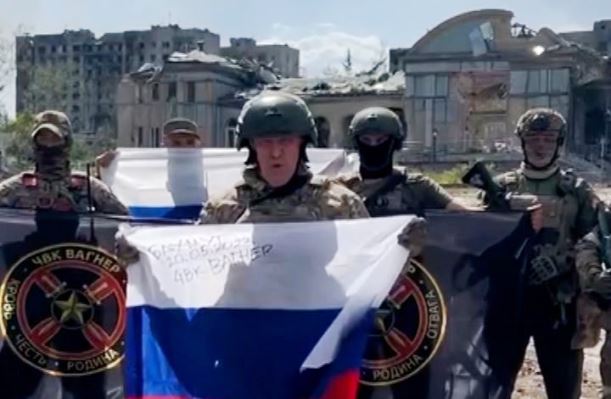 LM NEWS 24
LM NEWS 24
Russian Mercenary Rebel Chief Says 'We Are Patriots, Putin Mistaken'
Hours after Russian President Vladimir Putin slammed the Wagner group for their "armed rebellion" and vowed to punish those who were on the "path of treason", Yevgeny Prigozhin, the head of the mercenary group, said that the Russian President is "deeply mistaken" and the group is a patriot, the Washington Post reported.
He was referring to Putin's remarks alleging that the Wagner group betrayed Russia by "staging hostilities" inside the country.
In an audio message posted by his press service, Prigozhin said on Saturday, "Regarding the betrayal of the motherland, the president is deeply mistaken".
Calling Russia, a country of "corruption, deceit and bureaucracy", he said that the group will continue to fight.
"We are patriots of our motherland, we have been fighting and continue to fight, all Wagner fighters, and no one plans to go and confess at the request of the president, the FSB [Federal Security Service] or anyone else, because we do not want the country to continue to live in corruption, deceit and bureaucracy," the Post quoted Prigozhin.
Earlier in the day, Russia's President Vladimir Putin in a televised address to the nation said that the "armed mutiny" by the Wagner Group is a "stab in the back" and vowed to punish those who were on the "path of treason" or anyone who takes up arms against the Russian military.
He said in a televised address, "Renegade actions against those fighting in the front is a stab in the back of our country," CNN reported. Putin also pledged a harsh response and punishment to those who plan "an armed rebellion".
"We will defend both our people and our statehood from any threats, including internal treachery. What we have been confronted with can be precisely called treachery. The unbounded ambitions and personal interests have led to treason and a betrayal of the country and its people," Putin was cited by TASS.
This comes after, Prigozhin, the alleged head of the Wagner mercenary group, in a series of recordings released on social media on Saturday, announced that his troops had taken control of military facilities in two Russian cities.
Wagner on Saturday claimed to have taken control of Russian military facilities in Voronezh, including the airfield in Rostov-on-Don.
Prigozhin noted that planes that leave for combat work have no problems and the medical flights were also leaving, according to CNN. He further said, "All we did was to take control so that the attack aviation would not strike us but strike in the Ukrainian direction." (ANI)
Read More: http://13.232.95.176/