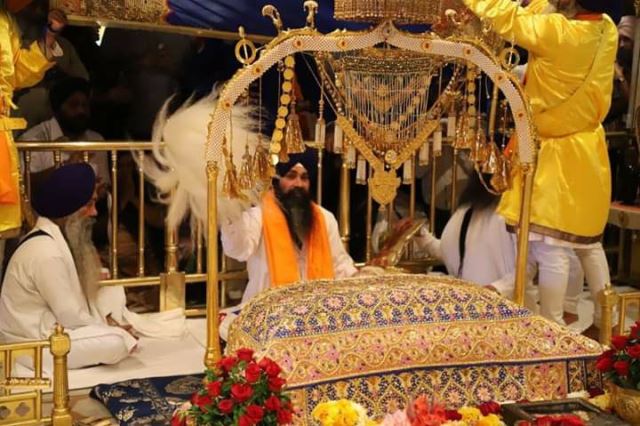 LM NEWS 24
LM NEWS 24
Sacrilege Incident: Sikh Rights Body Advocates Vatican Style Status For Darbar Sahib
The UK-based Sikh Human Rights Group has proposed extra-territorial status for Sri Darbar Sahib (Golden Temple Complex) on the lines of the Vatican to deprive politics exploiting religious sentiments in Punjab.
On December 19, a man was allegedly beaten to death and was seen in a viral video jumping inside a fence, to reach the Guru Granth Sahib in the Golden Temple. The man also picked up a sword from the sanctum sanctorum, and reached near the place where a Sikh priest was reciting the holy Guru Granth Sahib. The man was caught by Shiromani Gurdwara Parbandhak Committee (SGPC) task force members and then allegedly beaten to death.
In a press statement issued on December 22, the SHRG stated: "The sacrilege incident in the sanctum sanctorum of Sri Harmandir Sahib (Golden Temple) has again put Sikh religious issues at the forefront of Punjab's politics…. It will be better for all if Sri Darbar Sahib (Golden Temple Complex) is accorded extra-territorial status like the Vatican to deprive politics exploiting religious sentiments."
Jasdev Singh Rai, director of the SHRG, noted that recurrent waves of religious tensions have dominated Punjab's politics since early 1920s and increased after 1947, stressing that such incidents are either "instigated or exploited by political parties in Punjab".
"The latest sacrilege incident has hurt Sikhs across the world. There have been a number of sacrilegious attacks on Sri Guru Granth Sahib. State authorities have failed to resolve any of these in a way to be a deterrent. Politicians from several political parties have been making statements to arouse emotions even further. Conspiracy theories abound," Dr Rai said.
"These incidents seem to be occurring near elections in the last two decades. The timing and the precision with which they are carried has given rise to deep distrust of authorities, politicians and the legal system. The social media is fuelling conspiracy theories," the SHRG statement pointed out.
Punjab's politics and development seems to concentrate significantly around these matters affecting its development and communal harmony.
According to Dr Rai, India adopted a European type State model with democratic and secular political system without taking functional arrangements between historic religion and secular State. Hence India's Constitutional and political system continue to clash with religious sentiments and institutions particularly in Punjab.
He said India should consider the successful resolution of similar religion-state tensions in Europe. Secular polity resolved its adversarial political relationship with the Catholic religion finally in 1929. Italy separated the Vatican and negotiated an extra territorial status for it. The Vatican and the world Catholic community have had constructive relations without each interfering in the other.
The SHRG, a United Nations ECOSOC NGO, said a similar arrangement around Sri Darbar Sahib will benefit all. The worldwide Sikh community can take charge of its management, security and functions. The Punjab will achieve lot more harmony and its politicians will be forced to pay attention to development, jobs and education instead of evoking religious vote banks of the Sikh religious community or against the Sikh community.
Currently the SGPC, a "politicised body", cannot independently manage Sri Darbar Sahib. The SGPC is integral to Akali Dal. Other political parties also attempt to 'take over' the SGPC. This is not a healthy situation, particular in a multifaith secular region, the SHRG pointed out.
Extra territorial status will enable worldwide Sikh community to be directly responsible for Sri Darbar Sahib, for its management and for managing Sikh religion without seeking power in regional or national politics. Punjab's politics will no longer seek to exploit Sikh religious sentiments and its politicians will no longer have to prove their 'Sikh' credentials.
"We hope Punjab and India will consider this seriously to de-communalise politics in Punjab and for constructive engagement between India and worldwide Sikh community," Dr Rai said.
Sri Darbar Sahib is the only institution of its kind among indigenous South Asian religions. A realistic solution is the best way forward for all that does not need to be replicated in other parts of India.