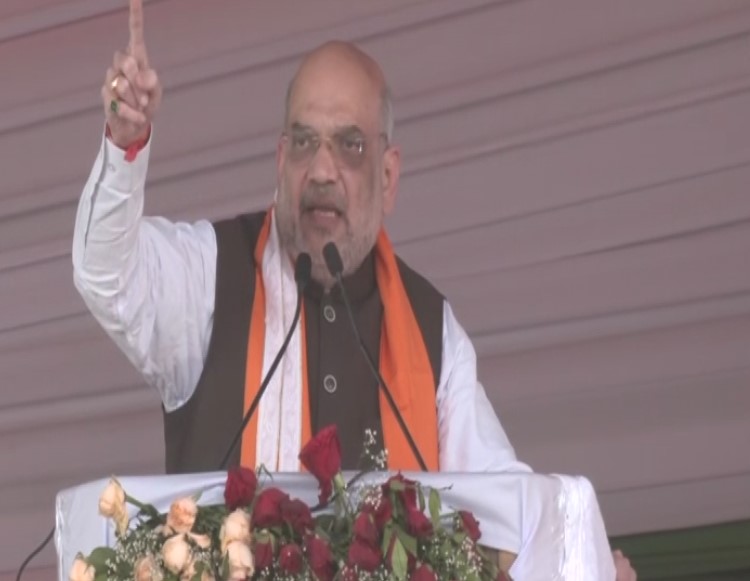 LM NEWS 24
LM NEWS 24
Shah Accuses Mamata Of Hitler-Like Rule
Union Home Minister Amit Shah on Friday came down heavily on the Mamata Banerjee-led West Bengal government and urged the public to give 35 seats out of 42 to the Bharatiya Janata Party in the State in the 2024 Lok Sabha elections.
The Union Home Minister, who is on a two-day visit to West Bengal, asked the public to vote for the BJP in the next year's general elections and help Prime Minister Narendra Modi to become PM for the third consecutive term in 2024.
Addressing a 'Jan Sampark Samavesh' rally in Birbhum district, Shah said that BJP will not allow this Hitler-like rule of Mamata Didi to continue.
"Mamata didi, you might be dreaming that your nephew will become the Chief Minister after you. From here in Birbhum, I say that the next Chief Minister is going to be from BJP. The trailer has to be shown in 2024 [general elections]. By helping us to win 35 seats in the State, Modi ji has to be made the Prime Minister again," Shah said.
Taking on the Mamata government, he said that the TMC government would collapse prior to the next State Assembly elections that are scheduled in 2025.
Referring to the State Assembly elections in 2020, Shah said, "You gave us 38 per cent votes with 77 seats, today I have come to tell the people of West Bengal to complete the rest of the work in the 2024 elections. Make Modi the Prime Minister by giving more than 35 seats out of 42 to the BJP in West Bengal," he added.
He said that the BJP is the only way to end infiltration in the State.
"In Assam, infiltration and cow smuggling have been stopped since the BJP government was formed. Once the BJP's lotus will bloom in the State, there will be no bomb blasts, no attacks on Ram Navami, no atrocities, no infiltration and no cow smuggling," Shah added.
Sharpening his attack further he said that the Mamata Banerjee government has made the State a centre of bomb blasts.
"Bengal has become the centre of bomb blasts under the rule of Didi (Mamata). Recently, the National Investigation Agency (NIA) seized more than 80,000 detonators and 27,000 kg of ammonium nitrate in Birbhum. If the NIA had not seized this, how many lives could have been lost in the bomb blasts, no one would have known," he added.
Attacking the Trinamool Congress (TMC) supremo over alleged recruitment scams in the State, the Home Minister said that the youth wants a reply from the chief minister.
"Mamata Banerjee had promised to give three lakh jobs. Mamata Didi, you had promised to give allowance to the youth. The youth is asking you for an account of it, what happened," he said while slamming chief minister Mamata Banerjee for not fulfilling the promises made by her party.
"You did so many scams in the recruitment process, that the Enforcement Directorate (ED) had to take away the money in two trucks," he added. (ANI)