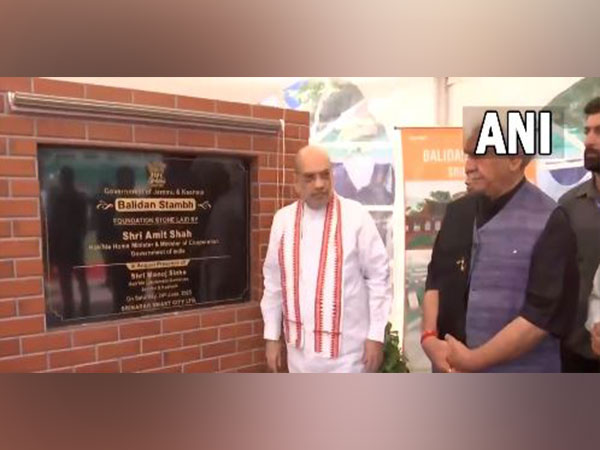 LM NEWS 24
LM NEWS 24
Shah Lays Foundation Stone Of 'Balidaan Stambh' In Srinagar
Union Home Minister Amit Shah who is on his two-day visit to Jammu and Kashmir has arrived at Srinagar's Pratap Park to lay the foundation stone of 'Balidaan Stambh'.
On Friday, Union Home Minister arrived in Jammu and laid the foundation stone for various development projects and launch public welfare schemes.
The Union Home Minister also met the family members of victims in the Rajouri terror attack.
Shah also addressed a public meeting in Jammu and said that Prime Minister Narendra Modi will form the government in 2024 by securing over 300 seats and becoming the Prime Minister again.
The Union Minister also remembered the contributions of Dr Syama Prasad Mookerji on his death anniversary and recalled that Bengal is a part of India due to the late leader's efforts.
Shah also addressed the Vitasta Mahotsav organised by the Ministry of Culture as the chief guest in Srinagar on Friday as part of his 2-day visit to Jammu and Kashmir.
Several dignitaries including the Lieutenant Governor of Jammu and Kashmir Manoj Sinha, Union Minister Meenakshi Lekhi, Union Home Secretary and Secretary, Ministry of Culture were present on this occasion.
"This is the same Vitasta, which has been witness to many kinds of research in Kashmir for thousands of years and also has the privilege of being an amalgamation place of many cultures. This Jhelum has also seen Adishankar. Scholars of every field have come out of this land and made their arts famous not only in India but in the whole world; the assimilation of all these can be seen in today's culture of Kashmir," said Shah.
Union Home Minister said that Jhelum has seen difficult times, the stream of Vitasta has also seen blood, attacks by fanatics, and many regime changes and Jhelum has also been a witness to the horrific scourge of terrorism.
He said that Vitasta has given affection, love and enthusiasm to its children by incorporating all these in herself.
Union Home Minister said that about 1,900 artists from Kashmir and about 150 artists from across the country will exhibit and exchange their art in the Vitasta Mahotsav starting in Kashmir today.
He said that the Vitasta Mahotsav is the festival of the upcoming future of Kashmir, a link connecting our glorious history with the bright future, and Kashmir and the country move forward, create a great India, this is the goal of this festival. (ANI)
Read more: http://13.232.95.176/