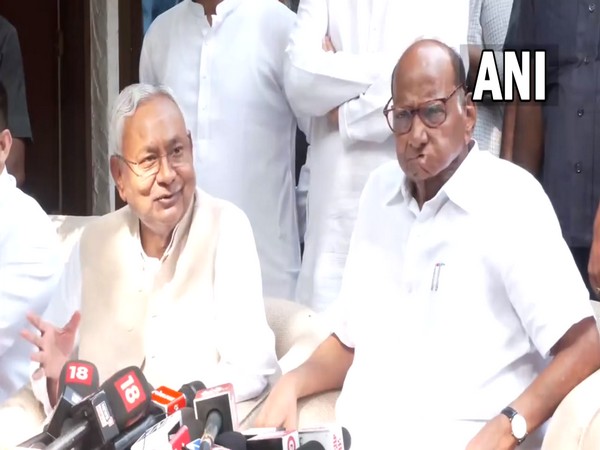 LM NEWS 24
LM NEWS 24
Sharad, Nitish Plan Joint Oppo Fight Against BJP
Nationalist Congress Party (NCP) national president Sharad Pawar on Thursday met with Bihar chief minister Nitish Kumar in Mumbai and the two leaders stressed on the need for opposition parties to work together in the interest of the nation.
Addressing a joint press conference with Kumar the veteran NCP leader said, "In the wake of the situation in the country, to save democracy, it is important to work together. After looking at the condition of the country, it seems that if we work together, there will be support for the alternative that the country needs.
"Yesterday, there were polls in Karnataka. As per my information, people there will oust BJP and elect a secular government", Pawar said.
Addressing the joint press conference, the Bihar chief minister lashed out at the BJP.
"What the BJP is doing, is not in the country's interest. So, the more the number of Opposition parties comes together, the better it is in the interest of the nation. We have spoken with several political parties. We will sit together and take further decisions," Kumar said.
Asked if Sharad Pawar will be the main face of an Opposition alliance, the Bihar CM said, "There will be nothing more delightful than that…I have told him that he has to work strongly not only for his party but the entire country."
Nitish Kumar who is also the JD(U) leader accompanied by Bihar deputy chief minster and RJD leader Tejashwi Yadav also met with Uddhav Thackeray at 'Matoshree' in Mumbai.
The JD(U) leader has been meeting Opposition leaders to strengthen the bloc against the BJP ahead of the 2024 Lok Sabha polls.
Kumar had caught the national imagination with his pitch for a "united opposition" which, he believes, can take on and defeat the BJP in next year's Lok Sabha polls. The JD(U) supreme leader, who stunned the BJP last year when he snapped ties will visit Nationalist Congress Party Chief Sharad Pawar later in the day.
In his joint presser with Uddhav Thackeray today the Bihar chief minister speaking on a United Opposition candidate said, "This exercise is not done to advance their personal advance but for the good of the country and to give the people of India a good alternative to the present government."
Kumar said that a decision on the candidate will be decided after the formation of the United Front and not before that.
"Those who are at the Centre are not working for the country…All political parties in the country need to unite to work together," the Bihar chief minister said. (ANI)
Read More: lokmarg.com