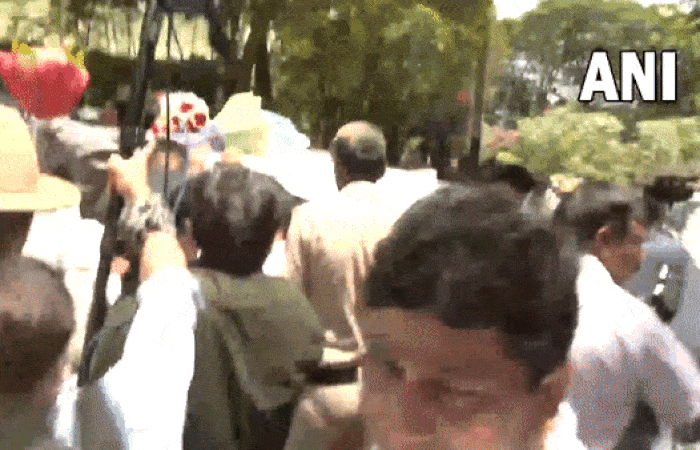 LM NEWS 24
LM NEWS 24
Siddaramiah Leaves For Delhi, Decision On CM After Karnataka Win
Former Karnataka chief minister Siddaramiah left for Delhi from his residence in Bengaluru to meet top leadership as the Congress engages in the process of picking the next chief minister after the party's emphatic win in the state.
Siddaramaiah is scheduled to leave for Delhi by 1 pm today, according to the party.
Meanwhile, Karnataka Pradesh Congress Committee (KPCC) chief DK Shivakumar, who is celebrating his birthday today said that he has done his duty and now it was upto the party's high command to take a call.
"We have passed a one-line resolution. We will leave it to the party's high command. I have not decided to go to Delhi. I have done whatever job I have to do," Shivakumar, an eight-time told reporters after he met with Congress-appointed observers at Shangri-La Hotel in Bengaluru today.
The KPCC chief also met with party general secretary Sushil Kumar Shinde and other leaders in Bengaluru.
Bhanwar Jitendra Singh, AICC observer in Bengaluru, speaking on the decision of the State chief minister said, "We have taken the views from all the MLAs, the meeting went on till 2 am. We have prepared a report and will submit it to the Congress president."
Along with Singh, the former Maharashtra chief minister Sushil Kumar Shinde and former General Secretary Deepak Bawaria were made the observers in Karnataka by the AICC.
Congress leader BK Hariprasad said that a secret ballot was conducted and a single-line resolution was passed on the chief ministerial post.
"They (Observers) also spoke to each MLA and took their opinion both verbally and in writing. The decision has been sent to Delhi and party president Mallikarjun Kharge will take a decision after talking to Sonia Gandhi, Rahul Gandhi: Congress leader," Hariprasad said.
The Congress Legislature Party (CLP) held on Sunday unanimously decided to leave the selection of the new Karnataka Chief Minister to the All India Congress Committee (AICC) president Mallikarjun Kharge.
"The Congress Legislature Party unanimously resolves that AICC President is hereby authorised to appoint the new leader of the Congress Legislature Party," the resolution stated.
Congress leader and AICC in-charge of Karnataka, Randeep Singh Surjewala, on Sunday late night said that party chief Mallikarjun Kharge will not take long and announce the name of next chief minister of Karnataka soon.
Speaking to reporters after the late-night meeting of newly elected Congress MLAs in Bengaluru, Surjewala said, "Party leadership will take a decision. I can't replace my judgement with Kharge Sahab's judgement. He is our senior, and as you all know him. He is the son of the soil of Karnataka, and I'm sure he will not take very long."
According to the Election Commission of India, Congress on Saturday won 135 seats pushing the Bharatiya Janata Party (BJP) out of power in the only southern state it ruled and boosting its own prospects for the electoral battles ahead.
BJP managed to win 66 seats. Janata Dal-Secular (JDS) bagged 19 seats. Independents have won two seats while Kalyana Rajya Pragathi Paksha and Sarvodaya Karnataka Paksha won one seat each. (ANI)
Read More: lokmarg.com