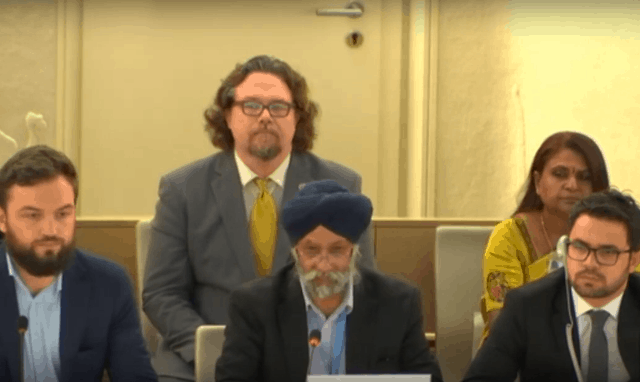 LM NEWS 24
LM NEWS 24
Sikh Rights Body Calls For Diversity Day
<![CDATA[
Expressing concern on the rising marginalisation of minorities in most parts of the world, the UK-based Sikh Human Rights Group has stressed on the need to encourage diversity and called on the United Nations to declare an annual UN Diversity Day.
Speaking at the United Nations Human Rights Council 42
nd
session at Geneva, on Tuesday, Jasdev Singh Rai, director of the rights body, also linked the suggestion to the 550
th
anniversary of birth of Guru Nanak who initiated a perspective founded on accepting all of life as co-dependable, part of a unity and expressed in its many diverse forms. He felt that all discrimination is eventually against oneself. Dr Rai said the world had come together in 2001 with determination to get rid of racism, a scourge that gained strength during colonialism. Perhaps the recourse to law may not be sufficient enough measure to achieve the declarations made in 2001 Durban. There is a need to look at complimentary approaches that encourage society to change its attitudes. The rights group leader said a Declaration on Diversity would compliment the current conventions and instruments against discrimination with positive programmes of action to celebrate diversity. He said there is growing support from some countries for such a declaration. It can take several years for the UN to reach a Declaration as all member States have to reach consensus on such a document. He said such a declaration would encourage States to adopt policies of inclusivity and making society at ease with diversity of all forms. Agreeing on the principle of a Declaration on Diversity by 2020 would be a fitting tribute to Guru Nanak on the 550
th
anniversary, Dr Rai added. In his address, Dr Rai hoped member States will consider this proposal and support this initiative as well as take up the proposal for a UN led annual Diversity Day in the world. It will be a remarkable affirmation of the teachings of Guru Nanak if consideration of this could begin during this 550
th
anniversary.