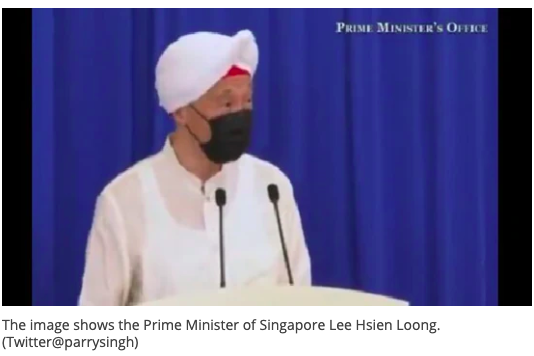 THEBUZZ
THEBUZZ
Singapore PM wears turban during Gurudwara inauguration, greets people with Sat Sri Akaal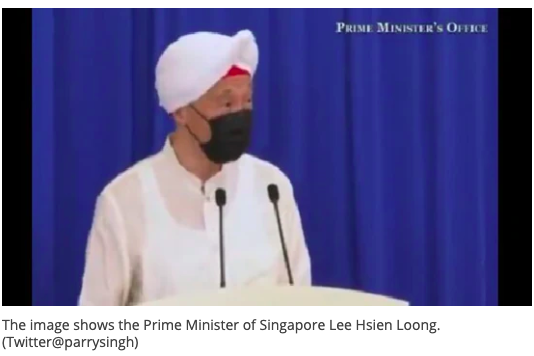 The Prime Minister of Singapore Lee Hsien Loong recently created a buzz on Twitter with his Sikh attire during the inauguration of the Silat Road Sikh temple in Singapore. A glimpse of the event, shared on Twitter, by Parminder Singh shows Loong wearing a turban and greeting the guests.
Singapore PM Lee Hsien Loong. Credit: Reuters Photo Singapore Prime Minister Lee Hsien Loong on Saturday lauded the local Sikh community for providing support to people through various assistance programmes during the Covid-19 pandemic regardless of race, religion and background.
Wearing a white Sikh turban, Prime Minister Lee, who attended the inauguration ceremony of Silat Road Sikh Temple which was renovated during the pandemic, greeted the community members with a "Sat Sri Akal". Prime Minister Lee said that places of worship.
Prime Minister Lee said that places of worship, including the Silat Road temple and other Gurdwaras, have had to cope with disruptions brought about by the pandemic.
"it has been a trying for the worshippers," he noted.
Gurdwaras, along with other places of worship, have adapted to the various Covid-19 pandemic management measures such as by live-streaming services si hat devotees can still be part if a congregation, he said.
The response for the Sikh community has been incredible as some have said they are thrilled to see a world leader be so inclusive and see the world as one.
"Singapore Prime Minister, @leehsienloong inaugurated a newly renovated Gurudwara wearing an immaculate turban and greeting everyone with a perfect Sat Sri Akaal!" reads the caption shared alongside the clip of Lee Hsien Loong making his speech. The recording shows Loong standing atop a podium wearing a white turban and a black mask and giving a speech.
https://twitter.com/parrysingh/status/1411537768329539588?ref_src=twsrc%5Etfw%7Ctwcamp%5Etweetembed%7Ctwterm%5E1411537768329539588%7Ctwgr%5E%7Ctwcon%5Es1_c10&ref_url=https%3A%2F%2Fwww.hindustantimes.com%2Ftrending%2Fsingapore-pm-wears-turban-during-gurudwara-inauguration-greets-people-with-sat-sri-akaal-101625548784672.html
Shared on July 4, the video has garnered over 47,800 views and the numbers are still increasing. People were amazed by the video and showered praises for Loong's gesture.
"His respect for the hard-working & large-hearted Sikhs is appreciable. His father & he thereafter have made Singapore into a vibrant, honest Country," wrote a Twitter user. "Looks like a perfect Sikh with an immaculately tied turban," commented another.