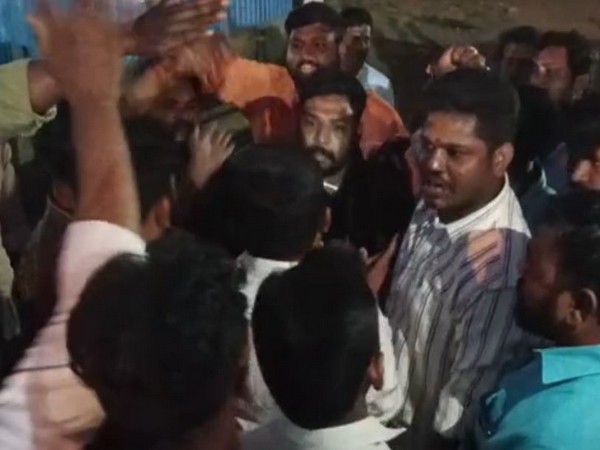 LM NEWS 24
LM NEWS 24
Situation Tense After Clash Between Bairi Naresh's Supporter, Ayyappa Devotees
Bairi Naresh's remarks over Lord Ayyappa and other Hindu Gods including Lord Shiva and Vishnu have sparked an ideological battle between the Bharatiya Janata Party (BJP), its affiliated organizations, and the supporters of the Atheist Association chief.
The situation in Mahabubabad became tense after a student leader namely Suryaprakash came in the support of Bairi Naresh on social media.
Following this, a few Ayyappa devotees try to attack Suryaprakash. The police reached the spot and brought the situation under control.
Mahabubabad DSP Saddaiah said, "We have registered a case on a person named Suryaprakash for his comments on social media. There was also a clash between a few people and Suryaprakash. A case has also been registered against a person Sai for this clash. No one has been arrested."
Bairi Naresh was arrested in Warangal on Saturday as he was booked under Sections 153(A), 205, and 505 of the Indian Penal Code.
Bairi Naresh allegedly made an insulting remark against Lord Ayyappa at a public meeting in Kondagal. A video of the same went viral, sparking outrage on social media platforms.
In the video, he can be seen mocking Lord Ayyappa's birth.
Devotees had lodged complaints against Bairi Naresh at different police stations in Hyderabad with demands for his immediate arrest.
BJP state president Bandi Sanjay earlier on Saturday slammed the ruling Bharat Rashtra Samithi (BRS, formerly known as TRS) government, accusing Chief Minister K Chandrashekar Rao of allegedly "encouraging blasphemy" without taking any action.
In a series of tweets against Atheist Association President, Bairi Naresh who courted controversy by making "insulting" remarks about Lord Ayyappa Swamy, Bandi Sanjay took to Twitter and said, "Anybody can abuse Hindu Gods in #Telangana & get exonerated bcos @TelanganaCMO encourages blasphemy without taking any action! KCR claims to be "True Hindu" & his "Hinduvta is real" BUT so far what action is taken on insults against Gods Vishnu, Shiva & Ayyappa done in Kodangal ?" (ANI)
Read More: http://13.232.95.176