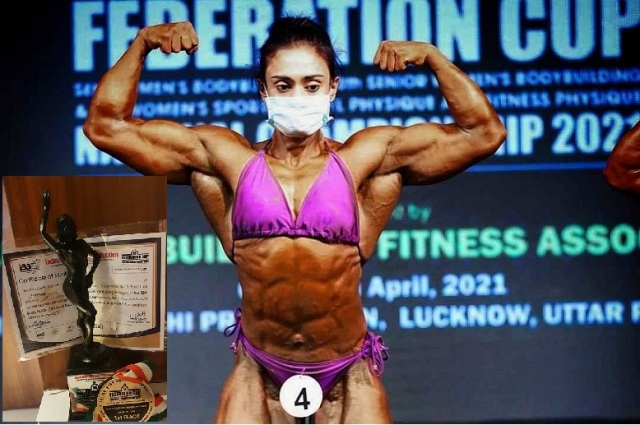 LOK ISSUES
LOK ISSUES
'Some Doubted My Orientation; A Few Called Me Transgender'
Geeta Saini, the winner of 2021 Senior Women National Bodybuilding competition, talks about gender stereotypes and her transition from an overweight girl to a muscular athlete
People see me as a woman bodybuilding champion today, they see the shine of the gold medal that I won but they know not the struggle and sacrifice behind that glitter.
My journey to being a bodybuilder started with my decision to hit the gym for weight loss. I was overweight (around 110kg) at the age of 23 years. Working out for two to three hours a day and a strict diet plan helped me shed 46 kg in one year. However, my skin loosened up and its texture deteriorated. At 23, I started looking like a 50-year old.
I slipped into depression. It was my elder brother, Sachin Saini, a bodybuilder himself, who suggested that I should start weight training to tone up my skin. This led me to hit the gym again. I soon got passionate about pumping iron. I had no intention of being a body builder; I was a graphic designer by profession. All I wanted was to be fit.
But as luck would have it, my brother had to quit bodybuilding to take care of family business while I took it up more seriously. I started practicing to compete in state level competition and in 2017, reached Top Ten of Haryana Senior Women's Bodybuilding Competition in Gurgaon.
I then started training under the coach Yatinder Singh and the next year (2018) bagged Bronze medal. The following year, I won the Gold in the state. My next target was National Gold. However, the pandemic and lockdowns that followed in 2020, the training and the championship event impacted adversely. Finally, the national event was held in April 2021 where I won a Gold.
Ours is a male dominating society. Choosing professional bodybuilding had its share of challenges for me. My family expected me to take up corporate position, law or medicine. Bodybuilding belonged to oddballs, they said. I had the support of my mother and elder brother but my father disapproved of it. I had a strong bond with my father; I was his spoilt child. So, eventually, and thankfully, he too came around to my choice of profession. In fact, he remained one of my biggest supporters till his last breath. In any athletic career, dedication and discipline are important. You are left with few friends or social circle other than your practice. Thus, family support is a pillar to lean on.
The reaction of my relatives and friends was disparaging. They told me I was going to spoil my physique. Some said muscles belonged to men not women. Some even questioned my orientation as a woman. However, as I heaped up laurels and recognition, the same people take pride in being part of my family circle.
When young girls or boys come to me and say that I inspired them to get into bodybuilding, I feel my hard work has paid. I am happy to see that women participation in bodybuilding is progressing gradually. I wish to motivate young girls to follow their dreams, pick up a career of their choice and not be demotivated by what the society has to say about it.
However the social gender stereotypes persist. While my co-athletes respect me, the social acceptance for a female bodybuilder as a sportsperson is yet to materialize. I often face people who address me in derogatory manner, calling me a boy or a transgender. Initially, it came as a shock but I gradually stopped listening to pay heed.
I am single-minded focused on my goal of winning a Gold for my country at international level. I wish to stand at a podium while Indian Tricolour is being raised and the national anthem being played in the background. As a sportsperson I live for that day.
As Told To Mamta Sharma