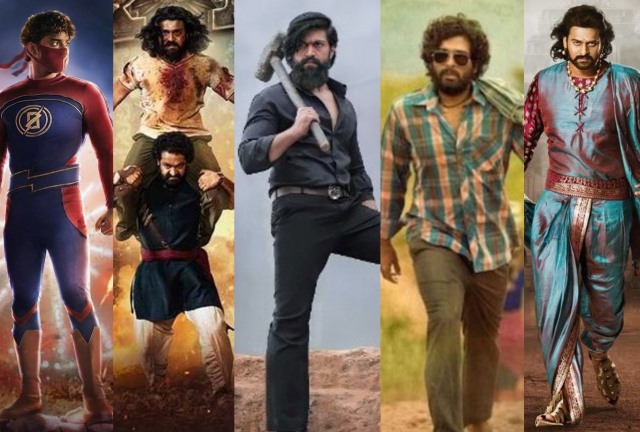 OPINION
OPINION
Spotlight Shifts to South
More than one Bachhan and three Khans who had a free run on the national big screen and also vowed the non-resident Indian community for as long as one can remember ahead of the breakout of Covid-19, the heroes and heroines of the South aided by competent directors, musicians and technicians with mastery of IT are now calling the shots in the Indian film industry. Shah Rukh Khan is still very popular as an individual and courted by companies to launch their products and services. But it will be difficult to recall his last film where his mojo worked wonders at box office. It is not that he did not make attempts to reinvent himself but he has so far not been able to pull crowds with his last few films.
There was a time, long in the past indeed, when the unpretentious Salman Khan was synonymous with monumental successes in terms of revenues and profits for any film featuring him. But Salman with no claims to making anything but commercial cinema was found smart in often remaking highly successful South Indian films and laugh all the way to the bank. He, therefore, owes a big part of his success to his southern peers.
Take Ghajini, a Hindi remake of the original Tamil thriller directed by AR Murugadoss. In the Hindi remake featuring Aamir Khan in the role of protagonist, producers rightly thought their investment would fetch high returns with Murugadoss remaining the director, who incidentally is also the story writer. Ghajini stands out as an example of all-India triumph of a Tamil film in its Hindi avatar with AR Rahman as music director and other professional big names adding much value.
In its halcyon days when Bollywood with all its big production houses could not think of ever being challenged by what was perceived as makers of regional films, the country was witness to periodic dubbing and remaking of southern films in Bombay that made waves across the country.
A decade apart in 1981 we first saw the remake of Telegu film Maro Charitra (story, screen play and direction by K Balachander) into Ek Dujje Ke Liye (translated in English 'Made for each other') and then straight dubbing of Tamil romantic thriller Roja written and directed by Mani Ratnam into Hindi. What is special about these two movies, made originally in Telegu and Tamil for Bollywood, which would claim for itself the exclusive status of making films for the whole country and also abroad?
Even for Satyajit Roy, the winner of Oscar Life Time Achievement Award and maker of two globally acclaimed Hindi films and whose work inspired filmmakers such as Francois Truffaut, Martin Scorsese and Carlos Saura, Bollywood will not be found generous in its appreciation. A Balraj Sahni then or a Shyam Benegal now is not part of core Bollywood. Hindi adaptation of the two southern movies in 1981 and then in 1992, much to the surprise and maybe to some degree of shock to the Bollywood establishment, acquired cult status. In every aspect of filmmaking from storytelling to direction to cinematography to editing to music, the southern establishment had a few lessons for Bollywood. The musical genius SP Balasubrahmanyam, who was worshipped all over the south made a robust entry into Hindi playback singing through Ek Dujje Ke Liye. Unfortunately, the legendary singer passed away in September 2020.
That the South was abundantly rich in every area of filmmaking – storytelling, direction, cinematography, music direction, editing and acting – was never in doubt. But for very long, it's largely the people in the south of Vindhyachal who were aware of that genius. Only a few in the rest of the country being keen followers of cinema parallel to commercial movies, the staple of Bollywood, are aware of the works of Adoor Gopalkrishnan, Govindan Aravindan and Shaji N. Karun. They have inspired quite a few to think differently and experiment with the medium and their influence among neo filmmakers is not confined to the south. Creativity apart, the mainstream film industry in the South is backed by excellent infrastructure, in many ways unarguably the best in the country and matching the world benchmark. But where the South has left other filmmaking centres well behind is in adoption of technologies.
One gets a fair idea of that when one sees on big screen films such as Baahubali, Baahubali 2, Pushpa: The Rise and RRR. What the two Baahubali flicks have shown in terms of production scale, racy storytelling, visual effects and larger than life acting and box office collection, is something extraordinary that Indian cinema has never experienced before. In many ways, the unpretentious Baahubali has set new standards for the likes of Sanjay Leela Bhansalis of Bollywood.
Or take Minnal (lightning in English) Murali (MM). Indian film needed its own version of a Superman or a Spiderman or a Batman. We got it for the first time when overcoming all the Covid-19 related production dislocations and releases in theatres, Basil Joseph directed Malayalam language MM (a young tailor turning into a superhero after being struck by lightning) was released to universal acclaim in September last year. Unlike Baahubali and RRR, MM is a small budget film. But it stands out for breaking new grounds.
It has been seen over the years that Bollywood would lean on the South for cinema making material, if not wholesale remaking of successful southern productions. Even then, it required the recent mind-boggling successes of RRR and Baahubali and the rest for filmmakers in Mumbai to give up their condescending attitude of Tamil, Kannada, Malayalam and Telegu cinema. Interestingly without seeking any accommodation from the Mumbai establishment, the South has convincingly emerged as maker of films with their appeal transcending national boundaries to overseas. Bollywood reservations about films made in the South, however, defied logic on many counts.
From Vyjayanthimala to Waheeda Rehman to Hema Malini to Sridevi to Aishwarya Rai who ruled the Hindi screen for decades for their mastery of classical Indian dance and acting are all from the South. That tradition continues with talented, good looking girls from the south making it big in Bollywood. The talent pool in the South is so large that Bollywood has the assurance of having a good number of actresses from there at all times. So we now have Shruti Haassan (Kamal Haasan's daughter), Vidya Balan, Kajal Aggarwal, Asin Thottumkal, Taapsee Pannu and Genelia DSouza, among others from the South having acquired all-India fame through Bollywood.
Know the meaning of the Tamil word thalaiva – it stands for sir or boss or leader. In the universe of the South, the Tamil superstar Rajinikanth, who will unfailingly spell enormous success at the box office is the thalaiva. Though in his seventies and he wears a wig while acting in films, his appeal among the masses and also southern elite has remained undiminished. His film stunts from the way he will play with a cigarette to his flipping of a stole at the blink of an eye before putting it on his shoulder to his running on speeding trains have encouraged many imitations but not to his kind of perfection. Born to Marathi parents in Karnataka as Shivaji Rao Gaekwad, he was given the name Rajinikanth by the late filmmaker and playwright K Balachander and was told to learn and master Tamil. Rajinikanth, before he made a sterling career of filmmaking experienced the raw side of life as he worked as a coolie and then a bus conductor.
On the screen he acts inconceivably larger than life. Two examples: First, the villain shoots at him but Rajinikanth takes it on his palm, which then on deflection kills a bird; second, he uses a knife to cut an approaching bullet into two before he goes to kill three villains. Rajinikanth does all this so naturally that the sheer absurdities don't bother his millions of admirers. In the Greek pantheon of gods, mortal born heroes and heroines attain godhood through a process which the Greeks call apotheosis. Hindu mythologies are full of instances of gods and goddesses performing miracles all the time and are revered for that. Rajinikanth is no less than a God to his army of fans who will go the extent of bathing his large cardboard cut-outs with milk like the Hindus will do to Shivalingas. He has featured in a number of hit Bollywood movies such as Andha Kanoon, Bewafai, Bhagwaan Dada, Uttar Dakshin, Chaal Baaz and Hum. Besides him, stars from the South such as Girish Karnad, Kamal Hassan and Dhanush have done Hindi movies to public acclaim.
With box office successes eluding Hindi films in the post Covid period, any major south Indian film releases, specially with Hindi adaptation are sending the Bollywood bigwigs down a rabbit hole of blind panic. No wonder, Bollywood filmmakers are now found ensuring that their releases stay at least a few weeks away from big budget releases from south India. All this amounts to a big climb down by Bollywood from an attitude of patronising superiority to good films made in other parts of the country their due. Bollywood experiencing catharsis.