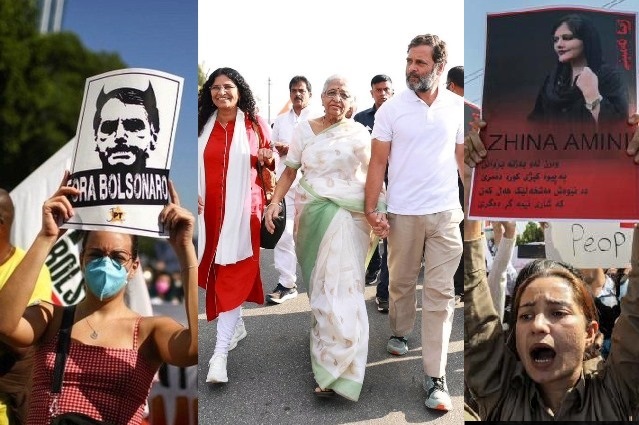 OPINION
OPINION
Standing Up To Dictatorships
Remember the final scene in the Silence of the Lambs? Dr Hannibal Lecter (Anthony Hopkins) is on the phone with Clarice Starling (Jodie Foster) calling from an unknown location, perhaps in Africa or the West Indies. "Have the lambs stopped screaming Clarice?" he asks… He thereby looks at an enemy arriving, and says: "I am having an old friend for dinner…"
Despite the electoral recovery, a discredited Jair Bolsonaro might still lose the final round in the Brazilian elections to the Centre-Left former president, Luiz Inácio Lula da Silva. That would be demoralising news for the Indian prime minister, whose other buddies, Donald Trump and Benjamin Netanyahu, have lost earlier in America and Israel. This marks a series of defeats for Right-wing extremists in many parts of the world, especially in Latin America. The victory of the neo-fascists in Italy is still in a Catch-22 scenario, with the Rightist coalition shaky, and trapped as Italy is in the European Union's political economy.
Cannibalism is the latest big news in Brazil. He has been accused of being a fascist, sexist, racist, etc, and a Trump-clone, by the media across the West and in South America. It is widely believed that thousands would have not died in his country of Covid, if he, like Trump, would not be in an absurd state of denial! Well, the Indian PM did not deny it, but the deadly delta wave did kill thousands, including in Delhi, with people gasping for breath, cremation grounds overflowing, while the dead were floating in the Ganga in UP, its shores lined with tattered cloth as tragic flags fluttering to mark the dead buried in the sand.
"Bolsonaro has revealed that he would eat human flesh," proclaimed a TV ad by the Lula campaign. They have dug up an old interview, with a New York Times journalist, where he actually boasts, almost like 'Hannibal the Cannibal': "I'd eat an Indian, no problem at all." He was talking about his visit to an indigenous community where he was allegedly offered human flesh to eat. Obviously, the Yanomami community has rejected his claims with utter contempt, though the interview has gone viral.
The Guardian reported the conversation (October 9, 2022): "Yes, to eat," answers Bolsonaro, then an obscure congressman. "They cook it for two or three days and then eat it with banana. I wanted to see an Indian being cooked but the guy said if you go, you have to eat it. 'I'll eat it,' I said. But no one else in my group wanted to go… so I didn't go. But I'd eat an Indian, no problem at all. It's their culture."
Cannibalism and insanity apart, except for Xi Jin Ping in China, where he will be 'chosen' for the third time unless there is a coup, things don't seem so rosy for dictators – from Vladimir Putin in Russia, and his lackeys elsewhere, such as Viktor Orban in Hungary. Putin's mobilization call has led to mass protests and arrests, thousands of 'military-age' Russians fleeing Russia, and his 'annexation' has led to heavy losses with Ukraine seizing back a large mass of its territory. Russian soldiers are exhausted, demoralized and dying to go back to their homes — – still not reconciled to the logic of this mindless 'war' with people "who are just like them only".
Besides, Hungary, seems suddenly on a boil. Despite the clampdown, thousands of parents, teachers, students blocked the Margaret Bridge, in the heart of Budapest, early this month, making a human chain, leading to the main square of the Parliament. This is unprecedented. The 'I want to teach' civil disobedience campaign, demanding higher wages and the right to strike, has sparked off a wave of unrest.
Students carried banners: 'Do not sack our teachers', 'For a glimpse of the future, look at the schools of the present', and, 'No teachers, no future'. In the Orban era, this is one of the largest protests, while Hungary has been described as a "hybrid regime of electoral autocracy" by EU lawmakers – reminding us of similar descriptions about India in recent times. (The Varieties of Democracy (V-Dem) Institute, based in Sweden, had said about India: "The world's largest democracy has turned into an electoral autocracy."
Lawmakers have raised serious concern about Hungary: suppression of fundamental rights, freedom of expression, privacy, pluralism, media, academia, the independence of judiciary, the rights of minorities, LGBTIQ and asylum-seekers etc., — uncannily reminding us of the current state of affairs in a 'secular and pluralist democracy' like India.
Meanwhile, despite the killings and the mass arrests, the women's movement seems to be flying in Iran. Even school girls are stomping over the portraits of the Ayatollahs, while unmarked cars are entering the schools to pick up and detain girls.
Nika Shakarami, 16, was badgered to death, her head smashed, claimed her mother Nasreen Shakarami. She said that the government did not inform her about her daughter's death for 10 days, removed her body from the morgue and buried her in a remote village without the family's consent.
ALSO READ: Iron Women of Iran
Nika's death, like the murder of many women, have galvanized the month-long movement instead of creating a terror psychosis. "You see something about a gathering (online) and then you go there, and you are not sure whether you will come back home alive or not," said a protester in Tehran to the Observer by phone. "The people have decided what they have to do. Just remember there was no internet in 1979 and people did what they wanted."
University campuses have become centers of rebellion with men and women singing and shouting slogans in unison. Women, with no hijab, hair flying, are dancing on the streets in small towns and in campuses. Iranian President Ebrahim Raisi came to the Alzahra University in Tehran, equating "rioters" to flies while reciting a poem. A video shows that female students are chanting, "Raisi get lost" and "Mullahs get lost" while he was in the campus.
Parandeh, 21, Iranian-Azeri artist and writer, told the 'Jacobin' in the US (October 4, 2022), "…It was illegal to be a Leftist under the Shah, and he imprisoned many of them. While the Shah imprisoned them, Khomeini killed them…The Iranians protesting here are chanting, 'No Mullahs, No Shah, Just Democracy'… This is not an uprising but a revolution…They are standing in the face of the army and saying, "Death to the Dictator, Death to Khamenei, Death to the Islamic Republic…
'Zan, Zendegi, Azadi,' or 'Women, Life, Freedom." ', has become the slogan of the Iranian women and solidarity actions across the world. One of the iconic and heart-breaking moment of rebellion which has emerged is that of a young girl standing in front of the grave of her mother, who was killed during the protest. She is not wearing a hijab, her head has been shaved off, and she is holding a lock of her own hair in her hand.
Meanwhile, after the massive, peaceful and protracted struggles against the NRC/CAA in India, the Shaheen Bagh movement across India led by mothers and sisters, and the great and glorious farmer's movement, there are anguished and angry calls every day for the release of all the political prisoners rotting in jail for no rhyme or reason, including young, brilliant scholars like Umar Khalid and Gulfisha, among others, widely perceived to be imprisoned on cooked up charges under a draconian law. Indeed, do the brave women in Iran strike a chord in India?
Besides, the Bharat Jodo Yatra from Kanyakumari to Kashmir with Rahul Gandhi walking for 25 km every day along with thousands of people has undoubtedly struck a deep emotional chord with millions in India. Against the politics of hate, for love, unity and harmony, against hunger and poverty, for jobs, equality and sustainable development, against authoritarianism, for secular democracy – these slogans have become integral to this long march, healing wounds, resurrecting hope and courage. Among the many iconic images in the march there is one of Rahul Gandhi holding the hand of Indira Lankesh, the mother of Gauri Lankesh, while her sister Kavitha Lankesh walks along. Wrote Rahul Gandhi in a post: "Gauri Stood for Truth. Gauri stood for Courage. Gauri stood for Freedom. I stand for Gauri Lankesh and countless others like her… Bharat Jodo Yatra is their voice. It can never be silenced."