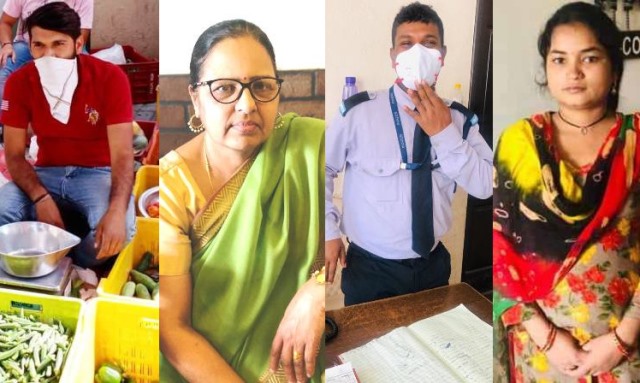 LOK ISSUES
LOK ISSUES
'Stay At Home, Work From Home, Cook At Home'
Lokmarg speaks to a vegetable vendor, a housewife, a security guard and a house help about how they are surviving during the Coronavirus lockdown across the country
Vipin, 32, a vegetable seller in Indirapuram, Uttar Pradesh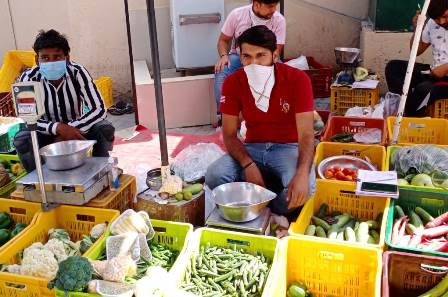 In the beginning, when the lockdown was announced, there was complete confusion and we didn't know what was going to happen; if we would be able to get vegetables from the mandis. Thankfully, matters settled down in a matter of days. With the help of information from valid sources I came to know that we could resume essential work if we ensured social distancing. So many of us vegetable vendors in the area coordinated over phone and appointed different people for different tasks. Thus, only one person would go to the mandi. He would take bath on return and only then would we take vegetables from him. Different vendors sat near /inside the gates of various housing societies in the area so that people didn't have to walk far. I am happy to say that people are dutifully maintaining social distancing while buying vegetables.
Our vegetable sales have increased because many people are now staying at home, working from home and cooking at home. I hope people become kinder and nicer to each other after Coronavirus. My family too stayed put and I didn't send them back to my village because I don't want to take chances with their health.
Raju Paliwal, 64, a housewife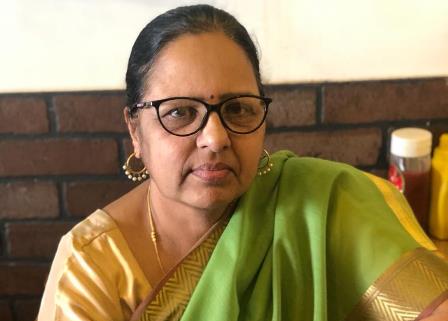 While on one hand, I am happy at the peace and calm around us during this lockdown, on the other I find it difficult to spend my time at home all the time. I live with my son, and even though he helps me a lot with household chores, I don't like to tax him since he is working from home. The sudden increase in household work at my age is a bit overwhelming. I cannot go to the temple, nor meet my daughter and her family even though they live in the same housing society. I do not belong to a tech-savvy generation, so catching up with friends also isn't easy. To kill time and also stay active, I massage my legs multiple times a day. This helps in the absence of my daily walks. We have stocked up pretty well. I wish and pray this lockdown gets over soon and we can resume normal life and once again get to interact with one another, without being afraid of getting affected by a deadly disease.
Kundan, 32, a security guard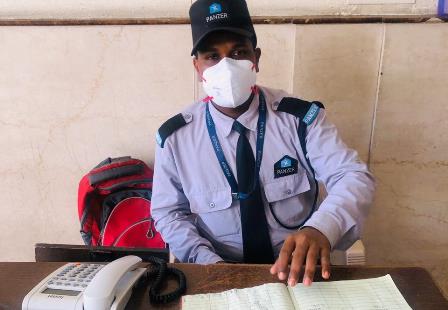 Our workload has increased a lot post-coronavirus, since we have to keep a hawk's eye on who is entering or exiting the gated colony where we work. We let in people only after a thorough check and we have to keep the basic travel-related information of residents if they have returned from foreign travel. I live nearby, so commuting to work is not difficult. I have stocked up my kitchen well and will survive the lockdown period easily with my family. However, if the lockdown period gets extended, I don't know what will happen. We haven't been paid our salaries yet, but I am hoping we will get it by soon.
Many of the society residents have been proactive in taking care of us. They keep us supplied with food, chai, water, sanitizer, hand wash etc. Plus, they check on us to boost our morale as well since we are the frontline workers in preventing this disease from spreading. I am happy people listen to us when we remind them about staying at home and maintaining social distancing. I hope we find a cure to coronavirus as soon as possible.
Rukhsar, 22, a house help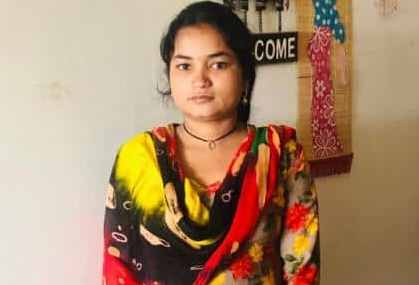 I belong to Bihar but work in Ghaziabad (Uttar Pradesh) as a housemaid. After the government announced the lockdown, most of my fellow villagers, who used to earn their livelihoods in this locality, panicked and rushed home. I told them what my employers had taught me: take precautions and maintain social distancing. It was painful to see my friends and fellow villagers ready to walk on foot for hundreds of miles because of fear. Now the street where I live is a desolate place. My daughter lives in Bihar with her grandmother and the uncertainty of not being able to see my daughter is a difficult emotion to express. Most of the households where I work have given me full payment for this month, but there are doubts about what will happen next month. The loneliness and a feeling of being trapped in one's home is telling. I hope coronavirus goes and never comes back.