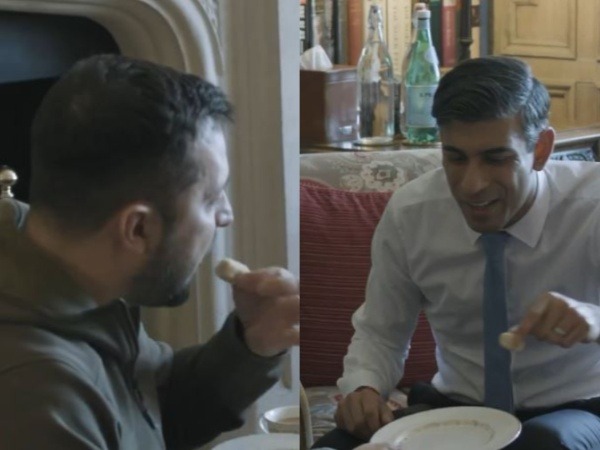 LM NEWS 24
LM NEWS 24
Sunak Shares 'Barfi' Made By His Mom With Ukraine Prez
A video showing UK Prime Minister Rishi Sunak offering an Indian sweet (barfi) to Ukraine President Volodymyr Zelenskyy has gone viral on social media.
The video, which was first shared by Rishi Sunak, the first Indian-origin British PM, on his official Instagram handle, shows him offering Indian sweet (barfi) made by his mother to Ukraine President Zelenskyy.
"It's not every day that @zelenskiy_official tries your mum's, homemade sweets," Sunak captioned the video.
In the heartwarming video, shared a day ago, Sunak recalled the incident when he shared Barfi with Zelenskyy, which his mother had made.
"My mum had got some Indian sweets that she wanted to give me that she'd made, called barfi. I saw President Zelenskyy on the Monday after that and he and I were chatting and he was hungry. So I actually gave him some of my mum's barfi which she was very happy to see. She was thrilled by that," the UK PM is heard saying in the video.
The video has received positive reactions from users.
"Oh boy, no matter who u r PM or ordinary man, u don't go without ur Mum's home made Barfi. It's mother's love," said a user.
Another user, who goes by name, Shabnam Russo, wrote, "This is the cutest we can all relate to mum's barfi."
"Indian parents are not less than god. Blessed by Indian culture," another Instagrammer commented.
Notably, President Zelenskyy recently visited Britain during his European tour, which was aimed at securing new weapons for a counteroffensive against Russia. It was Zelenskyy's second trip to the UK since Russia invaded Ukraine in February 2022.
"We're thankful from all our hearts, from Ukrainians, from our soldiers, we are thankful. And this is a privilege to be here," Zelenskyy told Sunak.
Sunak, whose parents came to the UK from East Africa in the 1960s, is of Indian descent. His father was a local doctor while his mother ran a pharmacy in southern England, something Sunak says gave him his desire to serve the public.
Ever since the Ukraine-Russia conflict began, UK PM Sunak has continued extending support to Ukrainian President Volodymyr Zelenskyy. Notably, the UK has been offering military assistance to Ukraine ever since the conflict between Kyiv and Moscow started in February last year.
His wife is Akshata Murthy, the daughter of Indian billionaire Narayana Murthy.
UK PM Sunak's mother-in-law, Sudha Murty, in a video shared recently, said that her daughter, Akshata Murty, "made her husband a Prime Minister."
Rishi Sunak's quick ascension to power has been highlighted before but his mother-in-law claims it was her daughter who made that possible. His mother-in-law, Sudha Murty, has claimed in a video circulating online that because of her daughter, Rishi Sunak became the youngest prime minister of the UK.
Sudha could be heard saying: "I made my husband a businessman. My daughter made her husband Prime Minister of the UK."
"The reason is the glory of the wife. See how a wife can change a husband. But I could not change my husband. I made my husband a businessman, and my daughter made her husband a Prime Minister," she said. (ANI)
Read More: lokmarg.com