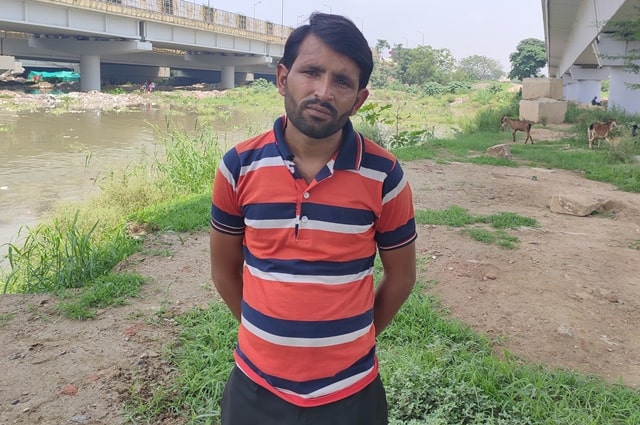 LOK ISSUES
LOK ISSUES
'Swachh Bharat Toilets Gave Us Dignity'
Mahavir Yadav, 30, a farmer living on the Yamuna floodplains of Delhi-NCR, says the pucca toilet structure built under Swachh Bharat mission has rid his family from the embarrassment of defecating in the open.
Forget about a toilet, a farmer in Delhi-NCR cannot even consider constructing a pucca house. After defecating in the open for about a decade, finally a new toilet has been constructed, which we can use free of cost. This has changed our lives. It is more than just a convenience. We can finally live with dignity, which especially holds true for the women living here.
I came to Delhi 15 years ago from Badaun. I started farming on leased land at Yamuna's floodplains. I grew vegetables and sold them to earn money. Vegetables are costlier in Delhi and there is a good profit in farming. However, it's not good enough to own a house or construct a toilet. We still live in makeshift accommodations as no construction is allowed on the floodplains. Moreover, we shift to the relief tents every monsoon as our houses gets flooded. In such a condition, thinking about building a toilet was impossible.
About five years ago, after the Swachh Bharat initiative was launched, a toilet was constructed on the Delhi-Meerut highway near our residence opposite the Millennium Bus Depot. Initially we hesitated to use the toilet as it looked very clean but to our surprise, it was free for all.
We started using the toilet every morning and now it has become a habit. There were days, especially during rains, when the water level of Yamuna rose and women of our families faced a lot of difficulty in relieving themselves. Men too, had to travel around half a kilometre to look for a place for defecation. Children, often used to fall sick during monsoons due to poor hygiene.
One toilet has not only enhanced our lifestyle but has also taught us a lot about hygiene. We carry our own soaps to wash our hands and make sure the toilet is clean after we use it. I am happy that our children have picked up these habits very fast. Though, there is just one toilet that can be locked, we are very happy with it. We would like to thank the government for this. There should definitely be more such toilets.