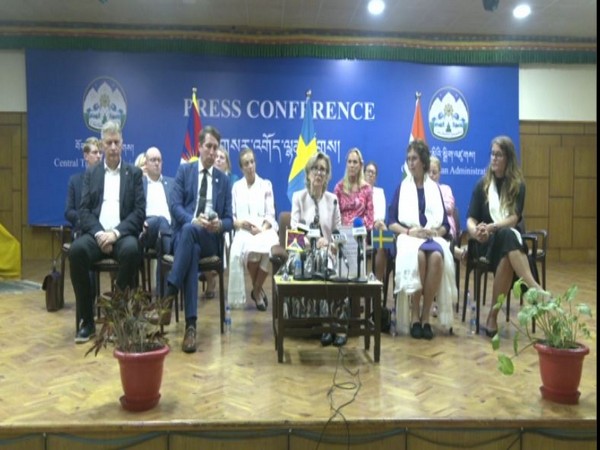 LM NEWS 24
LM NEWS 24
Swedish Parliamentary Delegation Expresses Solidarity With Tibetans
An 11-member Swedish parliamentary delegation attended the 63rd-anniversary celebration of the Tibetan Democracy Day on Saturday and expressed solidarity with Tibetans.
The delegation, led by Margareta Elisabeth Cederfelt, also met the Tibetan spiritual leader Dalai Lama and stressed the importance of his message advocating for peace.
The 2nd of September marks the inception of the Tibetan democratic system in exile. On September 2, 1960, the Dalai Lama established the Tibetan parliament which was made up of elected representatives from all three provinces of Tibet as well as the religious orders.
Responding to a question on how they are engaging with the Swedish parliament and the government to advocate for Tibetans? Cederfelt said, "As parliamentarians, we are working with the tools we have in the parliament. It's, of course, debates. We are raising questions about Tibet. We are talking about Tibet. We have mentioned Tibet in our debates. I know that there are a lot of colleagues who have written bills on Tibet, also working together with the Swedish Tibetan Committee. That's also very important."
"And we are receiving guests from Tibet. Honourable Sikyong has visited the Swedish Parliament. We have had visits by parliamentarians. We have had visits from religious leaders. And I think that's also very important. And as MPs, we are active in our various constituencies and always speaking with people. I have a lot of and so are my colleagues, a lot of contacts with people all over Sweden, and we have discussions very often about democracy, about Tibet. It's coming up," she added.
Lauding the Tibetan government in exile, she said that it gave equal voting rights to everybody irrespective of gender, age, and other social classifications and similarly everybody had equal rights to stand for election.
Condemning the colonial boarding school system in Tibet by China, she urged China to give Tibetans the freedom to practice their religion, culture, and language and preserve their Tibetan identity.
Another Swedish MP Richard Johannes Jomshof said that Tibet has strong supporters in Sweden. He further stated that the Dalai Lama is well respected in Sweden.
"What we can do as parliamentarians will do our best, of course, but also among Swedish citizens in general… it's a golden opportunity to raise the questions about Tibet as well and to make people aware of what's been going on for a very long time," he added. (ANI)
Read More: http://13.232.95.176/