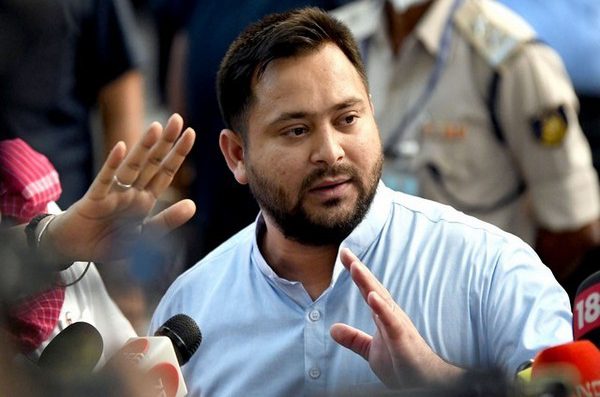 LM NEWS 24
LM NEWS 24
Tejashwi Calls Slain Gangster 'Atiqji', Draws Union Minister's Ire
Union Power Minister R K Singh on Monday slammed Bihar Deputy Chief Minister Tejashwi Yadav for addressing the slain gangster-turned-politician Atiq Ahmed as "Atiq Ji" and said that the RJD leader is shedding tears for a dreaded ganglord who was facing over 100 criminal charges.
While speaking to ANI, Union Minister Singh said that Tejashwi Yadav is Deputy Chief Minister but he addressed Atiq Ahmed as "Atiq ji" who had more than 100 cases of murder, kidnapping, and extortion against him.
Referring to the ex-MP, the Union Minister said, "Whoever was a witness, he used to kill or kidnap his family so that he won't testify against him. He was involved in Umesh Pal's killing. For whom are these people [Tejashwi Yadav] crying? A man who has more than 100 criminal cases against him? He confessed he had a connection with the proscribed terror outfit Lashkar e Taiba (LeT)."
Earlier in the day, Yadav termed the killing of gangster-turned-politician Atiq Ahmed and his brother Ashraf, "scripted".
"I have no sympathies for crime or criminals. But there is a law and a Constitution to eliminate crime in the country. We have seen in this country that the killers of the former Prime Minister have undergone trials and were punished. Whatever happened in UP, Toh Aap Dekhein Ye Atiq Ji ka Janaza Nahin, Kanoon Ka Janaza Nikla Tha (It was not the funeral of Atiq ji, but the funeral of the law)," Yadav had said.
Union Minister Singh further said that people have made Yogi Adityanath as chief minister with a huge mandate. "Now a dreaded criminal, who is related to ISI and LeT, that dreaded criminal has been killed in a gang war and they are shedding tears for him because they think that by doing this, their minority votebank will become stronger," he added.
He also lashed out at the opposition leaders for rallying in support of the gangster and said, "You people (opposition leaders) are going to be extinct.
"It is absolutely a vote bank politics. It is a bit tragic that a criminal who has a connection with LeT is killed in a gang war and people are shedding tears over the incident," he said, adding that those who sprayed bullets upon him were also caught.
On Sunday the three shooters– Arun Maurya, Sunny Singh and Lovelesh Tiwari– involved in the killings have been sent to 14-day judicial custody by the district court.
Atiq Ahmed was accused in the 2005 Bahujan Samaj Party (BSP) MLA Raju Pal murder case and also in the case of murder of Umesh Pal which happened in February this year. (ANI)
Read More: http://13.232.95.176/