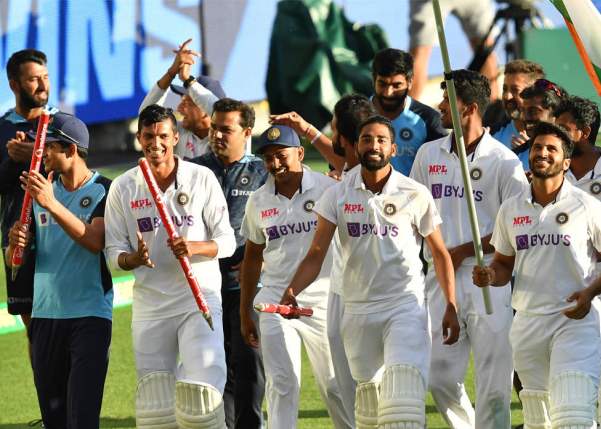 OPINION
OPINION
Test Cricket Gets Its Swagger Back
Success has many fathers, failure is an orphan.
Cliched as it may sound, the rise of new-look Team India in Australia has attracted attention, renewed interest and instilled belief in Test cricket. Quite often, cricket lovers have talked about how Test cricket is becoming a drag on, and to see a draw as a result in five days is not worth it.
Well, the way cricket was played Down Under in the latest series, every bit of action was enchanting as well as riveting. For a team which had been touted as potential losers by experts at home and abroad, the rise of Team India under new leader Ajinkya Rahane has been sensational.
Sample this. Virat Kohli was captain for the first Test and then he returned home on paternity leave after the team was battered and bruised. India scoring just 36 runs in the second innings of the first Test had caused outrage which bordered on vitriol. Such was the language, memes and adjectives used in the media and social media, it looked the next three Tests would be slaughter of the lambs.
Enter Rahane the captain. An ice cool demeanour, monk-like serenity while batting and leading the side and motivating the boys without any histrionics, he has become the toast of the nation. Not just that, he is the true world leader in cricket and has been hailed for his phenomenal work in tandem with coach Ravi Shastri and the other support staff.
The way India fought in the second, third and fourth Tests was not just a revelation. It was about josh, it was about winning the mind games, it was about showing the underdog could bark and bite. And yes, it was also about how the talent pool has blossomed and each person who went to Australia, had a role to play, barring Kuldeep Yadav.
To be sure, the big difference between series wins in the past and the latest one is not how two or three superstars chipped in for India. There was variety and there was a new flavour. And the stuff churned out was so beautiful, despite immense limitations and having been harangued and harassed by the Aussies on and off the field.
If there could be marks awarded for behaviour, showing great sportsmanship and not complaining even once, Team India would have swept cricket's Oscar awards. By becoming the World No. 1 Test team and topping the ICC World Test Championship in the current cycle, Rahane's warriors have shown how the boys have grown into men and how it takes little time to soak in pressure.
Playing in Australia, just after the tiring and painful IPL in UAE was not going to be easy. The preparations for a Test series had just not been put in. But then, call them heroes or professionals who earn their money by playing cricket with purpose and laced with a great sense of patriotism, watching the Tricolour aflutter the other day at Gabba in Brisbane was emotional.
So, is Team India really No.1 or is this a fluke? Well, this question will be asked by the Doubting Thomasses and there is nothing wrong with it. Such is the nature of sport, whether you win or lose, the fan has a right to ask questions.
People will make comparisons with Ajit Wadekar's side which won in West Indies in 1971. At that time, the West Indies, led by Gary Sobers was on the decline and their pace attack was not so lethal.
Test cricket has changed in these 50 years. The men in white play the sports much harder, there are more innovations for sure and in the end the way players are scrutinised every minute the pressure has increased manifold. Perhaps, that is why this Team India, which saw so many players making debuts after injuries to key fast bowlers and then R Ashwin and Ravindra Jadeja, needs clap back for its efforts.
By the time the team landed in Brisbane, the Aussie sledging and racial abuse had reached a crescendo. Someone like Mohd Siraj was taunted because of his religion and before that in the third Test, Aussie captain Tim Payne and Steve Smith had shown the ugly side of the Aussies.
Maybe, previous Indian teams would have been finished mentally by all this. Not this time, if Payne was a real pain and Smith showed once again traits of being a cheat, the Indians kept fighting.
Reduced to four bowlers to shoulder the load in the third and fourth Tests, Team India erupted like lava. The new bowlers like Siraj, T Natarajan, Washington Sundar and company exploded into brilliance. They had zero Test experience. In the end, they became heroes after showing what mattered was playing positive cricket.
If bowling had its heroes, then Rahane the monk and Cheteshwar Pujara stood like the Great Wall of China. He was battered and bruised in the final Test but stood there facing deliveries of ferocious nature. It was compelling viewing even as some fans shed tears he was being bruised.
Then you had the Young Turks like Shubhman Gill and plucky Rishabh Pant showing, they, too, could be cocky. This is what made the final day of the series so captivating that millions woke up before 430am to catch the last day action.
In New Delhi, on Tuesday, people were offering prayers as India launched their assault for the most historic series win. When the match was won and the Gavaskar-Border trophy was lifted, India became No. 1 in the world.
In a few weeks time, India will be tested again. England will arrive here from Sri Lanka and the four Tests will be a challenge. Expectations have risen sky high and to hold on to the No1. Test position is motivation enough to again play with the same flair and feel.
Sadly, despite Rahane being such a great leader, he has been replaced by Virat Kohli. Had it been someone other than Rahane, he may have wept. No, this Mumbaikar, who is dignity personified, will again play as a pure batsman.
Will that put pressure on Kohli?
Yes, it does as he has not played cricket for a long time. He has good resources at his disposal but what he needs to show, once again, is not just score runs but also lead with the same panache which Rahane did.
From Australia to England and Sri Lanka to Pakistan, Indian cricket's rise is being discussed like never before. This is what happens when you become a Superpower in Test cricket, the purest form of the sport! India have 430 points in the ICC World Test Championship now and are followed by New Zealand at 420. Home advantage will again be good for India.