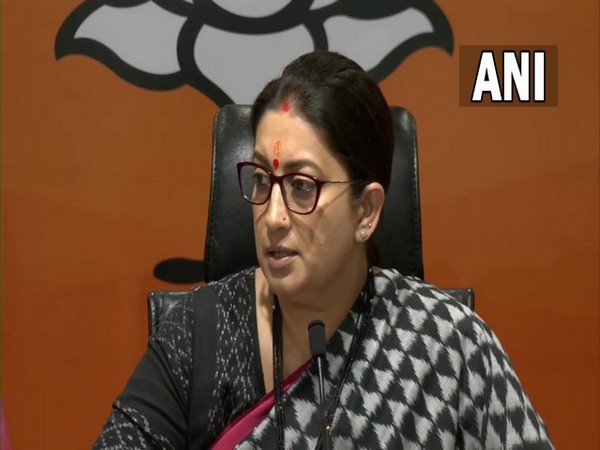 LM NEWS 24
LM NEWS 24
Thanks For Announcing 'Can't Defeat Modi Alone': Smriti
Union Minister Smriti Irani took a swipe at the Opposition meeting in Patna, saying that Congress has admitted that they cannot defeat Prime Minister Narendra Modi alone and that they need support from others to do so.
The senior BJP leader referred to the Opposition leaders' meeting being held in Bihar's Patna today. "I especially thank Congress for publicly announcing that they cannot alone defeat PM Modi and that they need the support of others to do so," Smriti Irani said while addressing a press conference.
Irani further slammed the opposition and said that it is hilarious that under Congress such politicians have gathered those who themselves saw the sight of the murder democracy during the emergency.
"It is hilarious that those people are getting together who want to signal to the nation that their own capabilities are insufficient in front of Modiji," she added.
The highly-anticipated Opposition meeting has begun in Bihar's Patna and is being hosted by Chief Minister Nitish Kumar with an aim to arrive at a consensus to forge a united Opposition front to take on the Bharatiya Janata Party (BJP) in the 2024 Lok Sabha polls.
The Opposition picked Patna as a venue for its meeting as it represents the 1974 call of total revolution by Jayaprakash Narayan that toppled Indira Gandhi's majority government.
Ahead of the meeting, Congress leader Rahul Gandhi said, "There is a war of ideology going on in India. On one side is Congress party's 'Bharat Jodo' ideology and on the other RSS and BJP's 'Bharat Todo' ideology …Congress party's DNA is in Bihar."
He said that the opposition parties have come together to defeat the BJP.
"BJP is working to spread hate, violence and break the country. We are working to spread love and unite. Opposition parties have come here today and together we will defeat BJP," he added.
As leaders of several opposition parties arrived in Patna on Thursday, the Rashtriya Lok Dal (RLD) president Jayant Chaudhary decided to skip the conclave due to a "pre-decided family programme".
This came after the Janata Dal (United), which is hosting the meet, said Bahujan Samaj Party (BSP) chief Mayawati has not been invited to the event.
The meeting has been called by Bihar Chief Minister and Janata Dal (United) leader Nitish Kumar and will be attended by leaders of parties opposed to the BJP.
West Bengal Chief Minister Mamata Banerjee, Delhi Chief Minister Arvind Kejriwal, Punjab Chief Minister Bhagwant Mann, Tamil Nadu Chief Minister MK Stalin, and PDP leader Mehbooba Mufti were among the leaders who reached Patna for the meeting.
Congress leaders Rahul Gandhi, party chief Mallikarjun Kharge, Former Maharashtra CM Uddhav Thackeray, MP Sanjay Raut, NCP chief Sharad Pawar and former Jammu and Kashmir Chief Minister Omar Abdullah arrived on Friday. (ANI)
Read More: http://13.232.95.176/