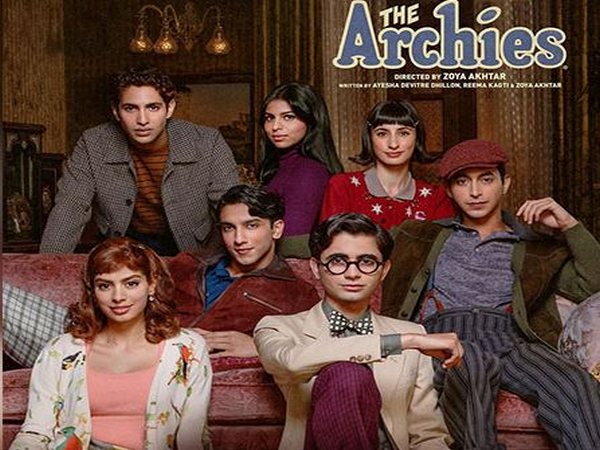 LM NEWS 24
LM NEWS 24
This Is What Suhana, 'The Archies' Gang Did In Sao Paulo
'The Archies' star cast can't get over the enthralling experience in Brazil at Tudum 2023 fan event on Tuesday as Suhana Khan shared the behind-the-scene video.
Taking to Instagram Suhana treated fans with a glimpse of 'The Archies' members.
In the video, Suhana, Khushi Kapoor, Agastya Nanda, and others can be seen dancing, posing and exploring Sao Paulo. They also indulged in some fun activities like roller skating.
The video concluded with a glimpse of their performance at the Tudum event on the stage.
Sharing the video, she wrote, "Life with The Archies: Sao Paulo Edition."
As soon as the video was uploaded, fans and industry members chimed in the comment section.
Created by Zoya Akhtar', 'The Archies' is coming soon on Netflix and is an Indian adaptation of the famous comic book. However, the release date is not revealed yet.
Zoya recently unveiled the film's teaser that reveals that the film is set in 1964 in Riverdale, described on a railway sign as a "hill station," a term dating back to colonial times that refers to a town located at a higher elevation than the nearby plain.
One of the transport links servicing the hill stations are small mountain railway trains running on narrow gauge tracks, known affectionately as "toy trains", and the teaser opens with a shot of the top train puffing into Riverdale station. The Archies gang play music and dance at parties and classrooms while also enjoying their time outdoors.
The teaser also offers a glimpse of the gang — Suhana Khan, Agastya Nanda and Khushi Kapoor — falling in love and going through heartbreaks.
They also performed live on the title track at Tudum 2023. (ANI)
Read More: http://13.232.95.176/