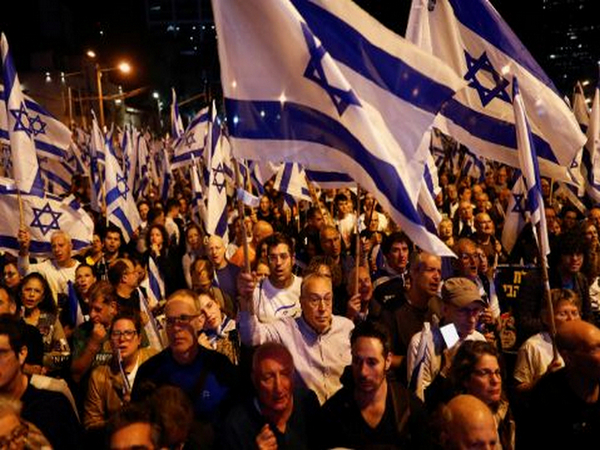 LM NEWS 24
LM NEWS 24
Thousands Of Israelis March Ahead Of Final Votes On Judicial Bill
Thousands rallied against the controversial judicial reform bill that faces a final vote early next week, protesters set up a 'tent city' near Knesset after the multi-day march, Times of Israel reported.
Some of the protesters blocked the traffic on Tel Aviv's Ayalon Highway, as part of demonstrations against the judicial overhaul.
Police arrest four of the demonstrators on suspicion of disturbing public order.
The demonstrations on Saturday came days after Netanyahu's government gave preliminary approval to a crucial bill that is a part of the overhaul, reported Times of Israel.
The bill, which passed in its first reading, would restrict the use of the "reasonability" clause, which allows the courts to overturn executive orders, according to Al Jazeera.
Moreover, this reform would also allow the government a greater say in the appointment of judges.
Before the bill becomes law, it still needs to pass two additional votes, which are anticipated by the end of the month.
Meanwhile, few protesters were seen rallying outside the Histadrut's headquarters in Tel Aviv, as chief Arnon Bar-David holds "emergency" deliberations amid calls for the labour federation to declare a strike, as per Times of Israel.
Last week, on July 15, Protesters in Tel Aviv unfurled a sizable banner that read "SOS" and threw paint into the air, streaking it pink and orange, reported Al Jazeera.
The protests in Tel Aviv were joined by protesters from all across the country on Saturday.
Protesters waved lit torches outside of Netanyahu's home in Jerusalem, and they also staged demonstrations in the coastal cities of Herzliya and Netanya. The protests, however, came at a time when the country's Prime Minister Benjamin Netanyahu is in hospital.
He was admitted earlier on Saturday for dehydration. The 73-year-old went to the doctor after experiencing a dizzy spell and spending the day before in the sun without drinking any water.
He later released a video from the Tel Aviv hospital saying he felt good. (ANI)
Read More: http://13.232.95.176/