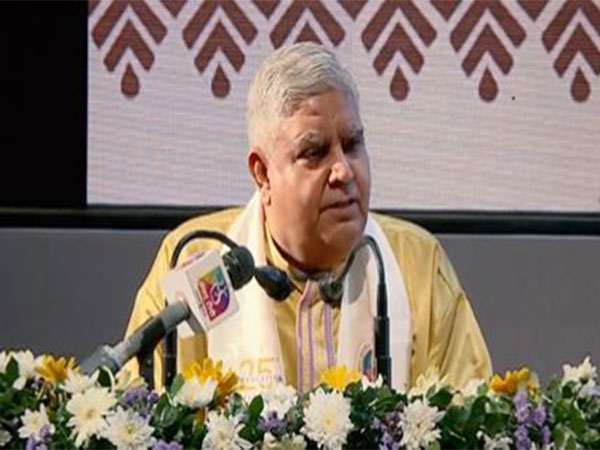 LM NEWS 24
LM NEWS 24
Time To Implement UCC: VP Dhankar
Vice President Jagdeep Dhankhar on Tuesday said that the time has come to introduce the Uniform Civil Code (UCC) and emphasized that "any further delay in implementation of UCC will be corrosive to our values."
Addressing the 25th convocation of IIT Guwahati vice President Dhankar stressed that Directive Principles of State Policy (DPSP) are 'fundamental in the governance of the country' and it's the duty of the State to make them into rules.
Mentioning that many DPSPs example panchayats, cooperatives and the Right to Education have already been translated into law, he underlined that it was time to implement Article 44 of the Constitution.
Meanwhile, cautioning against the attempts to tarnish the image of India and "frequent orchestration of anti-national narratives, Dhankar stressed, "It is high time choreographers of anti-Bharat narrative orchestration are effectively rebuffed."
The Vice President also pointed out that "no foreign entity can be allowed to tweak with our sovereignty and reputation."
Describing India as the oldest, largest, most functional & vibrant democracy that is giving stability to global peace and harmony, VP stressed, "We can not suffer dent on our flourishing and blossoming democracy and constitutional institutions."
Noting that there is zero tolerance for corruption now, he called for making a corruption-free society.
"Corruption is anti-democratic, corruption is poor governance, corruption runs down our growth… a corruption-free society is the safest guarantee to your growth trajectory," he said.
Vice President Dhankhar also expressed his disapproval of some people 'taking to streets rather than taking recourse to lawful process' when they are held up for corruption.
The Vice President also asked the students to take pride in being Indians and its historical achievements.
He further praised Chief Minister Himanta Biswa Sarma and said that action, vision and execution are ingrained in Assam CM.
"Action, vision and execution are capsuled in Assam CM Himanta Biswa Sarma. He exemplifies commitment to duty which is worth imitating," Vice President said while addressing the 25th convocation of the Indian Institute of Technology, Guwahati.
He further said that he has Assam in his heart 24X7. His discourses on national and international issues are dictated by our interest, civilisation, a deep sense of propriety and 'Bharat Mahaan Hai'.
"I am happy that I share with him one credential, we both happened to be lawyers at one point in time," Dhankhar said.
In his convocation address, Dhankar also invited the attention of the students towards the need of being tolerant.
"We should also consider other points of view, as more often than not, another point of view is the correct point of view," he said.
Governor of Assam, Gulab Chand Kataria, the Chief Minister of Assam, Dr Himanta Biswa Sarma, Chairman Board of Governors, IIT Guwahati, Dr Rajeev Modi, Director IIT Guwahati, Prof Parameswar K Iyer, senior faculty members, students and other dignitaries were also present.
A total of 2011 students (1605 males and 406 females) from the Silver Jubilee batch of the Indian Institute of Technology Guwahati received their degrees in various disciplines on Tuesday (4th July 2023) during the 25th Convocation Ceremony.
Significantly, the first convocation ceremony of the IIT Guwahati was held in 1999 where 63 students were handed over their degrees.
In the last 25 years, more than 20,000 students have graduated from IIT Guwahati. This year the Institute will mark its Convocation Silver Jubilee by enriching Science and Technology through the enhancement of knowledge and performing cutting-edge research where 1990 students will be graduating in the presence of their families, faculty, staff, and other dignitaries. (ANI)
Read More: http://13.232.95.176/