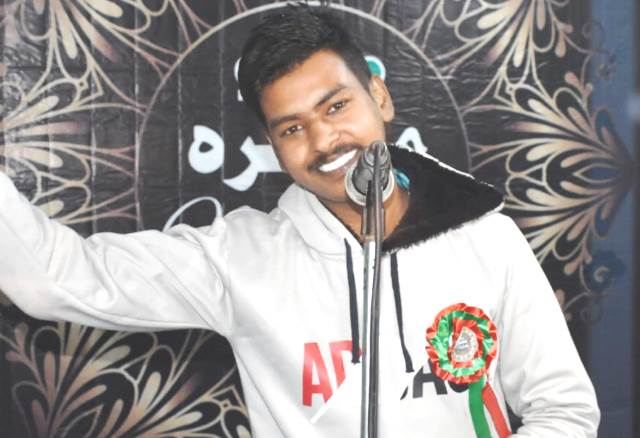 LOK ISSUES
LOK ISSUES
'Torn Between The Choice To Be Humorous Or Be Safe'
Shubham Kashyap, 24, a stand-up comedian, says the recent arrest of Munawar Faruqui only shows we have forgotten to laugh at ourselves. Kashyap would prefer a shoe missile from the audience than vitriolic trolling on social media
I have been doing stand-up comedy for nearly three years now, but each year it is getting more difficult to write jokes that wouldn't offend anyone. There's always someone waiting in the wings to get offended by the most miniscule of things.
Comedy is no longer a laughing matter and comedians have to constantly keep walking on eggshells, maybe glass shards, to not get caught in a controversy. We had thought 2021 would be a better year for us, but on the very first day of the year (January 1, 2021), a fellow stand-up comedian Munawar Faruqui was arrested from Indore.
The pandemic taught us the need to laugh at ourselves. Just see what we have done to the world by taking ourselves so seriously. People in our country can get offended at every chance they get. They consume offence for breakfast, lunch and dinner. To be caught between the need to express your creativity and the need to stay safe is unnerving.
I was appalled at the way Faruqui and others were treated, what with the fact that his bail kept getting postponed, even though there was no evidence. As about the YouTube clip that was uploaded last year, he had already apologised for it.
I wonder when the culture in our country surrounding laughter changed so much; probably post-2014. From a country that prided itself on the culture of rajya vidushak (a court jester who could make fun of kings) for thousands of years, we have reached a state where making fun of, or questioning, the establishment can land you in trouble.
Holi festivals were always associated with Hasya Kavi Sammelans and celebrated with someone titled as the Moorkhadhiraj (king of fools) each year. We knew then how to laugh at ourselves earlier. Now we live with straitjackets labels: People who laugh at a BJP joke are dubbed anti-nationals while people who laugh at the Left are called Bhakts.
I would also like to add that religion is a sensitive matter and to make jokes on a religion that you have not lived, understood or practised deeply, might put you in a difficult situation. Religion is beyond reason for most people and they think emotionally on the matters of faith.
So, if you really have to crack a joke on religion, do it for the religion that you 'practise'. Also, there is a fine line between genuinely questioning people, countries, religions in a humorous way and couching your dislike for one behind the veil of humour. Even though the violence cannot be justified, what appears in magazines like Charlie Hebdo or Jyllanden Post can definitely not pass as humour.
I have been performing in Uttar Pradesh and Delhi-NCR and carry a reputation for being able to evoke uproarious laughs (attahas), using over-the-top Kanpur style as well as Lucknow's delicate sense of humour (tehzeeb). But now I feel cracking a joke in UP and NCR could be risky.
I once received a flying shoe missile from the audience for one of my jokes. But shoes hurt less than the social media trolling. In 2016, I had cracked a joke on Modiji's promise of ₹15 lakh on Promise Day (in Valentine's Week), and my email inbox felt like a volcano waiting to explode. I have tried to live and learn amid such experiences.
Year 2020 was tough and I hope 2021 teaches everyone to chill a little. May stand up comedians crack better jokes; may freedom of expression be understood for what it is (the right to extend your arm ends where the other person's nose begins). May we learn to be more offended by how living beings are treated! May laughter go viral!!
As Told To Yog Maya Singh