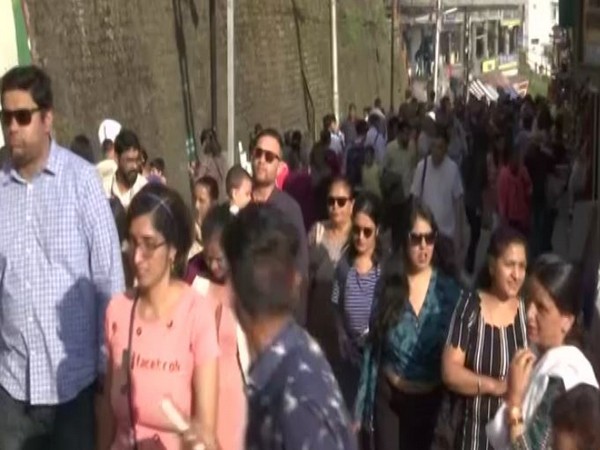 LM NEWS 24
LM NEWS 24
Tourists Throng Shimla To Escape Scorching Heat
To get respite from the scorching heat of the plains, tourists have started visiting hill stations in Shimla.
Apart from visiting hill stations with families and friends, tourists are also seen enjoying desi roadside delicacies in Shimla.
As most tourists are travelling in their private cars, traffic in some places is moving at a slow pace. All the tourism stakeholders are expecting tourism to see a boost as the people flocking to Shimla are already huge in number.
The hotels in the hill stations of Himachal Pradesh are also running at their full capacity for tourists.
According to the Director Tourism Department of Himachal Pradesh, from January to May, over 72 Lakh tourists arrived in the region.
"Pre Covid years, we had an annual number of One crore 70 Lakh tourists but during the Covid years, it was first 32 Lakh and later 57 years. Last year, we received 1 Crore 51 Lakh tourists. It shows that we had revived tourism in the state with aggressive marketing and other strategies. This year, we have received 72 lakh tourists till May and by June end, we are executing a huge footfall. At the recent weekend, we had a good footfall. And by June end the number of tourist arrivals would be satisfactory," Amit Kashyap said.
He further said that more tourists are expected to arrive in the region in the month of June.
"The tourist arrival has increased and the pleasant weather conditions in the state and more tourists are expected in the region in the month of June. The foreign tourist arrival has not yet increased this year. By the end of this year tourism will benefit the HP Tourism Development Corporation in the near future," he said.
"In Shimla, we have nearly 70 per cent of people and on weekends the occupancy in Himachal Pradesh Tourism Development Corporation (HPTDC) hotels and in Manali, we have 100 per cent occupancy," he further added.
However, sharing her experience of the tour, a tourist from Delhi Shrishti Sahu said, "I came here on Saturday, there are lots of crowds, prices are high, the weather is good and it is a very nice experience. I am from Delhi there we live in AC and it is chilling here."
The tourists are shifting to the outskirts of Shimla instead of staying in the capital city of Shimla.
"I am from Punjab, it is a very good place, I have done my studies in Shimla. We are staying in Kufri, there is so much rush here and tourists are shifting to the outskirts of Shimla," said another tourist, Saloni from Punjab.
Tourists from neighbouring states also find the hill town Shimla a second home to enjoy the summers away from home.
"We came here three days ago and there was a festival time here and large numbers of tourists were here, the weather is very pleasant here. I came most of the time to Shimla, away from the hot temperature here, we come here and it is good to be here," said Gaurav, a tourist from Chandigarh.
Thousands of tourists annually visit the hill state, and as per data available with the tourism department of Himachal Pradesh in 2019, nearly 17,20,000 tourists including nearly 4,00,000 foreign tourists visited the state with a jump of nearly 5 per cent in comparison to the year 2018.
During the year 2021, a total of 56,37102 tourists visited India.
This year till now 73 Lakh tourists have arrived in the state. An economy of over 11,000 Crore is generated in the state of Himachal Pradesh in the tourism sector and it is considered a backbone for the economy in the state which contributes to 7.3 per cent of the state GDP. (ANI)
Read More: lokmarg.com