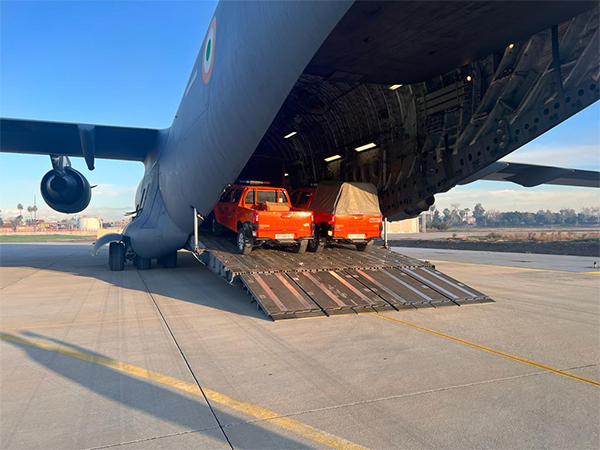 LM NEWS 24
LM NEWS 24
Turkey: First Indian C17 Flight Reaches Adana With Relief Material
The first Indian Air Force plane carrying disaster relief material and rescue team to support search and rescue efforts in Turkey has reached Adana in the earthquake-hit country, external affairs minister S Jaishankar said on Tuesday.
The C17 flight with over 50 personnel from the National Disaster Response Force (NDRF) and a specially trained dog squad along with necessary equipment, including medical supplies, drilling machines and other equipment equired for the aid efforts had departed for Turkey early this morning.
Turkish Embassy in New Delhi tweeted: "First batch of earthquake relief material along with NDRF's special search & rescue teams and trained dog squads just arrived in Turkiye. Thank you India for your support and solidarity."
Taking to Twitter, Jaishankar wrote, "First Indian C17 flight with more than 50 @NDRFHQ Search & Rescue personnel, specially trained dog squads, drilling machines, relief material, medicines and other necessary utilities & equipment reaches Adana, Turkiye."
The foreign minister further said that that a second plane is also getting ready for departure.
India has sent the NDRF team to Turkey after earthquakes jolted Turkey and Syria on Monday.
Speaking to ANI, Deepak Talwar, Deputy Commandant, NDRF, who is leading the first NDRF team from India to Turkey, said, "This team is consisting of 47 NDRF personnel and three senior officers to perform recovery and response work as per the United Nations guidelines."
"We have received the orders for two teams. First team is about to move very soon and second team will be leaving in the morning. We're going for disaster response & after that, humanitarian aid will be provided as per Government of India guidelines," he further added.
According to a statement released by the Prime Minister's Office (PMO) on Monday, a meeting was conducted where it was decided that the NDRF's search and rescue teams, medical teams, and relief supplies would be sent out right away in collaboration with the Turkish government.
Several other countries have come forward to aid and assist Turkey after massive earthquake shattered lives in the country.
Australian Prime Minister Anthony Albanese and New Zealand Prime Minister Chris Hipkins on Monday announced USD 11 million in aid for earthquake-hit Turkey and Syria, reported CNN.
Both leaders pledged a combined total of USD 11.5 million in aid for victims of the devastating earthquake.
More than 4,300 people have been killed and thousands injured after a magnitude 7.8 earthquake struck Turkey and Syria early Monday, according to officials and agencies, reported CNN.
At least 4,372 deaths have been confirmed after a powerful magnitude 7.8 earthquake rocked Turkey and Syria early Monday.
In Syria, 1,451 deaths and 3,531 injuries have been reported by officials.
Thousands of buildings collapsed in both countries and aid agencies are particularly worried about north-western Syria, where more than 4 million people were already relying on humanitarian assistance.
The quake, one of the strongest to hit the region in more than 100 years, struck 23 kilometres (14.2 miles) east of Nurdagi, in Turkey's Gaziantep province, at a depth of 24.1 kilometres (14.9 miles), the US Geological Survey said.
At least 100 aftershocks measuring 4.0 or greater have occurred since the 7.8 magnitude earthquake struck southern Turkey on Monday morning local time,the USGS reported. (ANI)
Read More: http://13.232.95.176/