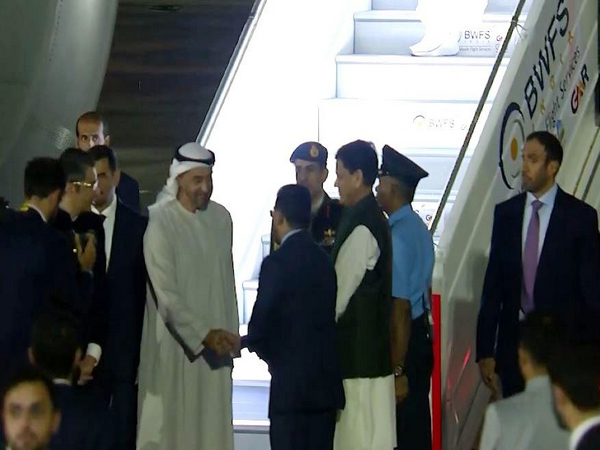 LM NEWS 24
LM NEWS 24
UAE Prez Nahyan Arrives In Delhi To Attend G20 Summit
The President of the United Arab Emirates (UAE), Mohammed bin Zayed Al Nahyan, on Friday arrived at Delhi's Palam airbase to attend the G20 summit.
The two-day summit, being hosted in the national capital under India's presidency of the 20-member bloc, will get underway at the state-of-the-art Bharat Mandapam from Saturday.
President Al Nahyan was received by Union Minister of State for Home Affairs, Nityanand Rai.
Meanwhile, ahead of the G20 summit, which will bring together some of the most powerful leaders of the free world as well as delegates representing international organisations, Foreign Secretary Vinay Kwatra said, "The coming together of the 41 Heads of delegations, Heads of State/Govt, Heads of international organisations in India, starting yesterday is under PM's personal leadership and direction. It is essentially a celebration of the coming together of the G 20 family…This is the largest-ever participation of the Global South in India."
India assumed the G20 presidency on December 1, last year, with about 200 related meetings organised across 60 Indian cities.
The 18th G20 Summit will be a culmination of all the G20 processes and meetings held throughout the year among ministers, senior officials, and civil societies.
One of the takeaways of India's G20 presidency is the revolutionisation of Digital Payment Infrastructure, as initially very few people knew about it, but it has taken forward extensively, G20 Sherpa Amitabh Kant said on Friday.
After concluding his recent official visit to the UAE, PM Modi shared a video clip of his trip to the Gulf nation saying both countries will continue to work closely for the global good.
Sharing the video on Twitter, which showed him attending important events in the UAE, PM Modi posted, "India and UAE will keep working closely to further global good!"
During the visit, PM Modi and UAE President Al Nahyan affirmed that India's G20 presidency will play an important role in accelerating cooperation in combating climate change, said the India-UAE joint statement on Climate Change.
PM Modi and the UAE President recognized the urgent need to address the global challenge of climate change through global collective action while respecting the foundational principles and obligations under the United Nations Framework Convention on the Climate Change (UNFCCC) and the Paris Agreement, read a joint press release.
PM Modi also congratulated UAE on being chosen as the host country for COP28 in 2023 while pledging the country's full support to the Gulf nation as it assumes the COP28 Presidency. President Al Nahyan, in turn, congratulated India on its leadership role in the G20.
Both leaders affirmed the importance and significance of India's G20 presidency while stressing the grouping's role in fostering and accelerating cooperation in combating climate change, with emphasis on finance and technology as critical enablers, as well as on just, inclusive and sustainable energy transitions, the joint statement said.
The leaders committed to enhancing cooperation on climate ambition, decarbonization, and clean energy, and work together to have tangible and meaningful outcomes from the 28th Session of the UNFCCC Conference of Parties. (ANI)
Read More: http://13.232.95.176/